In a 92-year-old cobbler THEO PANAYIDES finds a craftsman with a love of football who likes to keep it simple
Andreas Vasiliou is an ordinary man – but he stands out in one way, at least. There's a black-and-white photo hanging from a nail in his shoe shop in old Nicosia, a group of young footballers from the late 1940s. This was Aon, an amateur side linked to the left-wing association that later became Edon. "They're all dead," he notes matter-of-factly, "the people in that photo. I'm the only one still alive". He was 18 when the picture was taken; he's now 92.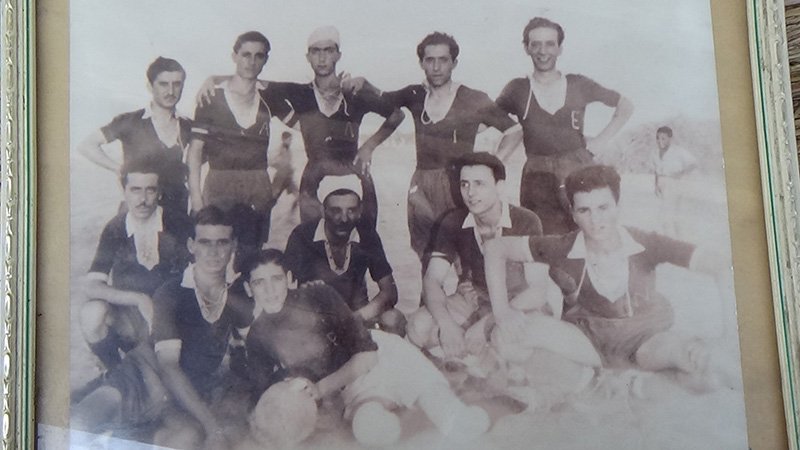 Andreas isn't famous or well-known. He's an ordinary man – but I happened to be passing by the area near Ayios Antonios church, down the road from the Archbishopric, one of the last remaining clusters of old craftsmen's shops. On a whim, I asked for an interview – and he obliged, sitting on the bench where he often sits and chats in the mornings, before it gets too hot. After all, he shrugged, he's done interviews before.
Has he? One somehow thinks of these craftsmen – cobblers and tailors, the coffin-maker round the corner, the chair-maker two streets down – as pure and pristine, but in fact TV channels often feature them, journalists write down their stories, schoolteachers bring their pupils to watch them work. They stand for something, the old ways of life; they're the last of their kind. Andreas has no particular claim to fame, no lesson to impart – but those other young men in the photo are gone, and he's still here.
His life has been ordinary, yet also extraordinary. He belongs to – or more accurately overlaps with – a vanished world. He recalls being 11 or 12, and walking every day from his village of Ergates to a shoe shop in Pera Orinis (before he was a cobbler, he used to be a cobbler's apprentice). In between was the river Pedieos – and in winter, he recalls, he'd take off his shoes and wade into the icy water, then put them on again and go to work. (Sometimes, if the river was too swollen, Andreas' dad would ferry him over on his donkey.) His shoes were the tough, hardy boots worn by shepherds, the kind where there's no left or right foot – trust a cobbler to supply bits of shoe trivia – and he loved to slide along the ground in those boots, enjoying the scraping sound they made on the gravel. He remembers sirens blaring, warning of air raids (this was during WWII), and his 12-year-old self happily scraping his boots on the gravel. It's funny, the things you remember.
He opened the shop in 1953, and got married soon after. He and his wife were married for about 60 years; she passed away six years ago. "Old age," he shrugs sadly when I ask about the cause. "You take pills, then the pills affect your kidneys…"
How did they meet?
"It was an arranged marriage. Being a young man who'd opened a shop, I was looking to find a woman who had a house" – the house was her dowry, of course – "so I wouldn't have to pay rent, so I could make a go of the shop". She was from a good family, he was a fine young prospect with his own business. The two families met and agreed terms, the couple were engaged for a year, then they wed. It sounds decidedly un-romantic – but it was a good marriage, "thank God", and it's clear he still misses her terribly. At one point he mentions his kids – two daughters and a son, all in their 50s and 60s – and how they helped during lockdown; the family are close (though his son lives in England), also including various grandchildren and two great-grandchildren. Andreas shakes his head: "Only the wife died, and left me alone," he sighs, and lapses into gloom for a moment.
He's actually doing well, for his age. His glasses are broken (the left lens is cracked), but it's just a temporary setback; he's waiting for cataract surgery, and plans to get them fixed later. His mind is sharp, he has no live-in help and he comes to the shop every day – albeit with a walking stick – his daughter driving him in the mornings and picking him up at 5pm. He used to drive down himself, on his motorbike – but he had a fall in the bathroom a couple of months ago (when was this? "April 17," he says precisely), leading to a hip operation, and in fact he's still recovering. He should probably have stayed in the rehabilitation ward a bit longer, "but I had the business here, and didn't want to leave it". It becomes a habit, after 68 years.
So what was the neighbourhood like in 1953?
"The same," he shrugs. "Just as you see it now." Not exactly, of course. One building is new, the grocery next to him closed years ago (having previously been a sign shop and a candlemaker's), as did the confectionery on the corner. Still, a certain neighbourhood vibe persists. A pickup truck comes by, selling watermelons. A random-looking car stops in the street, its driver addressing one of Andreas' neighbours: "You want prickly pears? Two and a half euros a kilo". They have a brief discussion, the car behind him – two Arab women in hijab – waiting patiently.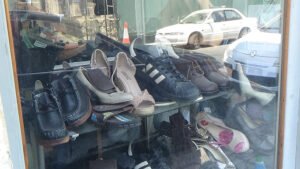 An old man across the street watches our interview (he looks a bit odd, to be honest), ducks into his shop, then emerges with a bottle which he clinks repeatedly with a metal fork, like a speaker at a wedding trying to get the guests' attention. Most unexpectedly of all, while Andreas is on the phone, a middle-aged woman in a blue-and-white sundress stops in front of us and silently hands him a chocolate bar. She takes out another bar and hands it to me – then, when I decline, smiles pleasantly and walks on, all without a word. Andreas later explains that the woman is from Georgia (or perhaps her name is Georgia; she's a Pontian Greek, at any rate) and qualifies for free meals, being presumably very poor, so she'll often get an extra chocolate bar and give it to him on her way home. It's a kind of ritual.
The phone call, incidentally, is from his younger brother, who's also been having mobility problems. "Are you walking? Do you still need help? Did a physio come?" I hear Andreas asking. He waits for the reply: "So you haven't walked by yourself yet?".
He nods sadly, two old gentlemen commiserating: "The legs are weaker. The muscles. The muscles are weaker…" He nods again. "Get well soon, take care". The brother offers some philosophical nugget before hanging up, and Andreas sighs in agreement: "Eh, what can we do. Getting older".
Old age is something he accepts, just as he accepted going to work as a shoemaker's apprentice after primary school, just as he now accepts Covid-19: "It's like all the other diseases that have befallen humanity," he says mildly – thinking back to the days of leprosy, meningitis, tuberculosis – "and we'll deal with this one too, as much as we can". There was never any thought of going to high school, back in the day; only his youngest brother (out of four sons) stayed in school, it was all their father could afford – and besides, it sounds like Andreas was better with his hands (and feet) than the life of the mind.
Football was his passion, as a nippy winger for Aon and other amateur sides. He also liked to hunt till quite recently, indeed he was in his 80s when he blacked out momentarily during a hunting trip and was later rushed to hospital by his daughter; he now has a stent (a tiny tube) near his heart. There's also a scar at the base of his middle finger, a souvenir from the time when he was 14 and a homemade bomb almost blew his hand off.
During WWI, it turns out, a military plane came down in the fields near Ergates. Andreas and his friends, with the freedom of kids in those days, foraged in the wreck and discovered all sorts of goodies – including bullets for the plane's machine guns which they'd open to extract the gunpowder, crafting their own improvised weapons. Already showing his cobbler's skills, Andreas would hollow out a piece of wood, fill it with a bullet and insert a match in a hole in the casing, with its wooden end hanging down; when the match was lit, the deadly slug flew out as from a real gun. Alas, he came a cropper when one of his friends was unable to prise open a bullet and Andreas had the bright idea of placing it on a rock and whacking it with another rock. The scar's still there, 78 years later.
Nearly getting killed at 14 isn't the worst thing that ever happened to him, though. The deepest scars are emotional, not physical – dating back to the time of Eoka, when his wife was pregnant with their first child. There was a bombing (or some other incident, he forgets) and the British rounded up an assortment of youths as suspects; "They had a masked man in a car," he recalls – the man being presumably a local informer – "and you'd pass by in front of him and he'd say 'Keep this one, let that one go'." Andreas, for whatever reason, was detained (though he wasn't Eoka) and jailed on December 9. His wife, having frantically tried and failed to find him, gave birth on the 12th – a girl, whom they named Spyroulla – but it was winter, the doctors "didn't take care of her" and the baby caught pneumonia. Andreas was finally released on the 21st, "and I nursed the child for a few days" but she died, on Christmas Day – a hammer blow, not least because he'd been in jail and unable to help when it mattered most.
He relates this story, sitting on the bench across the road from his shop, and of course it was bad, the worst experience of his life – but it's also true (though he doesn't actually say so) that it was a long time ago, and other children followed, and life went on regardless. Andreas doesn't wallow in traumas and what-ifs, indeed he's a big believer in keeping it simple. He's worked at the same job since he was a boy; he's gone out to the same place since 1948, Anagennisi in Palouriotissa (a syllogos, or working men's club) where he spends his evenings playing cards or backgammon. He has a craftsman's methodical nature, each new day – and each new crisis – like a new shoe to be sewn, polished, mended.
He's a man who knows the value of money. He hoards everything, piles of old footwear (his shop is like Aladdin's cave), because a buckle from one shoe may someday be useful in fixing another. He sold his car, though he still had a licence, when the premium became too high, just as he methodically set about getting married, as a young man, so he wouldn't have to pay rent – though the twist, in that case, was that he ended up loving it. What has he learned over 92 years? What are the great joys in life? "Seeing your children grow up and give you grandchildren," he replies. "What more can a man want?" Andreas isn't very sentimental, yet he poignantly recalls a day "when I had my first child – the second one, I mean; we lost the first one – and she was about two years old, and I sat her down on a rock – we went for a walk, and I sat her down on a rock – and she started clapping. And I said to myself: 'Can a child really give so much joy? And you waited so long to get married!' Because I only got married at 26." He shrugs, unable to articulate why the moment moved him so profoundly: "That's life".
Many decades have passed since that day – and he's now 92, still at the shop even though customers have slowed to a trickle. (I do meet one surprisingly youngish regular, who clearly makes a point of supporting traditional craftsmen; his tailor, he informs me, is just around the corner.) I assume his plan is to stay as long as he can – but no, says Andreas, he's happy to sell the place if he gets a good offer. What would he do all day? "Stay home," he shrugs, "go to my syllogos. I've got – how many years left? I'm 92, am I going to live till 200? Two years, three? Maybe five years?" Death, too, is something to accept, like work and Covid.
What to make of a man's life? Nothing much happened, you might say. Kids grew up, the sign shop was replaced by a candlemaker's. There was the usual quota of joys and sorrows. At some point, about 30 years ago, he decided to stop making new shoes (the market was flooded with cheap Chinese imports) and stick to mending old ones. He played football, then became too old. "And 92 years went by – just like that," muses Andreas Vasiliou, surrounded by the clutter in his shop: stacks of shoeboxes, an old fan, a baseball cap, a Singer sewing machine, a blue umbrella. And of course his photo with the other young men, all gone now.