By Ella Walker
Big Zuu is a right laugh to spend time with but the man's work ethic is absolutely no joke. A grime artist, rapper and cook, Big Zuu, born Zuhair Hassan, is best known for hosting series Big Zuu's Big Eats on Dave, which sees him cooking for and chatting with comedians, alongside his best mates from secondary school, Tubsey and Hyder.
The 26-year-old from London is also the self-proclaimed Roux King – "I'm just really good at making roux" – a cheese lover despite being lactose intolerant, and while his professional kitchen experience amounts to a "gruelling" stint on the grills at Nando's, he now has a cookbook, also called Big Zuu's Big Eats, to match the series.
"Having a physical book in front of you, it made me feel like, yep, this is all worth it. This is what I'm doing. I'm working hard to make this happen."
Cooking that started as a child while his mum was pregnant became an obsession, and although it's culminated in a telly show on Dave and a cookbook, Mumma Zuu doesn't always appreciate her son being so blunt about her cooking.
Fortunately, Zuu also pays homage to "the incredible individual she is", sharing her recipes for jollof rice ("That recipe has energy!"), okra soup and fufu ("Beautiful").
"African food is amazing. It's crazy, I kind of went from not having it all the time, to being upset when my mum would make [Western] stuff, being like, 'Where's the jollof rice mum?"
Zuu doesn't consider his food "typical". The book is a delicious melding of myriad cuisines: African, Jamaican, Lebanese, French, Japanese, Kurdish, Mexican, Iranian, American, Italian and more, featuring dishes that are big, bold, Instagram-worthy and largely for sharing.
His recipe for sardines and rice stands apart. "I grew up broke," Zuu writes, "like sardines and rice for dinner broke."
"Yes, show them the roots, show them what we come from. Show them the grind, the hustle," he says passionately, when asked about the recipe's importance. "I feel like highlighting that in the book just proves to people – there might be someone reading that and [they'll] actually be like, 'I eat sardines and rice'. Well, I still do! It might inspire someone to not feel s****y about their choice of food."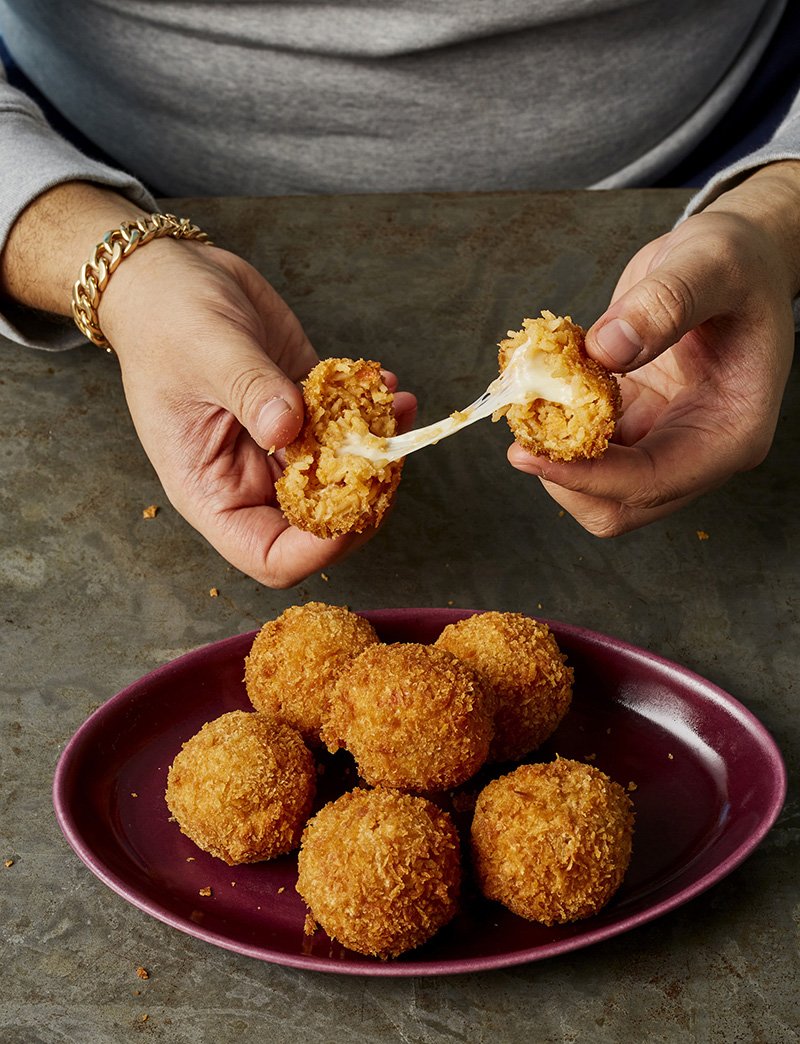 Jollof Rice Balls with Scotch Bonnet Sauce
Makes 8
400g leftover Mumma Zuu's Jollof Rice (see below)
60g mozzarella, cut into 8 pieces and drained well
1.5l vegetable oil
50g plain flour
2 eggs, beaten
50g panko breadcrumbs
1 quantity of Scotch Bonnet Sauce (see below)
For Mumma Zuu's Jollof Rice:
800g lamb leg, diced
3tbsp All Purpose Seasoning
1l vegetable oil, for deep-frying
1 onion, diced
4 garlic cloves, crushed
1–2 Scotch bonnet chillies, depending on how hot you like it, chopped or whole
4tbsp tomato paste
600g plum tomatoes, chopped
4 Maggi or other vegetable stock cubes, crushed
2 bay leaves
Pinch each of white pepper and ground black pepper
500g basmati rice, rinsed
Salt
For the Scotch Bonnet Sauce:
2tbsp vegetable oil
1 onion, finely chopped
1–2 Scotch bonnet chillies, depending on how hot you like it, pricked
4 garlic cloves, crushed
2.5cm piece fresh root ginger, peeled and grated
800g tomatoes, chopped
1tbsp white vinegar
1tbsp caster sugar
2 Maggi or other vegetable stock cubes
Salt and ground black pepper, to taste
Make the jollof rice: Toss the lamb in two tablespoons of the All Purpose Seasoning. Place in a saucepan, cover with cold water and bring up to the boil. Simmer for 40 minutes to one hour until just tender, skimming off any foam that comes to the surface. Drain the lamb, reserving the cooking liquid. Dry the lamb.
Preheat the oil to 170C. Then, working in batches, carefully fry the pieces of lamb for two to three minutes until they are golden brown and crisp all over. Drain and set aside.
Heat the three tablespoons of vegetable oil in a large casserole and add the onion. Cook for 10–15 minutes over a medium heat until the onion is golden, then add the garlic, Scotch bonnets, tomato paste and remaining All Purpose Seasoning. Cook for another two minutes before adding the tomatoes, stock cubes, bay leaves, salt and a pinch each of black and white pepper. Simmer for five minutes before stirring in the rice and the cooked lamb.
Measure the leftover cooking stock from the lamb into a jug. You need 850ml – if there isn't enough, top up with water. Stir this into the rice, cover with foil, put the lid on and turn the heat down to low. Simmer for 25–30 minutes, stirring every so often, until the rice is tender. Remove from the heat and leave the rice to stand, covered, for 15–20 minutes before serving – or saving for jollof balls.
Make the scotch bonnet sauce: Add the oil to a saucepan and fry the onion over a medium heat for 15 minutes until soft and beginning to caramelise. Add the chillies, garlic and ginger and fry for two to three minutes more before adding the tomatoes, three tablespoons water, the vinegar, sugar and the stock cubes. Season with salt and pepper. Bring up to a simmer and cook for 25 minutes to a thick, spicy sauce. Blend to a smooth sauce using a food processor or stick blender.
Divide the leftover Jollof into eight patties. Take a patty in the palm of your hand and place a piece of mozzarella in the centre. Wrap the rice around it using your hand and shape into a ball. Repeat with the rest of the balls and chill in the fridge for 15–20 minutes.
Preheat the oil to 170C.
Put the flour, beaten eggs and panko in three shallow dishes. Roll each rice ball in the flour, then egg and then panko, coating well.
Carefully drop the rice balls in to the oil and, working in batches, fry for three to four minutes until golden brown. Drain well on kitchen paper and serve immediately with Scotch Bonnet Sauce.
Big Zuu's Big Eats by Big Zuu is available now