When you meet Lefteris Mohaniakis he may remind you of an enfant terrible like Didier Dagueneau was in Pouilly Fumé years ago. However, although he is a bit radical, like Dagueneau was, has the support of designer Kristina Apostolou to create a concept, the Anama Concept.
Anama is an exclusive wine brand, a collection of wines in line, as they state, "with the island's traditional Commandaria terroir, varieties, oak aging etc.)". It is a brand designed to target the international palate. The Anama Vintages, the couple's first and signature project, "is the result of their study on Cyprus' tradition & terroir, while considering a modern concept of quality and design." It reflects the uniqueness of the historical wine culture of Cyprus.
The Anama Cellar, as I found out myself when I visited them recently, is hidden in a pine forest just outside the village of Lythrodontas. It is a contemporary construction, influenced by Cyprus' provincial architecture and the concept of modern design. It is structured to ergonomically accommodate the needs of the specialised winemaking methods applied for the production. After a brief onsite tour of the production line, we were offered a seat in the garden to taste their interesting wines and spirits.
2020 Head in the Skies, Xynisteri, Abv 10%
Proceed with caution, this Xynisteri is a marked departure from any medium dry styles you have had before. Light, only 10% alcohol, and while the honeyed aromas may lead one to think of classic medium dry, the wine spins those aromatics into an almost dry and rich mouthfeel. With a delicate balance between the interplay of acid and alcohol that is difficult to achieve the result is a remarkably rich and rewarding Xynisteri. It is light yellow in colour with unique personality. Pineapple and starfruit, mango, grapefruit and aromatic herbs on the nose, with a creamy palate, with notes of tropical fruit flavours honed by pithy citrus peel. You can enjoy it as a refreshing drink to have during Cyprus' long hot summer and it works well with spicy fare, fruit dishes, lobster, scallops and fish, pork, BLT sandwiches, and smoked meat. €26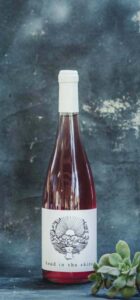 2020 Head in the Skies, Rosé, Xynisteri-Maratheftiko, Abv 10.5%
Refined and dry, red cherry colour, made out of the indigenous Xynisteri and Maratheftiko, the first early harvested to preserve its crisp acidity and botanical character, the second hand-picked when overripe to add some exotic watermelon and red berries notes with raspberries and strawberries completing the aromatic spectrum. Fresh in the mouth, well balanced, full and lively mid-palate, with a spicy, lingering finish. Drink anytime as an aperitif or with seafood, poultry, grilled meats, barbecue and Mediterranean-style cuisine. €26
2020 Head in the Skies, Maratheftiko, Abv 10.5%
Purely a summer Maratheftiko to be served at lower-than-normal temperatures. Inky red colour, fresh fruity nose, enticing, red cherry, cranberry, cassis and notes of sweet spices. Elegantly structured with supple acidity and mellow tannins, soft, plush palate, leading to a graceful finish. The wine is a delicious complement to a wide range of foods, especially barbecue, including chicken pork or lamb chops, pork roast and seafood including shrimp, salmon and ceviche. A perfect summer red served at 10-12C. €26
Refined spirits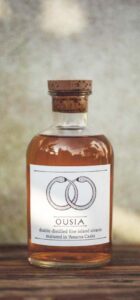 Ousia – doubled distilled Fine Island Zivania
Made from Mavro and Xynisteri late-harvest vineyards. As they explain, "after carefully transported to the winery, grapes underlie a short sun-drying process for about a week, enough to evolve its aromatic complexity and finesse." Then, they practice their custom-made smoking protocol, while burning vine branches pruned from the very same vineyard, to elegantly add a delicate smoked note. The vinification that comes next is a critical part of the production to create a refined base for distillation. A reconditioned old, hand-forged copper pot is used to make this remarkable eau-de vie. €25
Ousia – aged Zivania matured in Anama casks
Fresh Zivania matured for a few years in old oak barrels. Each barrel gives its own character and time favours to develop a unique character playing a significant role to the evolution of this spirit. A carefully selected blend of different Zivania vintages, such as three, five and eight years aged into Anama Casks, the second individual entity of that Zivania Trilogy, a well-balanced spirit of great complexity and undisputed finesse. €60
Ousia – off-dry oak matured Zivania
The last from the Zivania Trilogy, as Lefteris describes it, "this is the new blend of double distilled Zivania, oak matured for three, five and eight years in Anama Casks, elegantly sweetened with that specific amount of our most exceptional product, Anama Single Barrel Vintage 2013, already matured in oak barrels for seven years. This was the unexpected twist, resulting in a very deep, complex and unique spirit, inaugurating a new category of future Zivania, as well as a new trend". €68
2013 Anama Concept, Abv 14%
This nectar is aged for five years in oak barrels. A ripe, sweet wine produced from sun-raisined grapes, following a natural vinification protocol. The 100+ year-old vines of the indigenous varieties Mavro and Xinisteri, situated along the slopes of Zoopigi (1,100+m altitude), are cultivated solely by hand and with tools. The grapes are hand-picked and carefully transferred to the winery, where a controlled amount dehydration process is carried out on customised sun drying beds. Dark amber colour with golden and orange shades. It shows very complex aromas of dried honeyed fruit, figs and orange peel. It is a rich and vibrant wine with refreshing acidity that cuts through the fruit, and tastes very fresh despite its sweetness. It has a succulent finish and a very long aftertaste. It is a treat on its own, with dark chocolate, dried fruit or strong cheese. €78
Anama Boutique Winery, Lythrodontas, www.theanamaconcept.com