High rents and the cost of buying an apartment in Cyprus, and especially in Limassol, are among the main problems young people face today. This is a phenomenon that has strongly emerged in recent years and one that is of great concern to young couples who wish to buy their own home, but who lack the financial means, and have great trouble in finding such means, especially when paying the high rents set by landlords.
The problem was identified by a survey conducted by LionGlobal on first-time home buyers. Based on the survey results, Millennials are expected to become a dominant force in the Cyprus real-estate market in the coming years. Contrary to the prevailing trends abroad, young couples in Cyprus aged 25-39, dream of buying their own home. In particular, 34 per cent of respondents stated they would prefer to buy instead of rent, as this is viewed as a more affordable option.
In practice, however, the dream of owning a home is, in many cases, hindered by the inability to find money for a mortgage deposit required by bank institutions. After all, it is no secret that several young buyers rely on their family's resources to pay the deposit.
From 'Generation Rent' to 'Generation Buy'
A solution to the problem would be the implementation of a scheme that would enable young buyers to secure a large amount of the deposit. Similar schemes are already in place in several countries abroad.
In this way, incentives would be given so that many tenants would become buyers, realising their dream of owning their own home. In addition, this would help solve the problem of high rents, while boosting the real-estate sector at the same time. It's clear that what the market now needs is the creation of new, modern properties with a design that includes, if possible, 'green' features, aimed chiefly at Millennials and available at attractive prices.
Affordable homes in Limassol for young couples
A typical example of such housing development is Sunset Gardens, a pioneering project developed by Imperio in western Limassol. It is one of the most innovative, ecologically sustainable and comprehensive housing projects in Cyprus, which will offer a balanced lifestyle to its future residents.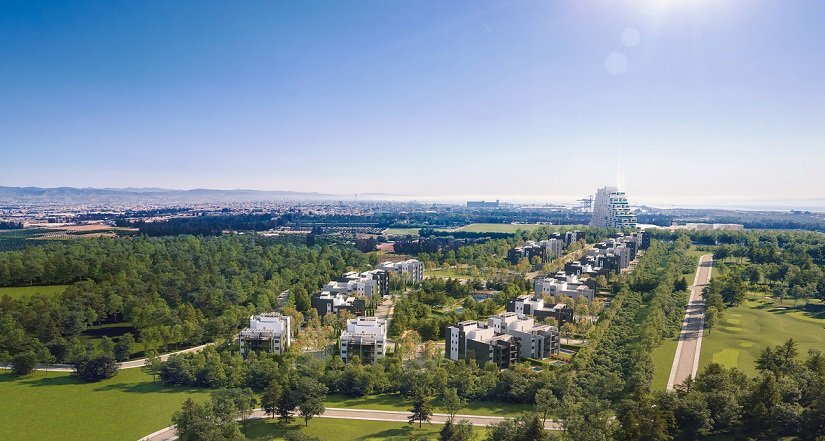 "The wide range of features and facilities of the project, along with the affordable prices at which its apartments are being made available, have already established it as a pole of attraction for interested buyers," Sunset Gardens CEO Nicholas Ayiomamitis, said of the development. "Indicatively, since its launch last September, almost 100 apartments have been sold, mainly to young couples and professionals, demonstrating high resilience during the pandemic."
Sunset Gardens offers comprehensive solutions for private residences or holiday homes. It consists of 321 one-, two- and three-bedroom apartments, while offering several amenities, such as swimming pools, a restaurant, a supermarket, a gym as well as a tennis and a basketball court.
The residential development is designed to blend harmoniously with its environment and set in a privileged location, only 1km away from Lady's Mile beach and 10km from Limassol's business and commercial zone. It is also very close to the casino resort that is expected to open its doors in 2022.
Ultimately, Sunset Gardens is an ideal option for young people and couples in search of a home in a nice area and at an affordable price, while posing an amazing investment opportunity at the same time.