By Katie Wright
It's the end of a long, frustrating day, during which Candice Brown had to contend with train delays, a schlep across London on foot to reach her car, and a traffic-clogged, two-hour drive to The Green Man – the pub she owns with her brother, Ben.
"I'm just watching one of the members of staff walking in and two girls are dancing," Brown tells me on the phone, welling up with pride and relief as she surveys the happy scene in the Bedfordshire boozer, a few weeks after pubs reopened following lockdown restrictions easing in England.
Trying to keep the siblings' business afloat was just one of the challenges the 2016 Great British Bake Off winner, 36, has faced during the pandemic, including splitting from her husband.
Having previously spoken about her experiences of depression and PTSD following a traumatic incident at a hospital, last year, the former PE teacher was diagnosed with ADHD (attention deficit hyperactivity disorder; a condition that often goes undetected in women).
"It presents itself so differently in women and in girls," says Brown, who is nicknamed Bumble because of her tendency to buzz about and flit between projects. "It can be lack of attention, it can be a hundred things happening in your brain, it can be talking and completely losing your train of thought."
She's keen to point out that people with 'invisible' illnesses "can still achieve and you can still succeed. It's OK to go away and cry and go, 'Oh my god, I am literally at breaking point', but still on the surface look OK."
In her new book Happy Cooking Brown writes candidly about her struggles and how she retreats to the kitchen in times of need ("I cook and I bake when I'm happy, sad, stressed, angry…"), and reveals the recipes that help her cope, whether it's a comforting, gooey cheese and sausage toastie, a nourishing chicken tray bake, nostalgia-inducing angel cake, or Swedish cinnamon buns made for sharing.
"It's been the hardest year of my life. I managed to put pen to paper and I'm so proud of that, and to be able to share something that's been so difficult for me."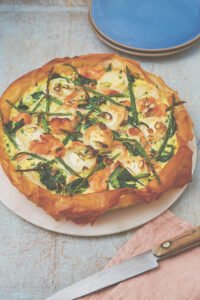 Goat's Cheese, Smoked Salmon and Asparagus Filo Tart
Serves 4-6
6–8 sheets of ready-made filo pastry
50g unsalted butter, melted
250g fine asparagus
5 eggs
100ml double cream
100ml whole milk
Small bunch of fresh flat-leaf parsley
200g baby spinach
5 spring onions, trimmed and finely chopped
200g smoked salmon
250g soft goat's cheese
Salt and freshly ground black pepper
Preheat the oven to 160C fan
Brush a 25cm tin with melted butter and then lay in the first layer of filo pastry. Brush this with melted butter and lay in the second layer, then brush with more melted butter. Repeat with the filo and butter until there are no gaps in the pastry, the tin is covered, and you have lots of lovely jagged edges sticking up. Brush the last layer of pastry with butter and bake for eight to 10 minutes until the filo starts to turn golden and crispy. Remove from the oven and set aside.
Bend the asparagus spears until they snap then blanch for two minutes in boiling water.
Mix the eggs, cream, milk and some salt and pepper together in a jug. Finely chop the parsley and stir through.
Layer up the spinach, asparagus and spring onions in the baked filo pastry case and tear the smoked salmon over the top. Pour over the egg mixture and top with slices of the goat's cheese. Transfer the filled filo pastry case to the oven.
Bake for 25–30 minutes until the egg is just set with a slight wobble and the filo is golden brown.
Serve warm.
Cornflake Rocky Road
Makes about 9 squares
250g dark chocolate, chopped, or dark chocolate chips
125g unsalted butter, cubed
4tbsp golden syrup
100g cornflakes
100g oaty biscuits
75g dried cherries
50g sultanas
100g marshmallows, either mini or larger ones roughly chopped
50g pecans
100g chocolate caramel bars
50g white chocolate, chopped, or white chocolate chips
Heat a saucepan of water over a medium heat until simmering.
Place a heatproof bowl over the saucepan, but don't let the water touch the bottom of the bowl. Put the dark chocolate, butter and golden syrup in the bowl and melt slowly, stirring with a wooden spoon. Once melted, remove from the heat and leave to cool slightly.
Stir through the cornflakes. Break up the oaty biscuits, then add them to the melted chocolate along with the remaining ingredients, except the chocolate caramel bars and white chocolate. Gently fold through so everything is evenly coated in melted chocolate.
Line a 20 x 20cm baking dish with greaseproof paper and scrape the mixture evenly into the tray. Gently spread it out but leave it jagged and lumpy.
Break or cut up the chocolate caramel bars and dot over the top.
Melt the white chocolate. Drizzle the melted chocolate over the top of the rocky road, then transfer to the fridge to set for 20–30 minutes for a soft-set rocky road.
Happy Cooking by Candice Brown is available now