DeFi, decentralised finance, is the fastest-growing market in the cryptocurrency universe. More than $61 billion worth of trades have been executed in the market, up from about $15 billion at the start of the year, according to specialist data provider DeFi Pulse.
We asked Dr. Marios Kyriacou, manager at MNK Risk Consulting in Limassol, a boutique financial services advisory firm with risk management expertise (www.mnkriskconsulting.com), to talk about investment opportunities in DeFi.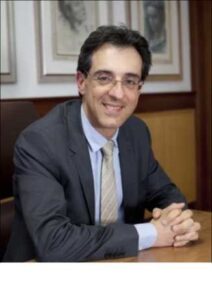 "The term decentralised finance describes a financial system that operates without the need for traditional, centralised intermediaries. We're used to everything going through a bank and other financial institutions like a global exchange, but DeFi creates a system that can function on its own.
Perhaps the most well-known application of decentralised finance is online transactions through DeFi cryptocurrency, but decentralised finance allows us to handle a number of financial applications – like investing, insurances, exchanging, borrowing, and peer to peer lending in a more efficient and transparent way. Rather than a bank facilitating transactions and services between parties, DeFi uses technology," Kyriacou explains.
There is still friction between traditional finance and DeFi, he notes.
"Banks in the conventional banking system don't like  it simply because it is serious competition. You saw what happened with Facebook's Libra? Whereas end users manage decentralised finance. It means that processes are much more cost efficient, because there are fewer agents in the middle, it allows the market to speak for itself. You have the efficient market hypothesis in the works and prices really reflect supply and demand."
Virtual currencies are one of the main developments in DeFi. But which ones are likely to stay the course?
"For a virtual currency to be here to stay, it needs to have a business case and make some economic sense. The reason why bitcoin is successful — and I believe it will remain successful – is because the supply of bitcoin is limited. Bitcoin can be used as a means of exchange for commercial transactions, but there is only so much of it. As a result, it is here to stay, with a market capitalization of $815 billion.
Cardano is another example. It is crafted to facilitate writing smart contracts. As a result, it is the third-largest cryptocurrency in size with a market cap of $45 billion. It relies on blockchain technology to solve real-world problems. For example, it has partnered with the Ethiopian government to track the educational progress of 5 million students on its network. That project will give each student a tamper-proof academic record that could help them get jobs or study abroad. Smart contracts are tiny pieces of code that live on the blockchain.
They are game changers. Without them, a blockchain database is a sophisticated ledger that can record and track transactions and data. But with smart contracts, the blockchain becomes a programmable platform that can host other applications. Cardano wants people who don't necessarily have technical backgrounds to be able to create smart contracts, Kyriacou says. And he goes on to add that smart contracts make possible several DeFi applications, for example, offering loans on a peer-to-peer basis that don't require a middleman like banks.
In addition, Cardano smart contracts make use of Non-fungible tokens (NFTs); these unique digital assets are often collectibles like art or sports cards, with built-in digital signatures containing ownership information. All in all, smart contracts increase cost efficiency and make commercial transactions much more rapid and transparent," Kyriacou points out.
Ethereum is another crypto currency success story. It provides open access to digital money and data-friendly services for everyone – no matter your background or location. Banking for everyone- all you need to access Ethereum and its lending, borrowing and savings products is an internet connection. Moreover it provides a peer-to-peer network enabling the move of money, or make agreements, directly with someone else. You don't need to go through intermediary companies.
Another important feature of Ethereum contributing to its success is that it promotes a more level playing field; users have a secure, built-in guarantee that funds will only change hands if you provide what was agreed. You don't need large company clout to do business, he adds.
What these virtual currencies offer to the wealth manager is another opportunity for diversification of assets.
"Diversification is an important investment principle," Kyriacou continues.
"If I were a wealth manager, I wouldn't be threatened with the use of virtual currency because what is the job of of a wealth manager is to be able to making the most out clients' money, and diversification is part of doing that. The important thing is to choose assets that are not correlated, meaning they move rather independently. If I buy stock in Amazon, and then in Alibaba, I will find that they are correlated.
Wealth managers are always looking for valuable uncorrelated assets, and the expansion of alternative assets has been the result. Virtual currencies offer such an opportunity.
Why are some cryptocurrencies bullish?
"Cardano's  ADA is very bullish, a really good example today. Why? Because Cardano  has a roadmap with a fixed number of milestones in its development and in ADA's use case in the economy. And now they're they're about to accomplish the third milestone. September 12th  is launch day for Cardano's smart contracts cryptocurrency platform called Alonzo. Once they achieve each of these milestones, they give comfort to investors that their planned roadmap is going to be achieved of this currency. And this is the reason why Ada went up from $1 to nearly $3 in a month's time."
What about the adoption of cryptocurrencies in Cyprus? Kyriacou sees it as improving.
"Cyprus, although it was very skeptical at the beginning. This is because policy on cryptos is governed by wider European policy. And the European policy is very skeptical." Kyriacou says.
"But in recent legislation, CySEC has enabled the licensing of crypto asset exchanges. If you want to set up a crypto exchange, MNK Risk Consulting and we can help you to get the license. Our consulting firm is in the business of licensing and post-licensing regulatory compliance advisory of investment funds, investment firms, electronic money institutions and other regulated entities through which crypto assets can be offered. The risk management of crypto assets requires expertise because of their known market price volatility and operational risks they are exposed to.
Cyprus has also made a lot of progress in the trading of crypto assets, which until recently was a grey area. But now some investment firms can seek the right to offer investment services on the trading of crypto assets. You need to seek authorisation by CySEC, and, based on your experience and your expertise in the market you may be authorised to do so. Our firm assist clients for such authorization applications.
Cyprus is reluctantly, slowly but steadily is opening up to crypto assets for investment services, and for trading on exchanges. Unfortunately, some Cyprus banks will most likely not allow you to move funds from your  commercial account to a crypto exchange. This gap is filled in by electronic money institutions such as eCredo (www.ecredo.com) which can help investors moving funds from their payments accounts to brokerage firms dealing in outright and derivative crypto asset investments. As a matter of fact eCredo not only they facilitate crypto asset trading but they do it cost efficiently and instantly! Being located in Cyprus and offering personalized support is also another plus compared to other electronic money institutions.
As Kyriacou points out, the transition to acceptance of cryptocurrencies in Cyprus will be greatly assisted by consultants like MNK Risk Consulting. "In advising companies, we can be a strong force in educating them and helping them to diversify into these new investments that promise much for the future," he concludes.