Brave, mischievous, smart, conniving, beautiful, lustful, powerful and powerless women deserve their own platform. ELENI PHILIPPOU speaks to the woman who has given them one
It's not often that the same book can make you laugh, frustrated and wish your Greek history lessons had been so entertaining. Artemis Evagorou's latest book Genaitzies does all of that as it re-shares the stories of the most famous, desired and forgotten women of Greek mythology in a way that only Artemis knows.
Now, almost nine months after her book Genaitzies (meaning Women in the Cypriot dialect) was released in January 2021, and it has circulated and been read by many, the time has come for Artemis to officially present the book to the public, at the Nicosia Multicultural Centre on Friday.
The first time I came across one of Artemis' books was when a friend gifted me Pnase Oulla Enna Pan Kala book, which roughly translates to Don't worry, everything's going to be alright. It's a hilarious self-help book with activities and exercises to aid with those gloomy days. What captivated me the most was its comical writing in the Greek-Cypriot dialect, using phrases and expressions rarely seen in print. It was surprising, refreshing and I couldn't put it down. I couldn't stop telling people about it. Then, her book Genaitzies was released.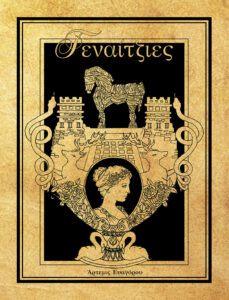 Though she now has three books under her belt, writing wasn't always Artemis' plan. She worked at the Cyprus Tourism Organisation for a while before moving to Laiki Bank Cultural Centre to lead their educational programmes and research their historical books. That's when she first immersed herself into the Cypriot culture, art, and ethnography that would later inspire her first steps in publishing a book.
"I have always had a thing about Cypriot culture and identity," Artemis said, "but up till then, I hadn't had a full idea of exactly all the little treasures and mysteries I would be able to discover through rare historical archives. I fell madly in love with Cyprus and this was the exact moment where the seed was planted for book number one, Cyprus: Final Tastynation. It would be years before I could pick up the courage and actually write it."
Artemis moved on to another job yet the feeling that Cyprus was often a misrepresented tourism product stuck. She wanted more information about the island to be preserved and appreciated and with her knack for writing – which she shared on her blog – she decided to write her first book. A book filled with recipes but not a cookbook, rather a storybook with Cypriot tales about kings, harems, mermaids, blending in Cypriot culture, beliefs and superstitions.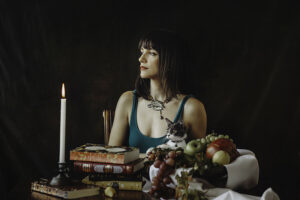 All of her three books so far are written in the Cypriot dialect, packed with great humour and such an honest voice that you can almost hear Artemis talking directly to you. I can almost hear her reading them out loud to me. Many have been attracted to her no-BS and amusing language yet Artemis doesn't want to be defined by it.
"I think my thoughts flow better through the Cypriot dialect," she said. "The sarcastic and comical writing is another aspect of what I consider to be part of my voice. But I wouldn't want to bind myself into this prose as if it were a promise, a contract. I might want to try something completely different in the future. But for now, yes, this is the style I have found to be able to express myself better."
She brings this style to her latest book Genaitzies as well, an almost historical tale about the greatest female figures of Greek mythology, their lives, aches and passions. The idea to write about the story of these women came to Artemis as she was reading The Odyssey to her kids as a bedtime story, and she stumbled across information she had never noticed before.
"And after that, I of course went online to find what that could mean. And the black hole of the internet opened up and swallowed me whole. What I love about the internet is that it is not only a never-ending gate to kitten videos and porn but also a place where you can find ancient written treasures by Homer, Euripides, Aeschylus and Ovid. And that is how the Genaitzies saga begun. The saga of Helen of Troy, Cassandra, Oenone, Ariadne, Clytemnestra (oh, how I love thee) and Iphigenia: brave, mischievous, smart, conniving, beautiful, lustful, powerful and powerless women who deserved their own platform, their own book."
But the book is not only about these women and their loves, troubles and tragic endings. It is also a reminder that humanity is in an endless loop. "Women had been treated like disposable, expendable, replaceable and consumable beings then, and thousands of years later, we have the same issues, the same treatment, the same debates."
Now, with Covid measures proving slightly more flexible to organise events, a book presentation can finally happen for Genaitzies. On Friday, September 17, at 7.30pm in Nicosia Artemis will be joined by two charismatic individuals to share their interpretation of the book and their take on the subjects it raises. Well-known writer, archaeologist and historian Anna Marangou is one of the speakers and Antonis Petrides, the Associate Professor at the Humanities and Social Sciences of the Open University of Cyprus is the other. Of course, Artemis will speak as well at the event but only because she says she cannot avoid it.
Time to be reintroduced to these Ancient Greek women and in a way rethink about women in society, even in today's seemingly modern world. All in less than 70 pages.
Genaitzies Book Presentation
Artemis Evagorou presents her latest book Genaitzies. Guest speakers: Anna Marangou and Associate Professor Antonis Petrides. September 17. Nicosia Multicultural Centre, Nicosia. 7.30pm. Free