When things go down the drain, art is there to express the inexplicable and protest the incomprehensible. For Cypriot artist, Andreas Efstathiou speaking up during the financial meltdown of 2013 was a necessity and he did so by using toilet humour!
On a June day he placed 20 toilet sculptures made of concrete and plaster outside the Central Bank in Nicosia as a symbolic response to the government's handling of the haircut, which caused thousands to lose their life savings.
It was a bold move, a sarcastic comment that earned the public's approval and caught the international media's attention. Eight years later, Efstathiou's Toilet Sculptures return for an exhibition at Cornaro Art Institute in Limassol, inviting more people to explore them. From September 16 until 23 the sculptures will be displayed at the Institute from 10am until noon and then again from 5pm until 8pm.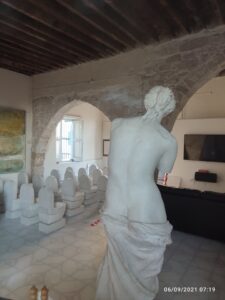 "The sculptures were a protest," the artist told Cyprus Mail. "It was shocking for the world and for Cyprus to take people's money from the banks. Even though I am not an economist, I am an artist 100%, I was annoyed at our parliament, upset that so many people lost their jobs. This was a political protest."
After working on them for two months, on June 10, 2013, Efstathiou displayed his Toilet Sculptures in two rows outside the gates of the central bank. It slowed down traffic, drivers stared and some honked in approval. They remained there for a day, after attracting global attention.
A day after they were displayed in Nicosia, London-based art collector John Michael Mouskos got in touch and bought all 20 art pieces. Though other offers came through, the artist chose this exchange with Mouskos as he is a dedicated and big art collector with plans of opening a museum on the island.
"The toilet sculptures," Mouskos wrote in a recent article, "test beliefs about what is art and what it is for an artist to protest. They challenge the perception of art as something that occupies space. I prefer not to view 'Toilets' as a form of reaction or protest – they are so much more significant. Each sculpture is a human embodiment of courage and compassion.
"They are voices that have spoken," he added, "and still speak, that say a person who lives their life with courage and integrity can be destroyed but never defeated. Together they form a powerful assemblage of the unbreakable spirit of the people of Cyprus. They are a monument of dignity, in a moment in time, for all time."
Toilet Sculptures
Exhibition of Andreas Efstathiou's art creations in protest of the 2013 haircut. Cornaro Art Institute, Limassol. September 16-23. Opening night at 7pm. 10am – 12pm. 5pm until 8pm. www.andreas-efstathiou.com