Vladimiros Tziortzis was in excellent form over the weekend, scoring second and fourth place in the NASCAR Whelen Euro Series race hosted in Croatia.
In his best performance this year, he collected 68 points in total and remained in third place in the EURO NASCAR 2 standings with 252 points, with two races to go.
First is the German Tobias Dauenhauer (295 points) and second is the Czech Dubek (262 points). Both compete in the same team (Hendriks Motorsport).
As the points in the last round in Italy are doubled, Tziortzis still has hopes of winning the title. The next round of the championship is at Circuit Zolder in Belgium on October 9-10, while the curtain falls at Autodromo Vallelunga in Italy on 30-31 of the same month.
Participating with the support of the Cypriot pharmaceutical company REMEDICA, Tziortzis climbed to the second step of the podium on Saturday, very close to the winner Dubek.
On Sunday (19/9) and despite the problem in the brakes of the Ford Mustang from the first corner of the race, the Cypriot driver finished in fourth place, just off the podium, despite trying several times to pass third-placed Belgian Pilate.
In general, Tziortzis was extremely fast, scoring a second place in both official free practice and qualifying, moving at the pace of pole man Dauenhauer, as their differences were always less than two tenths of a second.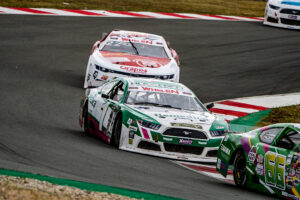 Tziortzis races for Academy Motosport / Alex Caffi Motorsports, with support from Race Art Technology.
"Is an achievement for me, that we drive for Hendriks Motorsport, the only team in the championship that also runs in the American version.
"Given the problem on Sunday, 68 points is a very positive result, since we extended the difference from fourth to 20 points. I return happy.
"There are two rounds left and the main goal is to pass Dubek, without giving up the fight for the title of champion. I'm feeling strong and everything will go as planned."