Europe has been left exposed to the vagaries of extreme weather
Europe is going through a natural gas crisis, partly self-inflicted. The spectacular increase in gas, but also electricity, prices is threatening to derail economic recovery as Europe emerges from Covid-19. This also includes Cyprus, but for somewhat different reasons, covered later in the article.
Economic recovery has been accompanied by a substantial increase in energy demand in comparison to 2020. At the same time, soaring emission allowance costs have been driving coal out of Europe's energy mix, with natural gas – as the cleanest fossil fuel – being increasingly used to replace it.
This, combined with slow wind speeds over the last few months – the slowest in 20 years – and low gas storage reserves, has driven gas demand to new highs. And all this is happening at a time of a global gas supply crunch. In Europe gas supplies are below par because of Norway and North Sea problems and maintenance. On top of this Gazprom is not supplying more gas than it is contractually bound to, because it has to meet increasing demand within Russia and because – some say – it wants the EU to speed-up approvals of the Nord Stream 2 pipeline. In addition, most LNG goes to Asia.
As a result of these developments, the natural gas price at the TTF hub in the Netherlands shot-up to $25/mmBTU in comparison to $4.50/mmBTU a year ago. Similarly, the electricity price has increased to €160/mWh in comparison to €40/mWh a year ago. These prices are causing angst and in many cases hardship for Europe's consumers, in the midst of recovery from the pandemic.
Europe's increasing reliance on renewable energy sources, mostly wind, is partly to blame for this expensive mess. In the longer-term renewables backed-up by long-term electricity storage – to deal effectively with intermittency – may be the way to go. But in the short to medium-term, intermittency is a serious problem that does not appear to have been addressed adequately in Europe. The rapid decommissioning of nuclear and coal plants – with the latter driven by very high emission allowance costs – have left Europe exposed to the vagaries of extreme weather.
This situation will get worse before it gets better. It is likely to last into winter, before it subsides possibly early 2022. And it will be exacerbated if winter is harsh.
In extreme conditions, whether cold winters or calm summers, electricity systems that rely heavily on intermittent renewables can become vulnerable and must be balanced in order to ensure reliable energy supply through smarter electricity grids and use of back-up systems.
Other than somehow increasing natural gas supplies substantially, which appears to be a challenge, little can be done in Europe to confront this crisis, other than hope that this winter is mild.
This crisis has served to highlight how the world is still heavily reliant on fossil fuels, at least in the short to medium-term, until as and when the challenges round renewables are resolved and energy transition progresses more reliably and dependably. Oil and gas are not just needed for electricity generation, but also for most economic and social activities. Demonising them and stopping production without other reliable energy sources fully available to replace them is not the answer.
The world needs to transit to clean energy if we are to arrest global warming and its evident destructive consequences. As evidenced by this crisis, while getting there, which may take time, we still need medium-term solutions – reliable, affordable and dependable supplies of energy.
Implications for Cyprus
In Cyprus the two main factors that have led to the rapid increase in electricity costs are: the price of oil used for power generation and the price of emission allowances.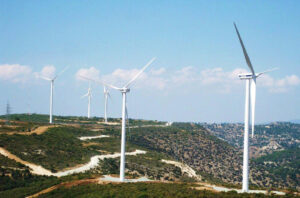 OPEC has warned that the gas crisis will impact the oil price. Indeed, since the start of the crisis the price of Brent crude increased from $72/barrel to $78/barrel now and it is still rising. A year ago it was about $40/barrel. This latest rise is likely to impact further the Electricity Authority of Cyprus (EAC)'s recently announced electricity price rises. With fuel constituting just over 50 per cent of EAC's operating costs, the impact of higher fuel costs is self-evident.
The price of emission allowances (EUA) has also shot-up from about €26/tonne CO2 a year ago to close to €63/tonne CO2 now, and expected to carry on rising. The cost of EUAs constituted about 8.6 per cent of EAC's operating costs in 2019. It could increase to 16 per cent this year, about €140million, and more in following years.
The impact of these increased prices on EAC's operating costs is real and likely to be long-term. With current global market conditions neither the price of oil nor of EUAs is likely to come down – quite the opposite. Ad-hoc, temporary solutions are not the answer. This requires that serious measures are adopted to meaningfully reduce emissions.
This can be assisted by a sensible disbursement of the revenues Cyprus collects from the auctioning of its emission allowances. The EU Emissions Trading System (ETS) Handbook states: "Member States shall determine the use of revenues generated from the auctioning of allowances". In 2008, Member States committed to use at least half of the auction revenues to reduce greenhouse gas emissions, mitigate and adapt to climate change. The Handbook also states that this could include measures intended to improve energy efficiency, heating systems and insulation, or to provide financial support to address social aspects in lower- and middle-income households.
Cyprus should make full use of its ETS revenues to boost the share of renewables in the energy mix and assist low-income households to cope with the high electricity prices.
This can be done in many ways, but the most effective would be to upgrade the island's electricity grid into a smart-grid, with improved stability and transmission efficiency, so that it can accommodate a higher percentage of renewables. Part of these revenues can also be used to construct a battery storage network to support the wider deployment of renewables.
EAC's recent reduction in the price of electricity, by 10 per cent, is said to cost the company €24million. It is not a long-term solution. It is only a temporary, and reactive, stop-gap measure.
Instead of resorting to reactive approaches – ie waiting for a problem to occur and then scrambling to put in place half-cooked solutions – Cyprus should put in place a longer-term plan on how to better use its ETS revenues. This could be part of a long-term energy plan, which is badly needed but missing.
Dr Charles Ellinas, @CharlesEllinas, Senior Fellow, Global Energy Center, Atlantic Council