A woman's plea after suffering smoke inhalation after saving 17 dogs from one of this week's many fires
The recent fires that have ravaged large swathes of the countryside have not only claimed the lives of four people and destroyed properties but have also killed countless animals, destroyed the habitat of others, and vapourised plants, trees and crops.
In the wake of the destruction, officials on Thursday agreed that stricter legislation must be put in place immediately to punish human activities that cause catastrophic fires before they became a problem.
The relevant legislation will be reviewed and penalties will be stricter, but that is little comfort for those whose lives have already been torn apart after the worst fire in living memory destroyed 55 square kilometres of forest, homes, properties and livelihood and where four men also died in July.
A 67-year-old man has been charged in connection with that fire and is suspected of starting it after he tried to burn dry grass.
Another fire that raged in the area of Simou and Yiolou in Paphos this week was apparently similarly set and almost claimed the lives of 17 pet dogs that were being looked after in kennels in the area, if not for the quick thinking and stoic determination of the business owner to save them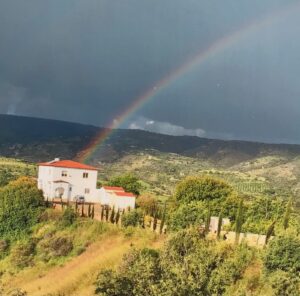 Mina Kyriacou of Hounds on Holiday in Simou has been traumatised by the incident and suffered smoke inhalation caused by the fire, but said she would do it all again to save her clients' dogs.
"What the hell are these people thinking? Are they pyromaniacs, are they stupid, how can they cause such destruction? This is people's lives, animals' lives and wildlife. What can make them stop?" she said, speaking to the Cyprus Mail this week.
The kennels, which are around 100m away from her house, are both set in what was very beautiful countryside, which now looks like a war zone, she said.
At the time of the fire, 17 dogs including: Cyprus poodles, German shepherds, Labradors, beagles and hunting dogs, were all in her care. Most are rescues that found their forever homes, she said.
"I was at my kitchen window, I had just come from the kennels and I saw smoke, and I got on my quad bike and drove down my drive and could see all of the flames, I rang the emergency services. They said services were coming. But it was spreading, and no fire engine could put this out, helicopters were needed."
As she hurtled back towards her house, the flames followed her.
"I was terrified, all I thought was I can't let the dogs die. There were four workmen doing some tiling for me, so I yelled at them to help and to take two dogs each from the kennel and get them up to the house."
The kennel was full of smoke, but the group managed to get all the dogs into the house. But, very quickly the flames spread and were crossing the drive.
"I shouted to them to grab the dogs and bundle them into their cars three or four in each and make a dash for it."
However, two of the dogs were missing and she raced back to the house, grabbing them and racing down the road with one under each arm.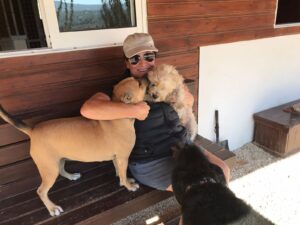 "The heat was so intense, like nothing you can imagine, and I couldn't breathe properly. I think it was adrenaline that kept me going."
The dogs and Mina stayed at a friend's house.
The property was surrounded by Cypress trees, conifers and others, Now they are just burnt stumps. Her office, store room and outdoor barbecue area have been destroyed along with all the dog agility equipment and lining in the dogs' pool
The kennels are still standing but one end was alight which a brave neighbour extinguished, the back is scorched and the roofing felt has melted.
"Thankfully my house is OK. Six windows need replacing, as does the air conditioning units, lights and sensors as they have all melted."
The fire was put out by the helicopters but it raged for at least an hour and 20 minutes before help arrived.
"The damage to the countryside is catastrophic.I haven't seen any birds, lizards or other life."
The death of one thousand pigs in a fire in Larnaca earlier this year highlights the disturbing fact that there are no systems in place to help animals when there is an earthquake, fire or flood, Kyriacos Kyriacou of the Cyprus animal party said
"Despite warnings that we have given the government and explained that other countries have them, there are no plans for an emergency for livestock or pets."
It's not only humans that should be protected, he stressed.
"We are working with the government and ministers to address these issues. What if there are floods and heavy rains in the winter, what is the plan? We need a protocol for animals and other creatures and how to save them."
Martin Hellicar of Birdlife Cyprus said that in the short term there is a serious impact after such a fire as vegetation and plants including rare species are lost and there is a large mortality rate.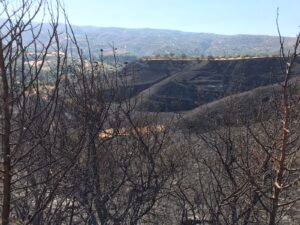 "However, ecosystems have been through fires before and have evolved, they can come back and it's what actions are taken after a fire that is crucial," he said.
Previously, the policy was to 'get in there and plant' and terrace mountains with the idea of the area coming back faster. However, evidence shows it should be left well alone and the ecosystem should not be disturbed.
The key is to avoid turning the soil although measures are needed to prevent soil erosion, as after a fire the soil can be washed away in the first rains.
"It's not black and white, I'm not saying never plant, but it can be as a support and not to intervene or correct it."
The biggest problem to tackle is climate change as it is very difficult for a lot of the forests to recover from fires now.
"It is getting hotter, and it takes a lot longer to grow back, if it ever does."
Statistics for the last 10 to 12 years or so, show that the number one reason for fires in terms of numbers in Cyprus is agricultural activities, the second is people setting them on purpose, the third is isolated homes, then hunters and EAC cables, said Charalampous Theopemptou MP and head of the Green party
"We want to stop people setting fire to their cuttings and garden waste but to successfully stop rural communities from setting such fires, an alternative solution has to be in place," he said.
One idea is that communities could share a shredder which is inexpensive. The shredder would arrive, shred what is necessary and take it away.
"This product has some value," he said. "It can be used to prevent soil erosion, laid out on fields to prevent weeds growing and as compost."