Jamie Oliver is an absolute machine. The celebrity chef – no longer 'naked', but very much clothed and still campaigning for us all to cook (stress-free) from scratch at home – is back with a new recipe collection, Together.
While not all five of his children are featured on the cover, this book is all about feeding the people you love. There are dinner party menus, ideas for big gatherings and celebrations, and nifty get-ahead tips and tricks so you're not losing your cool as your guests start to appear.
Noreen Barr tried: Fragrant squash curry
Reading through the ingredients for Jamie's Fragrant Squash Curry, one glared out – two tinned pineapple rings in juice. The last time I knowingly ate pineapple in a curry was reluctantly as a child back in the 1970s.
Making it was simple. While chunks of squash (no need to peel) were slowly roasting for an hour in the oven, I had plenty of time to dry-fry the onion, garlic, ginger and spices. Soon the pineapple rings and tomatoes were softening and beginning to char – and the smell was surprisingly promising. Once whizzed in the blender with coconut milk, I'd a flavour-packed sauce that thickened up nicely with some chickpeas and finally the caramelised squash.
The pineapple giving a sweet but balanced layer to the – fragrant as advertised – sauce. Every plate was cleared. Everyone (and this doesn't happen often) wanted to have it again.
Serves 8
1 butternut squash (1.2kg)
Olive oil
1 onion
2 cloves of garlic
4cm piece of ginger
1 teaspoon coriander seeds
1 teaspoon fenugreek seeds
1 teaspoon medium curry powder
300g ripe cherry tomatoes
2 tinned pineapple rings in juice
1 x 400ml tin of light coconut milk
1 x 400g tin of chickpeas
Optional: 2 sprigs of coriander, to serve
Preheat the oven to 180C. Scrub the squash (there's no need to peel it), carefully halve it lengthways and deseed, then chop into 2cm chunks. Place in a roasting tray, toss with 1 tablespoon of olive oil and a pinch of sea salt and black pepper, then roast for 1 hour, or until soft and caramelised.
Meanwhile, peel and roughly chop the onion, peel the garlic and ginger, and dry fry in a non-stick frying pan on a medium-high heat with the coriander and fenugreek seeds and the curry powder, stirring until lightly charred all over. Add the tomatoes and pineapple rings (reserving the juice), and cook for 10 minutes to soften and char, stirring regularly.
Tip it all into a blender, add the coconut milk and blitz until very smooth. Return to the pan, tip in the chickpeas, juice and all, and simmer gently until the sauce is thickened. Stir in the roasted squash, then season the curry to perfection, tasting and tweaking, and loosening with the reserved pineapple juice. Cool, cover and refrigerate overnight.
To serve: Preheat the oven to 150C. Place the covered pan of curry in the oven until hot through – about 1 hour. Nice with picked coriander leaves.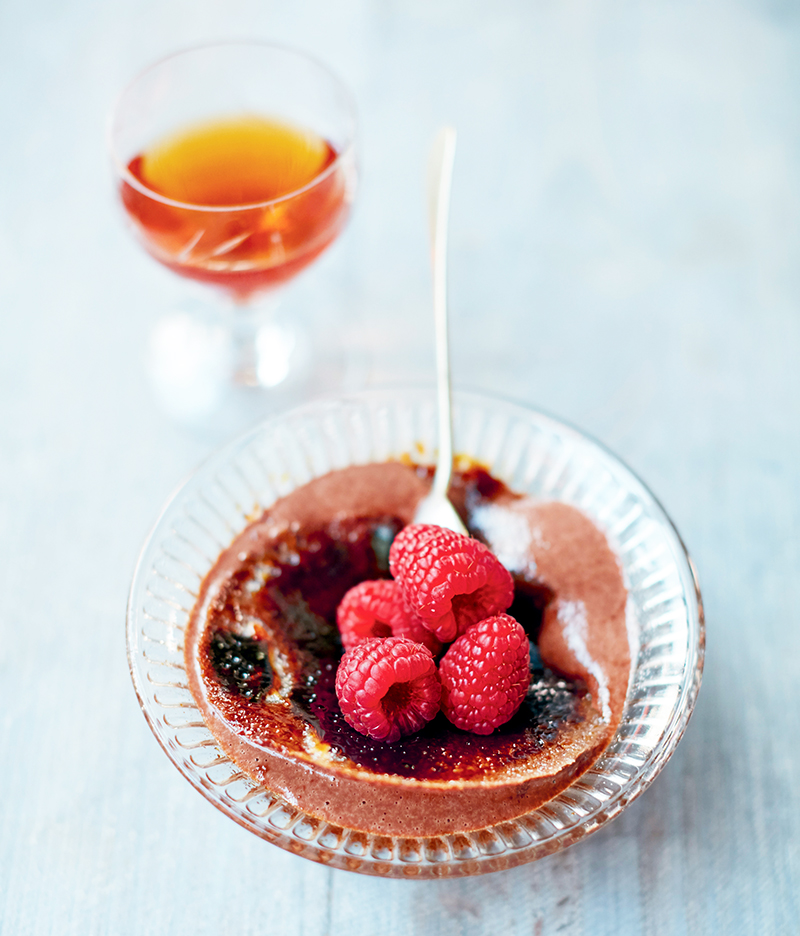 Lisa Salmon tried: Chocolate orange crème brulée
Chocolate orange crème brulée sounds decadent, delicious and oh-so-posh. And that surely means it must be tricky to make, right?
Not at all! Jamie Oliver's crème brulée was super-easy. It was as simple as melting chocolate into cream and milk, whipping egg yolks, sugar and orange zest together, combining the two mixtures, heating and whipping some more, and putting it in the fridge to set before caramelising sugar on the top to serve. Simple!
Caramelising the sugar topping under the grill (like most people, I didn't have a blow-torch) was nerve-wracking. The finished brulées tasted smooth, rich, and very sweet, with just the right hint of orange – definitely decadent, delicious, and dead easy!
Serves 4
100ml double cream
300ml semi-skimmed milk
100g dark chocolate (70%)
4 large free-range eggs
80g golden caster sugar, plus extra for sprinkling
1 orange
Seasonal berries, to serve
Pour the cream and milk into a non-stick pan, snap in the chocolate, and place on a medium-low heat until the chocolate has melted, whisking regularly. Remove from the heat and allow to cool slightly while you separate the eggs.
In a large mixing bowl, whisk the yolks (freeze the whites to make meringues another day) with the sugar and the finely grated orange zest until pale and fluffy. Now, whisking constantly, gradually pour in the chocolate mixture until combined. Return to the pan and place over a low heat, then very gently bring to a simmer, whisking constantly for about 10 minutes, or until you have a custard-like consistency.
Divide between four small heatproof cups or two sharing bowls, then cool, cover and leave to set in the fridge overnight.
To serve: Sprinkle a little sugar over two of the puds, then melt it under a hot grill or using a blowtorch. Serve with orange segments, berries or cherries.
Together by Jamie Oliver is available now