A version of Samuel Beckett's iconic play Waiting for Godot, translated and adapted into both the Greek and Turkish Cypriot dialects, won two major awards over the weekend at the 3rd International Maltepe Theatre Festival in Istanbul.
Greek and Turkish Cypriots co-directors Kostas Silvestros and Kubilay Erdelikara won the best director award, while actors Yiorgos Kyriakou and Izel Seylani shared the best actor in a leading role award.
"Let's make theatre, not war," Silvestros said as he took to the stage to receive the award.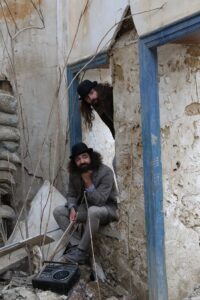 "We are all incredibly happy for this award because we are a team, we are all working together for peace and love on our small island."
The adapted performance still features the play's main two characters Vladimir (Didi) and Estragon (Gogo), who engage in a variety of discussions and encounters while awaiting the titular Godot, but instead of France it places them on the green line in Nicosia, with one character acting in the Greek Cypriot dialect and the other in the Turkish Cypriot one.
Like in the original play, they both wait for the proverbial Godot, who never arrives, symbolising the coveted reunification of the island.
The play was produced by bicommunal theatre company AntiLogos.
The festival featured 15 plays from countries such as Russia, Azerbaijan, Azerbaijan, Georgia and Ukraine.
The mayor of Maltepe Ali Kilits, a district located on the Asian side of Istanbul, praised the play.
"I see Cyprus as one, I believe that it should be united, I believe that all Cypriots can live together, that borders can be scrapped, as long as we get rid of the prejudices that we have in our heads," Kilits told the Cyprus News Agency.
"Politicians may now and then confront each other, but I firmly believe the brotherhood of peoples can overcome all disagreements. That is why I can picture the island united once again one day," he concluded.