Cypriot expat John Christodoulou is currently in the process of becoming the majority shareholder at Omonia Nicosia, according to a report by Cypriot outlet INBusiness News.
Reports about Christodoulou's involvement with Omonia first emerged approximately one month ago, but they had not been confirmed as legitimate until now.
Based on the report, Christodoulou has formally expressed an interest in acquiring a majority stake at the club and has already initiated a due diligence check before completing negotiations on the final price of the share package he would be looking to obtain.
The reigning champions are currently owned by another Cypriot expat, Stavros Papastavrou, who founded a New York-based mortgage brokerage firm in New York in the mid-90s.
According to Cypriot site Sportime, Christodoulou was the party who initiated the process by approaching Papastavrou and gauging his interest in relinquishing control of the club, something which Papastavrou allegedly did not rebuke.
Reportedly, Papastavrou's personal business activities, including his recent incursion into the banking sector, as well as the fact that he is based in the United States, have made it difficult for him to remain particularly involved with the running of the club.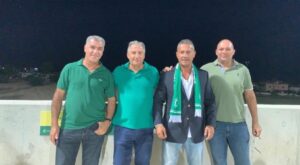 In regards to Papastavrou's business dealings, the ownership of a foreign club, in this case Omonia, is purportedly in violation of certain rules applicable to some of his most recent ventures.
Prospective new owner John Christodoulou, currently a British national living out of Monaco, moved to the United Kingdom aged 8 following the 1974 invasion in Cyprus.
Christodoulou's primary source of income stems from the property market, where his wholly-owned Yianis Group manages a portfolio of hotel, residential, retail and leisure properties in Europe and the United Kingdom.
The Yianis Group portfolio includes the London hotels Marriott West India Quay and the Canary Riverside Plaza, as well as the Wool House in London.
Christodoulou, a self-admitted Omonia fan, is currently estimated to be worth around £2 billion.
"I went to a Greek school toο to maintain the language," Christodoulou told the Cyprus Mail in 2020.
"I still feel Cypriot in my behaviour and thinking, I still count in Greek in my head," he added.
Christodoulou has always maintained that Cyprus has a vast untapped potential and his imminent involvement in Omonia reflects the belief that Cyprus should be performing better in a number of sectors.
"Look I think Cyprus has great potential, but there is a lot that has to change," Christodoulou said in the aforementioned Cyprus Mail interview.
"Just compare Cyprus with Israel; even if we take population size into account we are very far behind in development compared with them, Israel's GDP is around USD 380bn whilst Cyprus' is around USD24bn, we should be doing double that in Cyprus," he added.