By Martin Clark
Cyprus has quite a bit of forest, 19 per cent as a percentage of land cover. In these days of climate change and drier and hotter conditions, the forest has extra importance for giving out oxygen and locking up carbon but also giving shade and cooling down the surface of the land.
Our forests divide into different types. The coniferous 'high forests' have a closed canopy and plenty of shade and occur only when there are no, or fewer, limiting factors, like on a north facing slope where it is cooler and wetter, or higher in the mountains – Troodos, Machairas, Platres – where there is more rainfall and altitude reduces the ground temperature by 4 to 8 degrees centigrade. Then there is the riparian forest with plane and alder trees plus oleander, along river valleys. This is far less than before because the building of dams has resulted in dried out river beds below the dam line. The low lying pine forest, such as around the villages of Kornos, Lythrodondas and Delikipos, is also under threat from drought and this is evident because the trees have less foliage and are carrying lots of pine cones and producing a lot of seed as a sort of desperate survival strategy.
The biggest forest type in Cyprus is 'maquis' Mediterranean scrub forest with smaller deciduous and semi deciduous trees such as Pistachio species, like Terpene tree (Pistácia terebínthus), 'tree of the year 2021', and chinos and a range of 'bushes', like genista. Above 600 metres two beautiful trees are added to the list, the Strawberry tree and Golden oak, as well as wild carob and wild olive. Maquis forest is the most resistant to climate change and has high nature conservation value because the trees produce berries for migrating seed eating birds.
In the past, those berries went into a big range of unique and delicious Cypriot food products, like mosfilo marmalade, Loukaniko Pitsilias sausages, Trimithopites biscuits. All these forest and woodland types are more or less 'natural' and we should fight for their survival!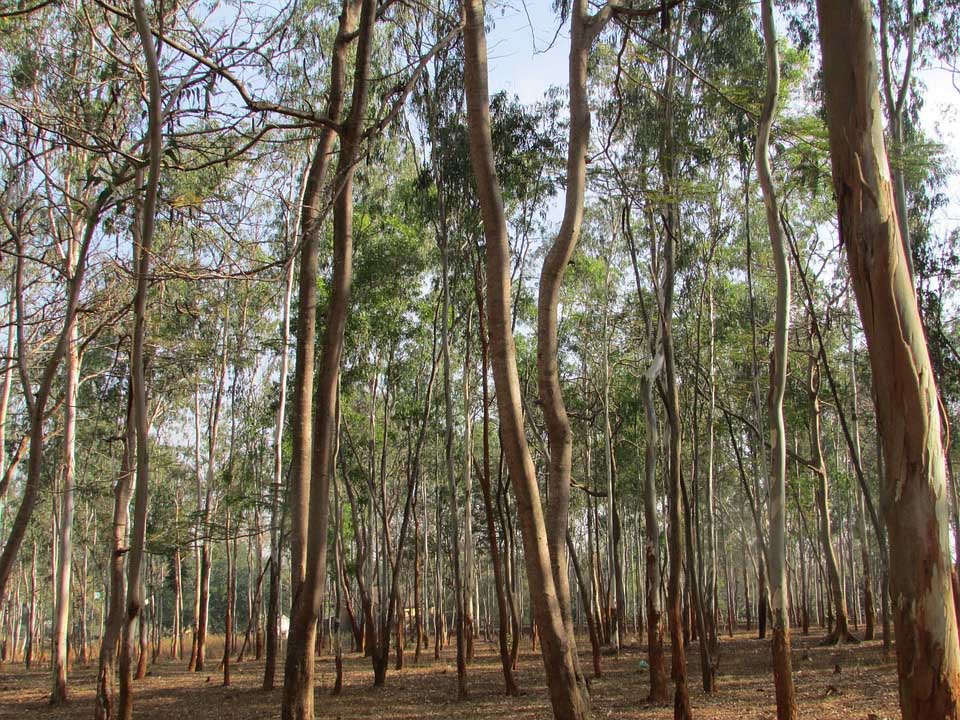 A less natural forest type is here as a remnant of colonialism and gives shade and greenery but is exotic (not from Cyprus) and is aggressive and invasive. Eucalyptus and wattle (acacia) are the main culprits, and a strategy of removal or very careful management is needed. Total removal is beyond our power and the trees do give shade, erosion control, food for goats and nectar for bees, but we definitely should not plant more!
Then, there are other treescapes in Cyprus that are important. Olive groves in Cyprus are a fantastic cultural asset as well as giving wonderful local olives and olive oil. The oldest groves were planted by the Crusaders and Franks, making them more than 1,000 years old in some cases. Such trees have massive trunks and give shelter to whole ecosystems of spiders, mites, insects, birds and reptiles. If looked after, these ancient trees can grow on for another 1,000 years.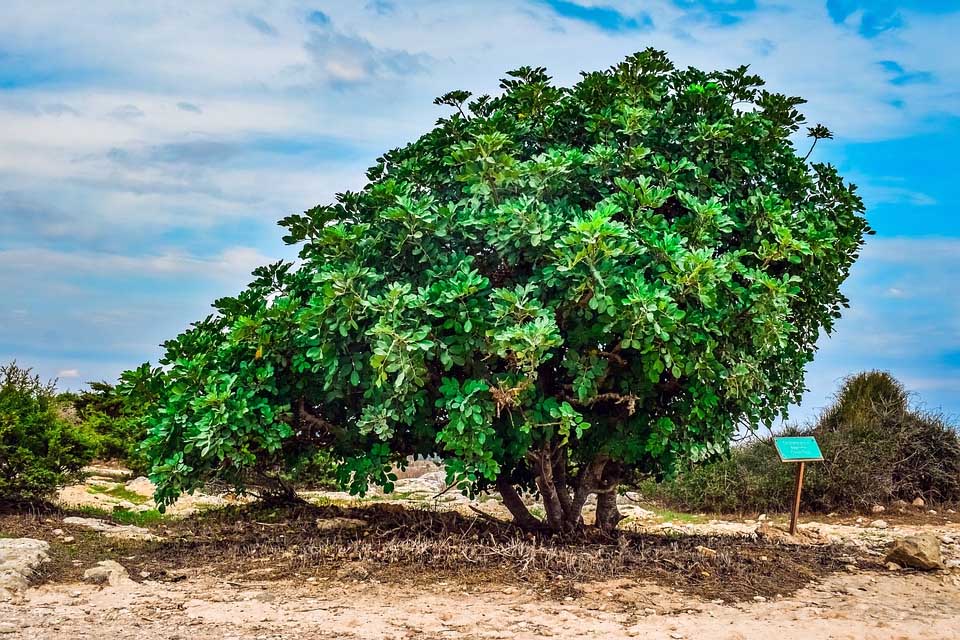 Carobs can also be more than 800 years old and were very important in the past for providing cellulose for film making. Those black and white Hollywood movies were most likely filmed using Cypriot carob cellulose. Carobs are now becoming more important again because of their syrup-based products such as chocolate for diabetics.
Almond and citrus orchards are also culturally important and have shading and conservation value. The 'bitter almond' and the 'bitter orange' are especially resistant to drought because they are nearest to the 'wild' variety and their roots are much more efficient at utilising the little water that is available. All the sweeter varieties of citrus fruits and almonds are grafted onto these wild roots. It's the same for olives where the wild olive is the critical 'starter'.
The biggest problem facing trees and forests in Cyprus is a lack of water, increased fire risk and for almonds, olives, carobs and citrus trees, neglect, poor pruning and general abandonment. The exotic invader species are also a 'double edged sword'.
These last weeks have seen Kato Drys Community Council as a forward thinking village led by Muktari Nikos Vasiliou and church treasurer, Panayiota Demetriou, working with the Forest Guardians. These lovers and carer of trees and forest have great ideas and are lateral thinkers. Here in Cyprus we have Guardians from all over the European Union, as well as the United Kingdom, Brazil, Columbia, Argentina, USA, Lebanon, Ukraine and Russia. They have been visiting all these forest and treed landscape types, meeting locals and formulating ideas.
As Cypriots and responsible residents, what should we do?
Cherish and eat more local food products, especially those from our ancient olive, carob, almond and citrus groves and the wild pistachio, mosfilo and bay leaf species. There are many others that can be harvested for free! We should not accept American almonds, Polish 'cooking cheese'(trying to replace halloumi) or Italian olives.
Be more careful with water. Less driveway washing and more capturing of roof water – also 'dirty water' from kitchen sinks and washing machines can be a critical asset.
Visit, support and enjoy the natural forests of Cyprus – they are a spiritual as well as a physical sanctuary and can help us chill out and relax in an ever more hectic digital world.
Use the shade of trees for growing vegetables or responsible grazing. Invest time, energy and money in agroforestry.
Buy for preference, responsibly produced food whether it is vegetables or dairy products. Industrial farming is not the friend of trees, forests and nature. As an example, I prefer 'village halloumi' to bland industrial product. At Loulla's farm in Choirokoitia, the sheep and goats are shepherded between maquis, olives, carobs and pines, giving nutrient but no damage and giving delicious and authentic halloumi, anari and trachena.
In our gardens choose native trees and shrubs and plant fewer thirsty exotic varieties; the Department of Forests' Athalassa nursery, supports native species in gardens
Be much more careful about starting wildfires. Sadly most are due to human carelessness: outdoor cooking, burning weeds, or throwing cigarette butts out of car windows.
Plant more trees – of the right species and in the right places. There are many opportunities for volunteers and the Department of Forests grows trees for public planting. We should also sow more seeds, the bitter almond (wild) has great potential for drought resistant treescapes.
If you own forest or older trees, get advice on how to look after them and help them to help us fight against climate change.
Never sacrifice older, even ancient trees for hotel or housing development. As a nation, Cyprus should be much tougher on unscrupulous developers. The dangers of short-term greed and asset accumulation destroying irreplaceable natural and cultural assets, is very real.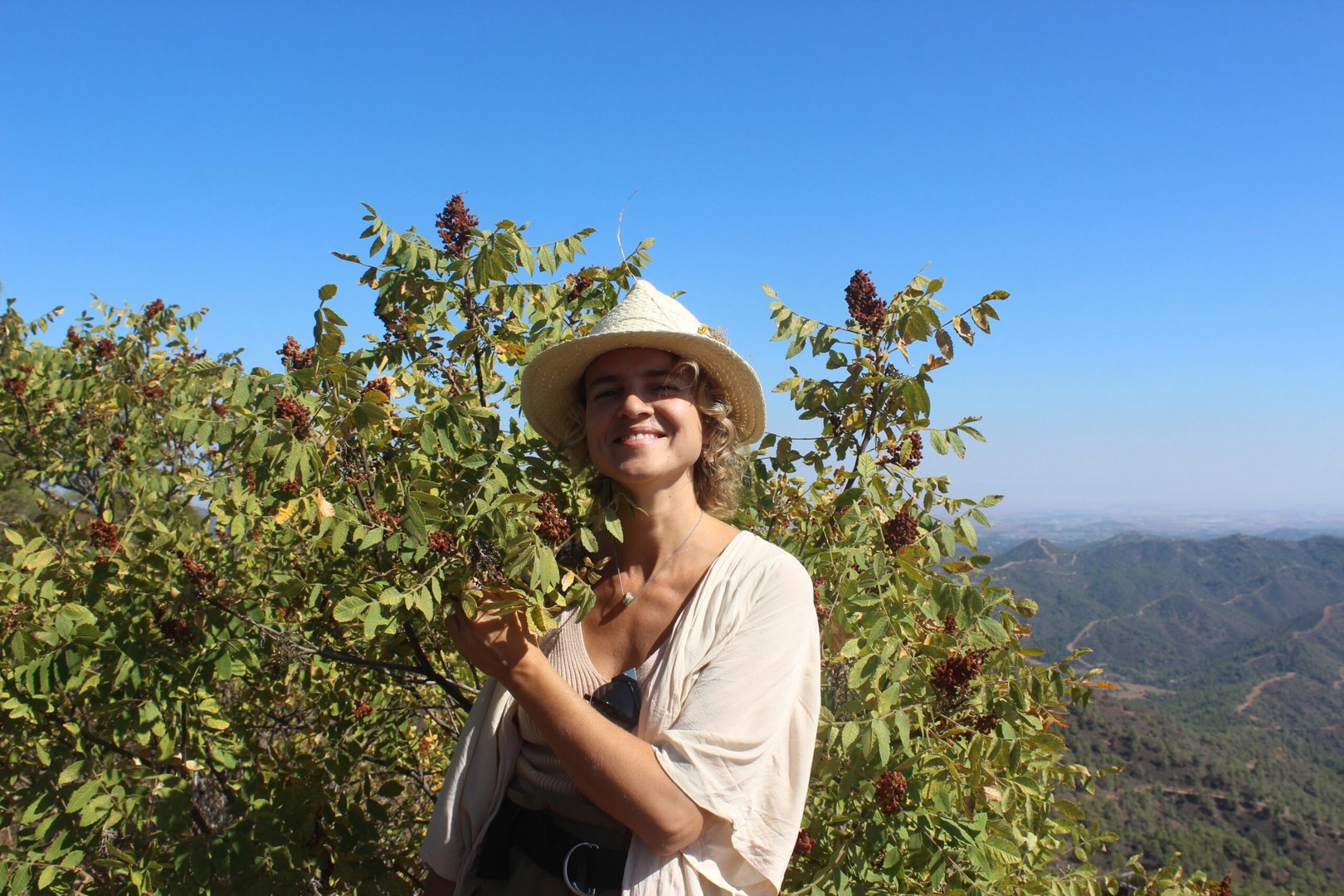 We should all become guardians of the forest and show as much care and consideration as those who visit us now from all over the world. Make no mistake, Cyprus is a microcosm of Europe's tree and forest problems all captured in this small but very special island. Our ancestors did a much better job of cherishing and responsibly using trees and forests than we do! We should always include elder people in our discussions and plans; they have such important experiential information to give.
To finish on a more positive note, Cypriots have much to be proud of in the contemporary forestry field: the first nation to remove timber production from its list of objectives and the arid land afforestation of areas such as Koshi forest between Larnaca and Nicosia, should see the whole world taking its collective hat off in a gesture of heartfelt respect.
In my last tree and forest related article for the Cyprus Mail, I asked that the Forestry College at Prodromos should be taken out of moth-balls and used to train worldwide foresters to fight wildfires. I extend the training menu now! The much respected (on a European scale) college is the perfect venue for training in sustainable forestry and tree management.
Martin Clark (a professional forester and land manager) is director of Grampus Heritage & Training, the UK's most successful EU wide vocational training organisation, with 26 years' experience