In the 86-year-old man who built the tourist town's first hotel after being entranced by the spot as a child, THEO PANAYIDES meets a man with a vision that was ahead of its time
So here he is, the 'father of Ayia Napa' (not exactly an official title; but it feels appropriate), down the road from the wild-living club hub which he helped create – then watched, like Dr. Frankenstein, as it took on a life of its own. Kikis Constantinou is now 86, a lifetime removed from the young man who, in 1965, bought a plot of land in a small fishing village where he later built the Nissi Beach – the very first hotel in what was then the middle of nowhere.
His current abode, just outside town, is also unusual; for a start it has a church – an actual, functioning church – on a corner of the grounds, St Elias Chapel where services are regularly held (the name is a tribute to his mother, who was born in the village of Ayios Elias in the occupied Karpass). I assume finding icons to furnish the church wasn't a problem – because the house itself is filled to the brim with his personal collection of art: paintings vying for every inch of wall, religious icons, Russian dolls, glass figurines in various cabinets. The arrangement is almost haphazard, as though defeated by the sheer profusion of objects (he's been collecting since his youth); marble busts and other statues aren't discreetly tucked away in corners but baldly deposited on tables, as in a warehouse or auction house. There's a piano near the entrance – though no-one's played since the war, the instrument presumably a holdover from the old family home in Famagusta. So it's mostly for decoration, I note. "Not for decoration," he replies in his growly, authoritative voice. "To remind us."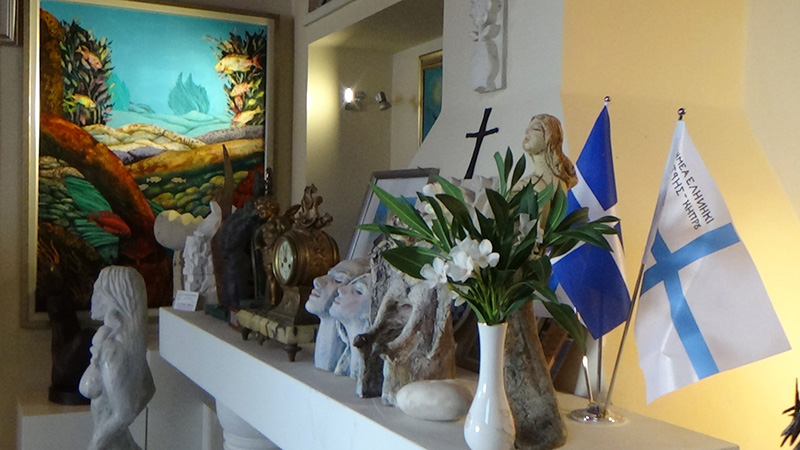 That said, there's not really an 'us' anymore – though one of his three grown sons does live nearby. (The others are in Germany and the US.) His wife is German, but they've been estranged for years; Kikis lives alone in this grand, art-filled house, apart from a helpful housekeeper and a passel of small yappy dogs – which is also why the TV is always on, whether or not he's watching, "to give me a feeling like there's someone else at home". Fortunately, despite his age and somewhat fragile health, "I go out every day, my day is a normal working day": for the past 10 years he's been heavily involved – without pay – in the cultural activities of Ayia Napa municipality. It's no surprise that the Sculpture Park which has done much to upgrade the resort since it opened in 2014 is Kikis' brainchild, a kind of follow-up contribution 50 years after Nissi Beach.
I'm a little early, and call to let him know. "I'll be there in five minutes precisely," comes the growly voice again – the voice of a man who's always been more accustomed to giving instructions than following them. "I was a leader in high school," he tells me later. "In everything that happened in high school, I was a leader. That's why I was also a leader later on, in what came after." We sit at opposite ends of a low table, he in front of the (now muted) TV and an untouched bowl of pomegranate seeds; between us are piles of books and dictionaries, the latter mostly English-Greek and Greek-Greek. He reads a lot – the current crop includes Kazantzakis, Stephen Fry's Mythos, plus a book on the rift between Giorgos Seferis and Evangelos Averoff regarding the 1960 Zurich and London agreements on Cyprus independence – and likes to look up unknown words straight away when he encounters them.
There's something else too, a (fortunately metaphorical) elephant in the crowded room. Even a cursory Google search on Kikis – at least in Greek – will throw up articles like the one at dialogos.com.cy from a couple of months ago, when he won an award for his cultural work in Napa: "Ayia Napa municipality's insistence on bestowing awards on known Eoka B member Kikis Constantinou is a provocation," fumed a statement by left-wing party Akel, quoted in the article – Eoka B being, of course, the far-right paramilitary organisation that wreaked havoc in the early 70s. "I have nothing to comment on," he replies when I ask him to comment on the controversy; "This is purely the view and impression of Akel". (He's never been convicted, or officially accused, of anything.) It's politics, shrugs Kikis dourly. "I have never been involved in politics, never belonged to a party, from my youth until today."
He was active in Eoka, of course – the first one, the war against the British. He was actually a high-ranking fighter, responsible for the sectors of Kykkos, Marathasa and Tylliria – and stayed in the army after independence, training in Greece (he also studied Law in Athens) and coming back to Cyprus in 1962. He remained a military man till the late 60s – but meanwhile there was something else gnawing at his spirit, the memory of an idyllic spot by a crystal-blue sea. "It was a case of inspiration, if you like," muses Kikis. "Or of personal choice, if you prefer."
As a child, he'd been a Boy Scout; one day, in his early teens, on a rather intrepid expedition, he and a few other Scouts had gone as far as Ayia Napa and hiked to the future site of Nissi Beach: "There, for the first time, I beheld that beautiful spot, that unique spot – which of course was entirely virgin at the time, there was nothing". Some years later, he decided to visit again – and was struck by the fact that nothing had changed. "We're talking eight or nine years after my first visit," he recalls – yet, for a whole decade, the spot had remained just as pristine, as indeed it had been for hundreds of years; Napa was literally the end of the road in those days (the road veered north, from Xylofagou to Paralimni, petering out at the small fishing village), and of course there was no road at all to this spot by the beach. No road, no power, no phone, no running water, no infrastructure; yet "I conceived the idea of some future tourist development of this spot".
The idea was ahead of its time – and indeed it's amusing to note, from today's vantage point (when officials will even bend the rules to ensure development), just how hard it was to get Nissi built, even after he'd bought the land in 1965. (He forgets the exact price, but it was a few hundred Pounds an acre; in 2013, land in that area was going for about €2 million an acre.) You'd think an army man would have access to the corridors of power, but apparently not; his business partner Pavlos Pavlakis was actually an MP, notes Kikis, and the minister still wouldn't see them. Their application stalled; the government refused to lease land – which was needed to build the hotel – or even to visit the site. Tourism was under the umbrella of the Ministry of Commerce and somewhat neglected, to put it mildly; the minuscule staff (of two) was headed by Costas Montis, who was not a businessman but in fact a famous poet. It's fair to say the poets have been sidelined in the decades since.
We all know what happened, of course – though it took the arrival of two tourism experts from Greece (who did agree to visit the site, and raved about its prospects) to kick-start the process. Building work began in 1969; the beach bungalows were operating by 1972, the rest of the hotel by 1976. Nissi Beach was an instant success – presumably helped by the fact that Famagusta (which had much the same beach) had fallen in the invasion, though Kikis reckons it would actually have been more successful with the bigger resort still in place. It sounds counter-intuitive, but he may be right. Had Famagusta still existed, Napa could've become something really special; with Famagusta gone, it became a new, low-rent version of Famagusta. "Just as the development of Ayia Napa," without the invasion, "would've occurred more rationally, and much better, than it actually did."
We should probably take a step back, at this point, and note the abiding irony in this interview: Kikis and I are sitting in a house overflowing with art – Skotinos paintings, marble busts, elegant ornaments – talking about possibly the tackiest, kitschiest, most garish resort in Cyprus. He can indeed lay claim to having created today's Ayia Napa, opened the floodgates and turned the fishing village into a commercial proposition – but would he want to? Or is he perhaps a bit embarrassed, as a lover of art and culture, by how it turned out?
"This was a traditional village of exceptional beauty," he sighs. "The houses were all made of stone, built with arches. With the uncontrolled development that happened here after 1976, came an architectural free-for-all. All the houses were torn down, they didn't leave a single one standing – whereas the old buildings could've been utilised, new ones could've been built in the same style, with the same character." He shakes his head: "Nothing. Everyone built what they wanted. And we ended up with the picture Ayia Napa has now – which, if you exclude its natural beauties, the sea and so on, Cavo Greco, if you exclude those, what's Ayia Napa? It has no identity. It has no character."
Nobody asked him, of course. Even if they had, "you can't impose these things on people" – especially as a relative outsider in a small, clannish village. He doesn't blame the locals, in any case, he blames central government; "It's a question of the general policy of the state". It may be significant that Kikis Constantinou never built another hotel after Nissi Beach, as if troubled by a bad conscience – or perhaps it's not so significant, since he wasn't really a hotelier in the first place. He was (like he says) a leader.
Meaning what, exactly? Meaning that his skills are essentially a leader's skills: having "a vision", as he puts it, setting targets that'll get you closer to that vision, then pursuing those targets. Those skills are applicable in whatever sector – whether it was leading soldiers in Eoka, or daring to build a hotel in the middle of nowhere, or becoming president of the Cyprus Hotels Association (as he was from 1990-97) or becoming president of Anorthosis, his old Famagusta football club, leading them to great success (including four consecutive First Division titles) from 1989 to 2003.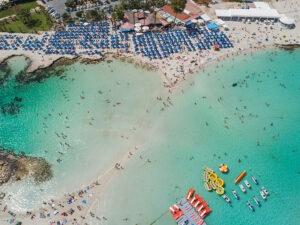 Nissi was a challenge, a battle to be waged (and won); the real point wasn't building a hotel, it was waging the battle. It makes no difference what you do, says Kikis, banging on the table as he warms to his theme. You might own a restaurant – so you say "I'm going to make everyone in Ayia Napa talk about my restaurant… And I want to make the best moussaka. Moussaka is the target. Making it the best restaurant in Ayia Napa is the vision". But then you also have to check every plate of moussaka as it leaves the kitchen, he explains, and invest in a chef from Greece to come and teach your chefs some new tricks – then, once the target is attained (but not before!), you add what he calls "a revolution", to get people talking. It's an art, like the art on his walls; the art of conceiving an idea, then making it happen.
Kikis Constantinou has always had vision. His whole life has been shaped by a vision, a half-shaped thought in the mind of a young boy, a mix of inspiration and personal choice. What would've happened if he'd never gone on that hiking trip, never seen the idyllic spot by the sea – never forged the bond with a small fishing village that remains, all these years later? He's extremely sensitive, he tells me, and will often feel hurt by the most insignificant things – yet "if Akel comes and says 'Why are you giving awards to an Eoka B member?', that doesn't hurt me. You know what would hurt me? If even one person were to say 'This man has done nothing that deserves an award. He hasn't done anything for Ayia Napa'. But no-one would dare to say that".
The past few years have been good (I suspect) for his conscience, bringing real culture to Napa and making it a little less tacky; Covid may also turn out to be an opportunity (the jury's still out), curtailing the old mass-tourism model and forcing the resort to remake itself. Either way, however, he's devoted to the place. Does he regret the excessive development?
"I regret it without meaning that I reject it. OK, mistakes were made – but no-one can ignore the miracle that took place here either, given the circumstances under which it took place… As I often say, the perfect shouldn't become the enemy of the good". He was part of that miracle, indeed he contrived it. I leave him in the house just a few miles from Nissi Beach – and all the other Nissi Beaches that came after – surrounded by his art collection, and his dogs, and the TV always on, and the long-neglected piano "to remind us".