By Katie Wright
It's lunchtime in New York and Antoni Porowski is making my mouth water with his tantalising description of one of the dishes from his new cookbook, which involves a generous dollop of mashed potato topped with a stack of skinny, golden-brown French Fries.
"It sounds so stupid and ridiculous and redundant, but I'm telling you, it's ground-breaking," he says. "Creamy mashed potatoes as a dip when the chips are, like, really crispy, it's just so… it's perfection."
This particular double-carb delight was introduced to Porowski, who was born in Montreal to Polish parents, by supermodel pal Gigi Hadid at the launch party for his first book (2019's Antoni In The Kitchen).
The resident food and wine expert on hit Netflix series Queer Eye is keen to point out that his version of the French restaurant's decadent potato dish is intended as a once in a while treat.
Titled Let's Do Dinner, the collection of recipes focuses on what the 37-year-old calls "the most important meal of the day" and does indeed feature lots of brightly coloured salads, veg-packed soups and nutritious Asian-inspired noodle and rice bowls, alongside comforting pasta bakes and juicy burgers, plus a whole chapter dedicated to eggs.
"I definitely got into an obsession with eggs," says Porowski, when considering how his eating habits have changed since the pandemic began. "I used to eat eggs once or twice a week. Now I'm at, like, five or six times a week. I've perfected the soft scramble. I used to get it right, like, two out of three times. Now I have 99.9 per cent accuracy, which is really nice."
Aiming to reflect "what my life has been like since Queer Eye came out", the actor-turned-foodie, who lives with his boyfriend Kevin Harrington, admits "I actually spend a lot less time in the kitchen than I used to" – or at least he did until the pandemic hit.
One major benefit of the last 18 months for the in-demand food guru has been putting the brakes on his hectic work schedule.
"I was flying to four different cities in a week, not taking as much time to take care of myself as I would have liked, and then all of that just kind of came to a screeching halt and I was just left with my feelings."
Porowski, who has never shied away from talking about mental health, took the opportunity to "work on myself", doubling up on virtual therapy sessions each week, a practice he wholeheartedly recommends.
Miso Noodle Soup with Mushrooms, Peas and Greens
Serves 4
150g soba noodles
3tbsp toasted sesame oil, plus more for drizzling
3 garlic cloves, gently smashed and peeled
2tbsp finely chopped, peeled fresh ginger
450g mixed wild mushrooms, stems trimmed if using shiitakes, caps halved or quartered if large
Kosher salt
300g frozen peas, thawed
150g baby spinach, mizuna, tatsoi or mixed Asian greens
75g white miso paste
1tbsp soy sauce, plus more for serving
4 spring onions, thinly sliced
Red chilli flakes, toasted sesame seeds and/or micro greens for topping (optional)
Cook the noodles in boiling water according to the packet instructions. Drain in a colander placed over a large bowl. Set aside the soba water. Rinse the noodles under cold running water, drain, and set aside.
Measure the soba water and add more water if needed to make two litres.
Heat the oil in a large wide saucepan over medium high heat. Add the garlic and ginger and cook, stirring frequently, until fragrant, about one minute. Stir in the mushrooms with a generous pinch of salt. Cook, stirring occasionally, until tender, about five minutes. Stir in the peas and cook for one minute. Add the soba water, increase the heat to high and bring just to a low boil. Stir in the greens and immediately remove from the heat.
Scoop 60ml of the broth into a bowl and whisk in the miso. Return the mixture to the soup, add the soy sauce and stir to combine. Divide the noodles among four bowls. Ladle the soup over them. Top with the spring onions. Drizzle over sesame oil and soy sauce and top with red chilli flakes, sesame seeds and micro greens, if desired.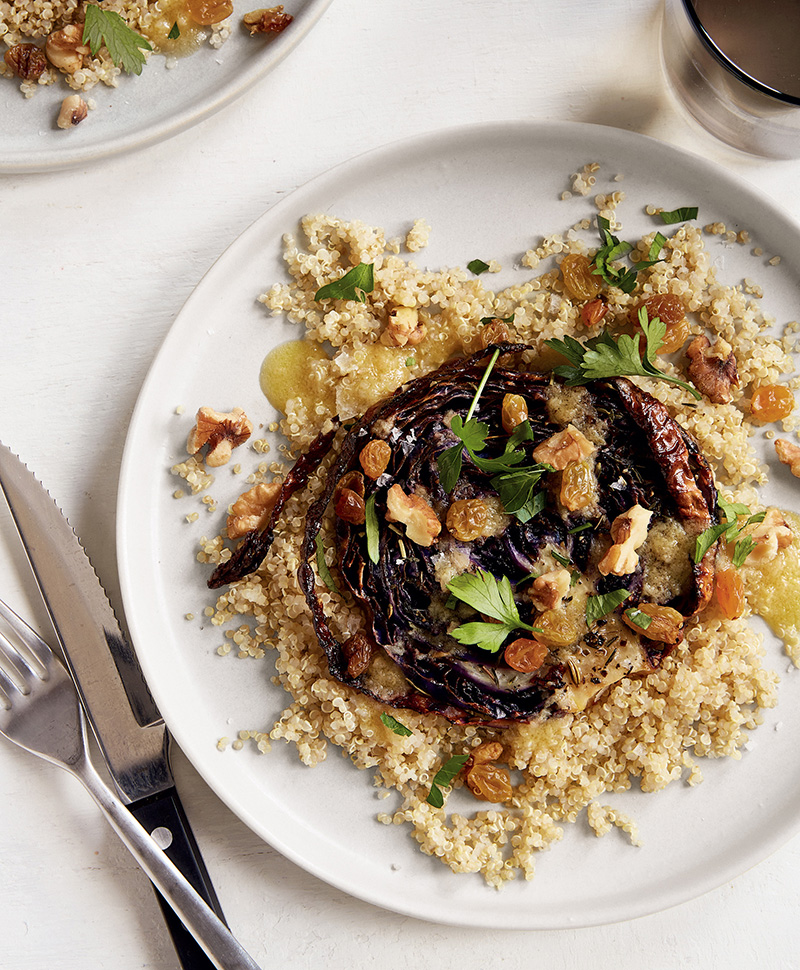 Roasted Cabbage Steaks with Apple-Dijon Vinaigrette
Serves 4
For the cabbage steaks:
1 medium red cabbage, trimmed
60ml extra-virgin olive oil
1/2tsp dried herbes de Provence, thyme or oregano
Kosher salt and freshly ground black pepper
55g walnut pieces
170g quinoa, rinsed and drained
1 bay leaf
For the vinaigrette:
3tbsp apple sauce
1tbsp apple cider vinegar
1tsp Dijon mustard
1tsp honey
1/4tsp kosher salt
1/8tsp freshly ground black pepper
75ml extra-virgin olive oil
3tbsp raisins, chopped dried apricots, dried cherries or chopped dates
30g fresh flat-leaf parsley, roughly chopped
Flaky sea salt
Heat the oven to 220C. Line a baking sheet with baking parchment.
Cut about 1cm from one long side of the cabbage to create a flat edge and place cut side down on the chopping board. Cut four 1cm-thick lengthways slices from the middle of the cabbage outwards (to get the largest pieces) to make cabbage 'steaks'. Arrange the steaks on the prepared baking sheet with the core ends towards the corners of the sheet so they get the most heat. Brush with the oil. Season with the dried herbs, half teaspoon of salt and quarter teaspoon of pepper.
Cover the sheet tightly with foil and roast for 25 minutes. Uncover and continue roasting until the cabbage steaks are golden and tender, 25-30 minutes more.
Meanwhile, spread the nuts on a small baking sheet and bake until fragrant, seven to nine minutes. Transfer to a plate and let cool, then roughly chop.
To cook the quinoa, bring 500ml water to the boil in a medium saucepan. Add the quinoa along with the bay leaf, reduce the heat to low, cover and simmer until tender, about 10 minutes. Drain any excess water. Season the quinoa to taste with salt and pepper and set aside.
Whisk together the apple sauce, vinegar, Dijon, honey, salt and pepper in a small bowl. Whisk in the oil.
When the cabbage is ready, sprinkle the dried fruit over the top, return the pan to the oven, and cook for about five minutes more to plump the fruit a little.
Spoon the quinoa onto plates. Arrange the cabbage steaks on top. Drizzle with the vinaigrette. Top with nuts, parsley and, if desired, flaky salt to taste.
Let's Do Dinner by Antoni Porowski is available now