With a handful of other things, sewing really took off during lockdowns. ALIX NORMAN meets an instructor who still offers lessons online in addition to physical classes
It wasn't just loo paper! In that first pandemic-induced panic, there was a rush on sanitiser, webcams, bicycles, and paddling pools. And also, sewing machines…
Last April, as lockdowns hit the US, sewing machines were selling at more than 10 times their usual rate; Walmart went from a 100-day supply of sewing machines to just five days' worth of inventory in only 24 hours! At the same time, Hobbycraft UK, Britain's biggest arts and crafts retailer, saw an increase of 300 per cent in searches for sewing machines, fabric, and thread.
In part, the surge was driven by the need for face masks. To date, global craft marketplace Etsy has seen the sale of 30 million hand-made face coverings (for a total of $346 million). But time and money were also factors: suddenly, people had hours, not cash, to spare. In consequence, hundreds of one-time sewers resurrected their skills, while thousands of complete beginners signed up for classes…
Even here in Cyprus, the pastime has boomed, as sewing aficionados across the island have turned to making face coverings for profit or charity. But it's not all about the masks, says expert seamstress Jo Erasmus. Over the last few months, her Paphos-based sewing classes have seen a surge in numbers. And in response, she's currently in the process of setting up the island's first online sewing classes….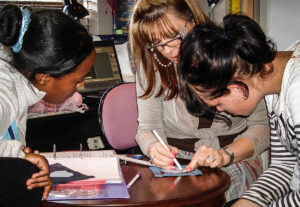 Launched under the tagline Where We Go to Learn to Sew, SewCyprus began in October 2020. "At first, it was a physical class in our purpose-built Anavargos classroom," says Jo. "But more recently, we've also seen the need for online classes, aimed at those who don't have the time or ability to get to where we are. So we've started to release these on a weekly basis, allowing learners to follow along and have the time to practise in between."
A venture that specialises in "taking the total novice from frightened beginner to a place of confidence," explains Jo, SewCyprus is not the first of its kind on the island. But it does cater to the total novice, and the lessons – both the physical and online – follow a clear, concise format.
"We start by learning how the machine works, how to stitch straight and turn corners precisely," says Jo. "We learn about why we do things a certain way and what happens if an alternative or incorrect route is followed. And then we look at various techniques, building on what we've learnt to complete simple projects.
"Sewing properly is a journey, not a destination," she notes. It's a craft that's certainly taken Jo on a journey of her own. She began in South Africa, at her grandmother's knees: "Sewing has just always been there. Much like having a kitchen, the sewing room was a part of life," she explains. "Later, four years of intensive tuition in Sewing, Fabric Construction and Clothing Manufacture led to training in Technical and Architectural Draughting – a boon when it comes to pattern-making!" – and, eventually, ownership of her own sewing school.
"In 1984 I made my wedding dress," she reveals. "Later, I designed and made my stepsister's wedding dress, along with loads of prom dresses, theatrical costumes, outfits for friends and family, and uniforms for local businesses. None of it, however, gave me the thrill of teaching – of passing on my skills to future generations. So, having noticed most people's lack of basic sewing skills, I realised I could combine my two passions to create something entirely my own."
Thus began Sew Fabulous, Jo's sewing school in South Africa, which ran for over a decade. "But then, on the strength of several life changes, I moved to Cyprus," she explains. "And as I'd really loved teaching people to sew, and seeing a transformation from hesitant beginner to self-assured sewer, I decided to launch a similar venture here…."
What that means is a professional outfit providing instruction for complete beginners, and offered both in the Anavargos classroom (complete with four sewing machines, four overlockers, and cutting tables), and online…
The one-day Beginners Class teaches the absolute basics: common fabrics, hand-sewing practices, how the machine works, and sewing in a straight line. Then there's a more comprehensive eight-week course, which covers "every conceivable basic technique," Jo reveals, "including hem stitching, collars, contoured facing, linings, and bias binding.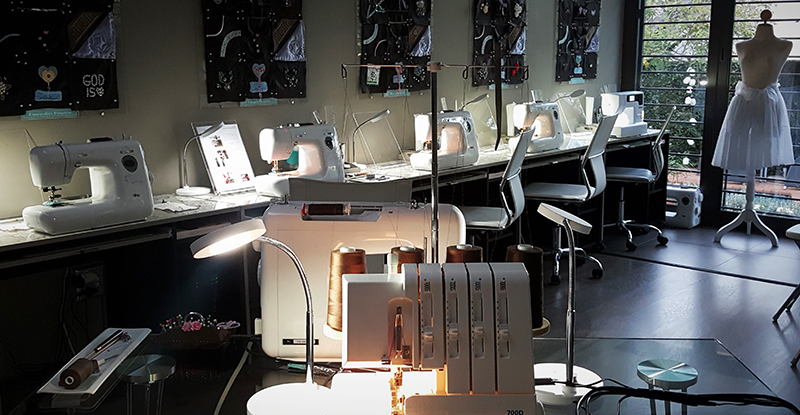 "There's also a pattern-making course; store-bought patterns just do not work!" she exclaims. "No two people on this planet have the same measurements, and every pattern I've ever seen has required extensive faffing and fiddling!"
With only four students per physical class, there's plenty of time for individual attention, says Jo. But those who sign up for the online course certainly won't lack for clear, calm, expert instruction…
Available to stream online, the courses include three sessions on the basics (already accessible for free) covering the first steps, bias binding, and finishing edges. New modules will be released every Friday, with the Comprehensive Sewing Course, Pattern Making, and Garment Construction lessons beginning in November.
"We've had such great feedback from our classroom, that online learning was the next logical step," says Jo. "During the pandemic, not everyone has been able to come to a physical class, so the online lessons are a great way to learn to sew safely, at your own pace and at your own leisure. You can follow along in your pyjamas if you wish!" she concludes with a laugh. "Because sewing should be a relaxing experience: a thoroughly enjoyable journey."
For more information on SewCyprus' in-person and online sewing classes, visit https://sewcyprus.com/