It's that time of the year again. Halloween! The time to get your autumn décor out, carve pumpkins, bake pumpkins, dress up as something spooky and welcome the new season. A series of events, crafty workshops and parties are happening all over the island until the end of the month, getting old and young in a ghostly, festive, Halloween mood.
CyHerbia Botanical Park in Avgorou is already in an autumnal mood with ghosts lurking behind its trees, spiderwebs taking over its wooden cottages and creepy black and white photos on the walls. Since mid-October, the Park has been hosting pumpkin carving workshops. With Halloween just around the corner, three more workshops dates are left for October on the 23, 24 and 28. Reserve your time slot online on their website and get ready to carve.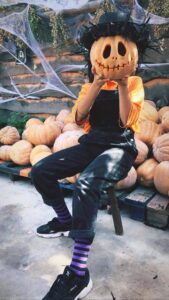 The guided workshop lasts about two hours and once finished you get to take your carved pumpkin home. Besides the workshops CyHerbia is also hosting a dedicated Halloween Weekend on October 30 and 31. There will be storytelling with a witch in the woodland, spooky activities in the herb garden, actors dressed in spooky costumes, a Halloween Tik Tok competition that is already live and all sorts of Halloween fun. Put on your favourite creepy costumes and remember to book tickets online (€7 for adults and €5 for children).
The Swan Pub in Akrotiri on Saturday 23 will host its own Halloween activities with pumpkin painting for children starting at 1pm, while parents can enjoy food and drinks at the pub. Pumpkins and paints will be provided for children to decorate their pumpkin and the best one will be awarded a prize.
Over in Limassol, a four-day autumn festival is being organised from October 28 to 31, from 10am until 8pm. Held at the Limassol National Forest Park Cafeteria in Polemidia, children will be able to go trick or treating, ride ponies and horses, play at a funfair, try archery, jump on trampolines and of course, paint and carve pumpkins!
On Sunday 31 Meltemi Creative Areas in Limassol has a day full of crafty workshops. The fun will begin at 10am with a puffy ghosts workshop, creating ghosts out of paper and cotton and a paper roll characters workshop making favourite Halloween characters such as Frankenstein, witches and whoever else comes to mind.
At 11.30am a pumpkin lanterns workshop will take place using paper plates and at 1.30pm participants will make monster door hangers. Also on at 1.30pm is a pumpkin lanterns workshop followed by fabric pumpkin session at 3.30pm. The final workshop of the day at 5.30pm uses wood planks to create wooden characters. Some are kid-friendly, others more suitable for older children and adults but along with a bake sale, tea and coffee, it promises to be boo-tiful day!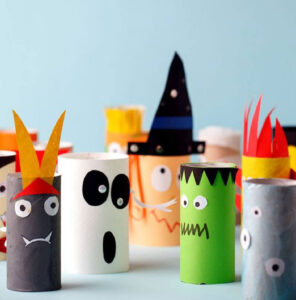 It's not just workshops in store for the Halloween weekend, parties are happening too! Limassol Agora is teaming up with Nostalgia Parties for an epic fiesta on Saturday 30 in a spooky 70s, 80s, 90s and 00s mood. From 8pm and until 2am, four DJs will blast disco and dance classics at the market's Mezzanine area and at The Rooftop Bar. The premise remains similar to most Nostalgia Parties events: great music, retro vibes, food and drink options and this time, lots of spooky décor and surprises. The €10 early bird tickets can be found on www.soldoutticketbox.com.cy or at the door for €13.
A day later and Nostalgia Parties are coming to Nicosia for another Halloween event. In collaboration with the Home for Cooperation, a party will kick off at the Home Café's outdoor area at 5pm and last until 11pm. Kid-friendly and in a funky and spooky mood, this party too will feature groovy music from two DJs, festive surprises and the vibrant, friendly atmosphere Nostalgia Parties usually bring.
Over at Guaba Beach Bar another Halloween party is happening on Saturday 30, organised by Kitsch Party with the Freddie Merkouri duo on the decks. Mostly-known for their carnival parties, this is the first Halloween event that Kitsch Party organises and it will feature Greek and foreign tunes from the 80s, 90s and 00s. Starting at 10pm, it will be a long night of "Halloween Kitsch Party style", as the organisers say, as it seems that next weekend is going to be filled with all of the fun, lively events many have been craving.
Halloween at CyHerbia Botanical Park
Pumpkin carving workshops. October 23, 24 and 28. €3 for children and €5 for adults. Halloween weekend with activities. October 30, 31. €5 for children and €7 for adults. CyHerbia Botanical Park, Avgorou. Tel: 99-915443
Kids Halloween Pumpkin Painting
Children's Halloween activity. October 23. Swan Pub, Akrotiri. 1pm onwards. €10. Tel: 25-954222
4th Fall Festival
Halloween edition of festival with activities for children. October 28-31. Limassol National Forest Park Cafeteria, Polemeidia, Limassol. 10am-8pm. Tel: 25- 872302, 25-872306
Spooktacularly Crafty and Sweet Halloween
Arts & crafts workshops, Halloween edition. October 31. Meltemi Creative Areas, Limassol. Various times. Tel: 25255966. www.meltemicreative.com
Nostalgia Halloween Party
Retro party with disco and dance classics. Organised by Nostalgia Parties and Limassol AGORA. October 30. Limassol AGORA. 8pm-2am. €10 presale, €13 at the door. Tel: 7007-0070
Nostalgia Halloween Event Nicosia
Halloween party by Nostalgia Parties in collaboration with Home for Cooperation. October 31. The Home Café, Nicosia. 5pm-11pm. €5
Halloween Kitsch Party
Halloween party edition by Kitsch Party. October 30. Guaba beach bar, Limassol. 10pm. €15. Tel: 95-787978, 95-543333