Located on the eastern coast of Central America, Belize enjoys the sort of tropical climate every tourist longs for. Endless golden beaches, hundreds of coastal islets, and a coral reef that's second in size only to Australia's Great Barrier Reef are just a few of the attractions, along with a population of black howler monkeys (said to be amongst the loudest animals in existence!), the world's only jaguar reserve, and over 900 ancient Mayan temples.
In fact, the Mayans were the first inhabitants, colonising the area around 1500 BC. More recently, Belize belonged to the British (it obtained independence in 1981); to this day, it remains the only Central American Country where English is the official language. But the population reflects a vibrant mix of ethnicities (Maya, Creole, Garinagu, Mestizo), lending the cuisine a wonderful diversity…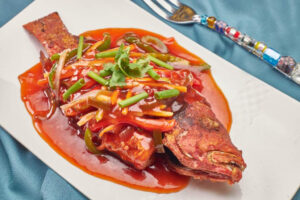 From the Americas, we get fry jacks. Similar to the beignets of New Orleans and the sopaipillas of Mexico, these deep-fried doughnuts are topped with jam, cheese, or beans, and usually enjoyed for breakfast. From the Caribbean comes the duckanoo, a dumpling made from sweet potato, coconut, spices and brown sugar, all tied up in a banana leaf and cooked in boiling water. And Creole cuisine has given Belize the bile up (a local pronunciation of 'boil up' rather than an admonition), a stew of boiled eggs, fish, pig tail, cassava, yams, and tomatoes.
Popular Mesoamerican foods crop up across the country, and include corn, beans, and cheese-topped garnachas tortillas; cabbage panades (the local name for empanadas); and the ever-popular fast food salbut (a puffed deep fried tortilla layered with lettuce, sliced avocado, pulled chicken, tomato and pickled red onion). But dessert is unique to Belize: a coconut water taffy known as 'stretch-me-guts'!
Cassava, plantain, bananas, breadfruit, mango, and coconut are popular ingredients; maize, black beans, and kidney beans are the starchy staples; and seafood is a popular choice in this coastal country… The local ceviche, conch fritters, and escabeche (marinated fish cooked in vinegar and flavoured with paprika) are a must-try for visitors.