A clean-up campaign for the once vibrant if seedy nightlife hub has fallen flat as buildings stand empty
By Bejay Browne
Five years ago in 2016, bulldozers and other machinery moved into the main tourist strip of Paphos signalling the start of a massive and much needed clean-up of the area with the mayor at the helm. Five years later, it is in a worse state than ever.
Phedonas Pheonos had big plans for cleaning up huge swathes of Paphos when he was elected, including the troublesome area of Ayiou Antoniou street, known by locals and tourists as 'Bar street.'
The once vibrant if seedy street, the heart of the town's nightlife, had slowly declined over the years, not helped by its ramshackle appearance and increasing crime rate. A 'heaving' success story in the 1980s, the street became filled with touts trying to pull every potential customer into their venues with offers of discount drinks, topless dancers and other incentives. Now many premises lay empty and closed down.
Many of Phedonos' plans for his city have come to fruition, in the old town for example, where buildings have been renovated and painted and roads and streets fixed, but this is most certainly not the case along Ayiou Antoniou.
The street has remained an unsightly mess with buildings left to crumble and only a handful of bushiness now remain open. The mayor had hoped that cleaning up the area five years ago would have also helped to encourage the growth of new businesses. It didn't happen.
So why, after all of the promises and moves to clean up the area, has it remained such an eyesore and embarrassment for Paphos?
"The big problem here is not the municipality, it's the owners. Unfortunately, many properties here have been repossessed by banks as they were used as collateral and the owners have large loans which nobody pays," Phedonos informed the Sunday Mail this week.
The mayor has been vocal about the lawlessness on the part of some that prevailed for decades in Paphos, which was an opportunity for many illegal buildings to appear and helped to create the image of a slum.
This was why five years ago, he gave the go-ahead for illegal constructions on the street to be torn down, and tonnes of rubbish, broken glass and old bits of furniture removed.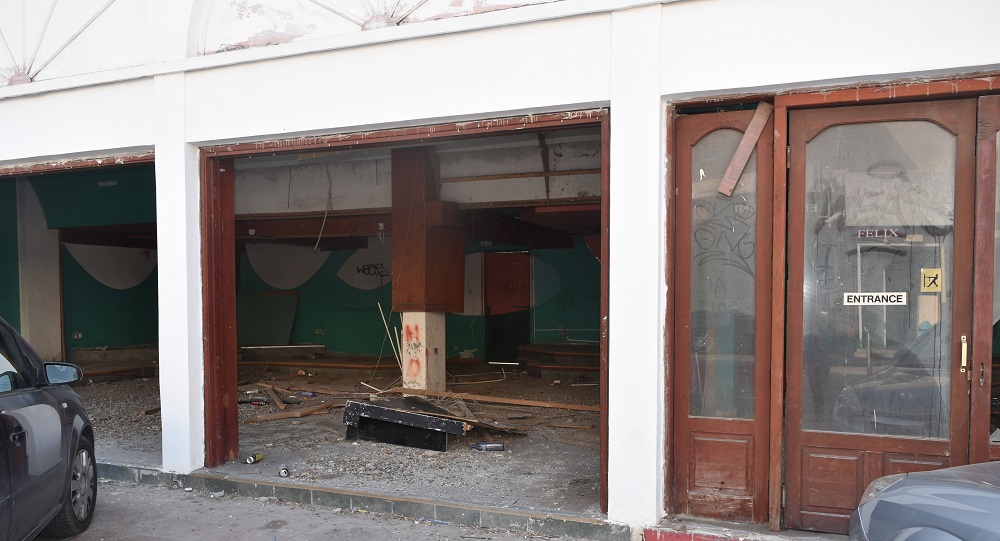 His earlier optimism that the clean-up would lead to a transformation has now undergone a reality check.
"Realistically, any progress in upgrading the area will probably be slow. A miracle is needed," he said.
Admittedly, a new project with a price tag of €3.6 million to upgrade the road network in the area is about to get underway with a tender process opening next week.
"In about three months the final decision will be taken. We are waiting for the comments of the owners of the buildings in the area affected," Phedonos said.
However, even if an upgraded road network improves connectivity, aesthetically it looks like the buildings will remain neglected and dilapidated for the foreseeable future, unless something drastic changes.
"No-one wants to rent these buildings and businesses have mostly moved out. In the last two years due to the pandemic, nobody wanted to work here," said president of the federation of restaurant/leisure owners, Sykap, Fitos Thrassyvoulou.
Sykap is due to meet with Phedonos next week to discuss a number of issues, and the subject of Ayiou Antoniou is a priority, he said.
"We want to be clear as to what the street will be going forwards. It needs to be a clean and a good area, not half a kilometre of street that looks awful and is an embarrassment for Paphos."
He added that any rezoning of the town and noise level allowances could affect the street as well. There had been many problems over the years, with all sorts of crime that police had been tasked with, he said.
"When people visit, they say, 'Where am I?' Buildings have been left for so many years, there are rats and other vermin and it is not a good area. It is bringing the good name of Paphos down," he said.
He added that the strip clubs which once operated in the street are long gone and one suggestion is to make the area 'family friendly' with restaurants and shops for everyone to enjoy and "not just young people".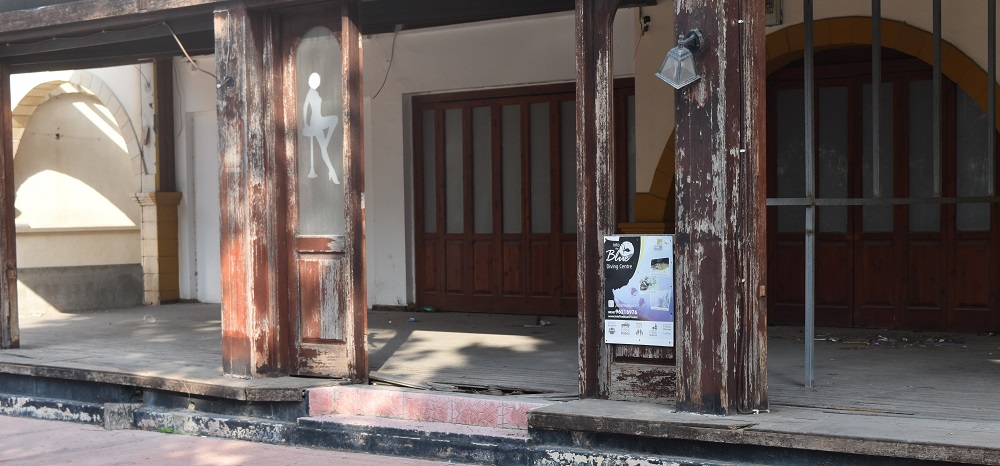 Paphos police spokesman Michalis Ioannou confirmed that most of the nightlife businesses on the street are now closed with only four or five still open, and that a constant police presence has at least helped the street to become safer.
"In the last few months we haven't had any problems in the area, as every night we have two police patrols on foot."
In the area's bad old days, a large number of crimes were committed, as Ioannou freely admits.
"In the past, there have been rapes and attacks both inside and out of clubs, attacks against tourists, serious injuries and other damage," he said.
In almost all cases, arrests were made.
"There were only a small number where no arrest was made."
But crime free or not, 'Bar St' is no magnet for tourists in its present state.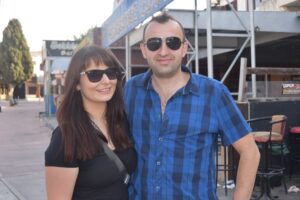 Adrian, 30, and Domicela, 29, from Poland are visiting Cyprus for the first time. The couple are enjoying Paphos and the good weather, however, they appear stunned and flummoxed at the state of the street.
"Tourism is so important here. So, it seems illogical that this area is so bad," Adrian said.
"They should invest and rebuild this street. Why are the buildings abandoned and why is it dead?"
This sentiment was echoed by other visitors, a family of four from France, staying nearby, who decided to take a stroll along the street with their two teenage children.
"There is no way we would come here at night-time or let our children come here. It is hard to believe we are in Paphos. What is this place, why don't the authorities clean it up? It's awful."
One of the business owners, a stalwart of the area, which is still operating said the situation was heart-breaking and that he couldn't see a way forward to make things better.
"All I want to do is to find someone to take my business, sell it and run away," he said. "That is really how I feel. The street is destroyed."