Somerset is brought to you by the letter C! This is the land of cider, cheddar, caves; a British coastal county characterised by rolling hills, flat levels, and ancient towns. The region's roughly one million residents have farmed the land for centuries. Even today, agriculture and food and drink production continue to be major industries in the county. And what's bring produced is, in the main, succulent cheese and scrummy cider.
Apple orchards dot the county (400 different varieties of cider apple are grown), and Somerset has been known for its cider since the 11th century. Originally, the drink was seen as a health supplement that was especially beneficial to the skin, and local babies were christened with cider well into the 1600s. Today, the county is still famed for its scrumpy (a strong or sharp tasting cider).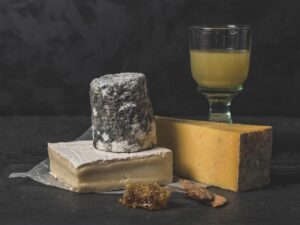 Cheddar is another major export, and it has an interesting backstory. The cheese is named for the gorge, which is named for a nearby village. And the whole lot derive from the Old English word ceodor, or 'deep dark cavity'. Now, the gorge itself is packed with caves, and the people of the village once used these caverns to – you guessed it! – age their cheese. And thus we get true Somerset Cheddar and depending on how long it's been aged – either nutty, crumbly, or sharp.
But it's not all cheese and cider – Somerset is also famed for its eels; in particular, the Sedgemoor eel stew. A low-lying, marshy area, Sedgemoor's River Parrett is a wonderful source of Anguilla Anguilla, or European eels. For centuries, these eels have made their way into countless dishes. But, nowadays the species is considered endangered. So a true Sedgemoor eel stew (complete with cider-fried eel in double cream) is rather harder to find!
Apple cake, on the other hand, is ubiquitous. A plain sponge enlivened by slices of local apple and richly-flavoured with honey, brown sugar, and cinnamon, it's the perfect end to a traditional West Country ploughman's lunch… A hunk of fresh bread, a slab of aged cheddar, a cool pint of cider, and then a nice slice of Somerset apple cake. Who needs fine dining?