As the Turkish lira continues its freefall, Turkish Cypriots react with a combination of helplessness and resourcefulness
At a trendy cafe-bar across the Green Line in northern Nicosia, the lira's plunge this week has had an immediate impact, with prices on some goods rising 17 per cent overnight.
"It's all about Turkey and we're suffering, we're just suffering," the 24-year-old waiter told us, adding that: "The prices are up, we updated the prices on the menu just today."
"Let me give you one example, the same burger one day ago was ₺58 and now it's ₺70 but the salaries have remained the same," he told the Sunday Mail.
The people we spoke to did not wish to be identified.
Described as a 'total nightmare' by local Turkish Cypriot media, the Turkish lira nose-dived 15 per cent on Tuesday as President Tayyip Erdogan controversially cut interest rates to boost the economy.
It hit a record low of one euro to ₺14.87, although it has since recovered slightly to ₺13.57 as of the time of writing.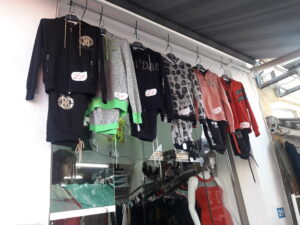 But during the day, across the Green Line, the "nightmare" was not immediately noticeable: shops were open, people sipped their coffees in the central square opposite the court and an ice-cream man with a fez hat performed tricks to entice tourists.
Are ordinary people suffering?
"Everyone is having trouble, because it's too much and it's all about politics," the waiter told us.
He expressed his frustration and a feeling of helplessness.
"In Turkey they have to accept it because they chose him [Erdogan] but here we can't do anything, the system has to change in Turkey and we'll change after that," he said.
As he spoke on Thursday morning, Elvis Presley's 1969 hit 'Suspicious Minds' was playing on the cafe's speakers. The words of the song seemed somewhere apt:
"We're caught in a trap / I can't walk out… Why can't you see / What you're doing to me…"
The 24-year-old added that the "top politicians" in the north are now going along with Turkey's policies.
He noted that former Turkish Cypriot leader Mustafa Akinci at least tried to "block" and put some barriers between the north and Turkey.
"But now we're going with Turkey," he said, dismayed.
Without any real hope of a solution, he told us, many people are studying abroad – in Europe, as far as possible – in countries such as France, Germany and the Netherlands.
But those hopes may be further dashed as the crumbling lira has a direct impact on those dealing in euros – such as students who would necessarily convert their currency to cover living expenses, such as rent, while abroad.
Britain used to be a popular destination for Turkish Cypriots but Brexit – and the consequent surge in tuition fees – means it is no longer financially viable for most.
Meanwhile, loans for car or house purchases are typically in British pounds or euros and paying the monthly installments has now become "impossible".
Opposition politicians in Turkey have accused Erdogan of dragging the country into a crisis and called for immediate elections, while many economists have described the current policy as reckless.
"It's a crisis, but it's not yet as bad as the crisis of the pandemic when we were forced to close," a man in his 60s told us, an owner of a shop selling ceramics.
"Because we use the Turkish lira, and the Turkish economy is in a bad position, we're being hit here," he said.
He explained that for the past ten years he has been setting the price of his goods in euros and adjusting the Turkish lira accordingly – not the other way around.
To be sure, many cafes and restaurants displayed their menus with a rate of ten Turkish lira to one euro – a rate not last seen since mid-September.
Effectively, it seems, some businesses are setting their own exchange rates that ease some of the pain for local shoppers while Greek Cypriots and tourists are still getting a good deal. For example, there were two price tags on a rack of tracksuit bottoms at a sportswear shop, one for five euros, the other 50 lira. These price tags had not been changed for weeks.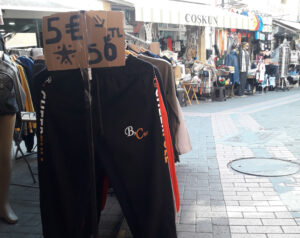 To reflect the new exchange rates, the shopkeeper could have chosen to decrease the price in euros and increase the cost in liras. But a visitor to northern Cyprus would be paying no more now than had he shopped there a few months ago, while a Turkish Cypriot would be shielded from the plunging exchange rate.
How long this particular shopkeeper can do this remains to be seen. Much of his stock comes from Turkey where his liras will now buy less for any new stock he orders. And, as we saw with the cafe and the overnight price of its burgers, each business has to decide how best to keep its head above water.
As another man in his 60s, who runs a corner shop, told us, the everyday family is being hit hard.
"They are forced to change their lifestyle, if they used to buy two items of a certain product then they must now make do with one," he said.
He also explained that some businesses, mainly importers, have temporarily stopped selling their products as they simply don't know what price to charge, leading to a shortage of some foodstuffs.
"Our government is simply watching because they have no tools, absolutely none at all, to do anything about this… our economy over here has been described as 'pasatempo' (just passing the time)," he said.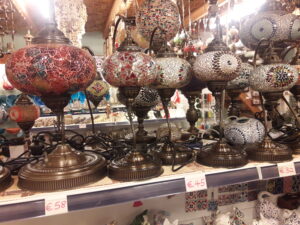 He joked that "there are two economies" in the north, that of the private sector and that of the public sector – as civil servants receive certain perks, such as salaries matching inflation.
"In the private sector there are no such benefits or protection, so their economy is dropping significantly," he said.
"Even the public sector is dropping but not as much as those in the private, they are in really bad shape."