The World Week of Italian Cuisine is an initiative to promote and enjoy Italy's culinary tradition and innovation, with events held internationally to celebrate the best of Italian food, wines and spirits.
To mark this special occasion, the Italian Embassy and the Italian Trade Agency, the regional office of Beirut, recently partnered with Lidl Cyprus via its Lidl Food Academy, to offer appreciation for good food, in keeping with Lidl's desire to showcase worldwide cuisines.
Over November 22-28, traditional Italian dishes were in the spotlight for World Week of Italian Cuisine. The Italian Embassy in Cyprus, in collaboration with the Italian Trade Agency, organised an evening of cooking and dining at Lidl Food Academy, with plenty of quality Lidl Italian products to enjoy, and Academy members, as well as representatives of the Italian Embassy and Cypriot press, in attendance.
On November 25, Lidl Food Academy welcomed media and officials from the Italian Embassy in Cyprus and the Italian Trade Agency, the regional office of Beirut, to an Italian cuisine-themed cooking class.
The class, as always, was led by the Academy's resident chef, Konstantinos Petevinos, while well-known journalist, writer and presenter, Sylia Ioannidou, contributed significantly to the presentation given.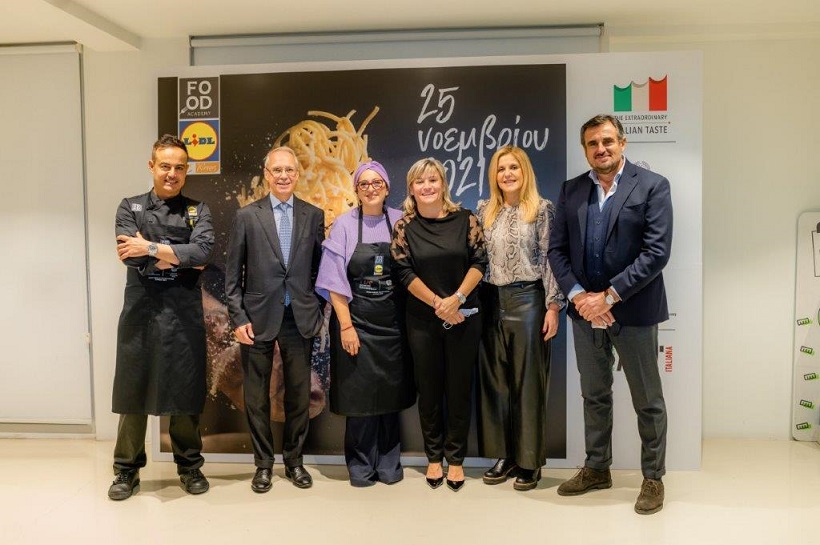 As honorary guests, Italian Ambassador to Cyprus Andrea Cavallari and Italian Trade Commissioner Claudio Pasqualucci, each welcomed attendees with a short address, to open the evening's programme.
Chef Petevinos began the lesson with a brief presentation on Italian cuisine, to prepare attendees for the recipes to follow. Throughout their time together, guests sampled a variety of Italian wines, savoured Italian culture and prepared authentic Italian recipes on site.
Among the foods savoured, accompanied by fine Italian wines and music, were pizza, spaghetti and gelato, as part of a gustatory journey that passed through Campania and Naples, culminating in Sicily.
As part of the World Week of Italian Cuisine celebrations, Lidl Food Academy's regular Saturday schedule for November 27 was also dedicated to Italian cuisine.