With money tight and supply chain problems meaning things don't always arrive a growing number of people are taking to making their own gifts. ALIX NORMAN gets a few ideas
I have always made my Christmas gifts. Even before the crisis (haircut or corona, take your pick!) I'd spend my spare time in the lead-up to the season hunched over my sewing machine, crafting at the kitchen table, or knitting to Netflix. Often I'd recruit similarly-minded family members: come November, my dear old Mum sends a package of eminently giftable, hand-made socks, scarves, and mitts out from the UK, and I return the favour with brightly-coloured glasses cases, reusable totes, and – for the last two years – face masks.
So far, we've had no complaints. Rather, these homemade presents are received with joy – not only are they useful, but they're also a sign of our time, love and effort: we've thought of you, personally. We've considered what you might want, and chosen the exact colourways (pink for the nieces, blue for the brother-in-law), fabrics (felines for the cat-lovers, plants for the green-thumbed), or item (headbands for outdoor break times, bookmarks for the readers) that resonate. There's love in every stitch – and that feels extra important at a time when meeting in person is no longer as easy.
Making your own gifts is a trend that's taking off. With money tight, and supply lines down, thousands of people around the world will be breaking out the scissors and thread, glue guns and newspaper to craft their own unique presents this year. Rather than buying from faceless online retailers, they'll be spending time and effort on a one-of-a-kind. And whether that's a sweater handmade with love by granny, or a sticky box of biscuits cooked up by the kids, you can guarantee your gift has received more thought and attention than any store-bought trinket (undoubtedly made by workers who aren't paid enough to care).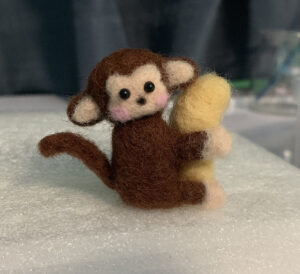 "Making my own gifts is a way to connect across the miles," says 35-year-old Antigone, whose needle-felted creations are a favourite with friends and family in foreign parts. "It can take days to make just one little mouse or fox. But the whole time I'm working, I'm thinking of the person it's intended for – it keeps your loved ones uppermost in your mind, even when you can't be with them.
"At the same time," she adds, "making your own presents is good for your soul." A finance manager by day, Antigone deals with "numbers and logic for hours on end. So coming home and investing in my own creativity is the perfect antidote to the fast-paced world of finance."
24-year-old Chris cultivates cacti and, come Christmas, his friends often find his sweet little succulents in their stockings. "I've loved gardening since I was small," reveals the trainee accountant, "but it was never on the cards as a job. So instead, it's become a hobby, and a great way to give a unique gift."
Chris' home-grown gifts may be "just a tiny little thing. But they're the result of months of attention, and they'll last for ever if you treat them right," he adds. "I know you can pick up a succulent in a garden centre for a few euros, but I think it's nicer for my friends to wake up each morning and see something more personal – it connects you with the recipient. Maybe they'll be having their morning coffee or coming in after a hard day at work, and they'll see their cacti and think of you. And it never hurts," he smiles, "to have more green around the house!"
Speaking of green gifts, 21-year-old art student George is big on recycling – and the consequent savings. "I love turning old magazines into Christmas trees and stars for friends to display around the home," he explains. "It's pretty easy, and very cheap, but it creates a wonderful effect. And I use old newspapers to make papier-mâché bowls and trinket holders – you can paint them and they look really nice, and of course you can personalise them too."
George is also a fan of recycled packaging: "Why spend money on expensive gift wrap?" he asks. "It's probably imported, which just adds to your carbon footprint." Instead, the artist collects "all the brown paper I can find throughout the year: I iron it flat, and then print it with a Christmas motif such as trees or holly using natural dyes and a simple potato stamp. It's more economical and better for the environment!"
72-year-old Robyn shares George's passion for upcycling. "I make my own Christmas cards from recycled paper and pressed flowers, and I knit things like baskets and place mats from plarn – plastic bags cut into strips," she discloses. "It actually looks a lot better than it sounds," she notes, "and it's a great way to turn potential litter into something useful."
Emma, who has a bit of a culinary bent, prefers giving gastronomic gifts. "Jam, cupcakes, biscuits – I've always loved cooking and baking, and it's something I can do at home," says the 34-year-old. "I know it's not the most exciting thing you could get for Christmas," she laughs, "but I promise there's love in every mouthful! I'm a stay-at-home mum with two kids under the age of five, so getting to the shops is not an easy feat, especially in December – you can't wander round a crowded mall picking out perfect presents when you have two fractious children in tow!"
Emma takes the time to tailor her treats. "I know who has a gluten sensitivity and who has a nut allergy, so I'm personalising ingredients as well as products to my recipients."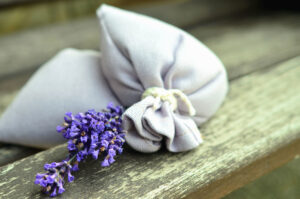 Lastly, there's 44-year-old Kasia, who has recently moved to Cyprus and is combining her love of all things handmade with the chance to learn new skills – and keep traditional crafts alive. "I went to a lavender workshop in Platres," she explains, "and I learnt all about how the old ladies of the village used to make lavender bags to ward off moths. There's loads of lavender growing in my garden, so I've used that traditional knowledge to make my own lavender bags, which smell absolutely gorgeous.
"It's not something I do for profit," she adds. "Handmade gifts are just a great way to show that you care enough to take the time and make an effort for someone you love this Christmas. I think that's the main message when you give a homemade gift: I love you."