By Sarah Coyne
With Christmas on the horizon, what better way to celebrate than high tea? And for this there is no better place to go than the Elysium Hotel in Paphos to get in the Christmas spirit. And their traditional afternoon tea has been changed to a Christmas version.
On our first visit to the Elysium for the purposes of comparison, the experience was superb. The setting, the service and the superb food in the afternoon tea were all exceptional. One week later we returned to try the Christmas version, and yes, even the very best can, sometimes, be enhanced.
Afternoon Tea at the Elysium has always been a luxurious experience and really should be part of any visitor's itinerary when travelling to Paphos. It has always been very popular with residents, but the new Christmas version takes it to a whole new level.
On arrival, we had the option to sit inside or outside. The extensive seating area inside is very inviting with big comfy sofas but we decided to sit outside on the terrace. The sea view from here is superb, and if the weather is good, it is the perfect location to sit and relax. On our 'Christmas' visit we didn't see a menu but were offered the choice of coffee or tea. We elected to go for the filter coffee, served in a small logoed silver pot. If you are a tea drinker, the Elysium offers 21 varieties. Then a three-tier cake stand was delivered to the table with an extra plate of cakes, as they couldn't all fit!
The classic sandwiches served at the Elysium are quite simply superb and the Christmas selection was of Roast Breast of Turkey with Sage, Onion, and Apricot Butter served on Saffron and Lemon Bread, Home Smoked Salmon with Pickled Cucumber on Rye and Wheat Bread and Egg Mayonnaise with Wholegrain Mustard and Chives on Tomato Bread. In addition, we also enjoyed a Local Pork, Shallot and Oregano Sausage Roll. The biggest surprise was what I can only describe as incredible – a Sweetcorn Panna Cotta with Crab and Compressed Cucumber. Any foodie will undoubtedly enjoy this unique combination of flavours and textures, offering a modern twist.
At this point, it is worth mentioning that the sheer quality of the ingredients makes this a memorable experience. The salmon is bought whole, filleted, cured and smoked in-house. In addition, the specialist flavoured breads are always matched to the filling.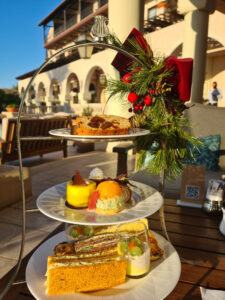 Now to the scones. Many places think they can bake them, but the resulting versions prove they are not as easy to create as they look! However, Elysium scones are perfect and exactly the way they should be, accompanied by clotted cream, imported from Devon every week, and a small jar of specialised jam.
It was then time to turn our attention to the patisserie tier on the cake stand. There are four cakes, each decorated with a little bit of Christmas sparkle. A Cherry Wine and Cranberry Chestnut Roll, a Lemon and Hazelnut Toffee Gateaux, a Pumpkin and Apple Pie with a Mandarin Jelly and a Dulcey Valrhona Chocolate Whipped Ganache and Mincemeat Cinnamon Choux. I only regret that having enjoyed all the savoury variations, I was a little full, so I tried little tasters of all the cakes and given the quality and skill of presentation, this is possibly a criminal act! I almost forgot to mention that a slice of traditional Fruit Cake was on the top tier.
So, there you have it, quite possibly the best afternoon tea I have ever had and thankfully, although worryingly, right on my doorstep. We shall certainly return before Christmas to enjoy this festive treat and might just add a glass of Champagne to celebrate the season.
VITAL STATISTICS
SPECIALTY Christmas Afternoon Tea served until January 6
WHERE Elysium Hotel, Queen Verenikis Street, Paphos
WHEN Noon to 6.30pm
CONTACT 26 844444. Booking advised, vegetarian and vegan available upon request
HOW MUCH €38 for two people