As the New Year rolls in, Rialto Theatre will waste no time in opening its doors again after a very brief Christmas break. January's agenda is just as packed with performances and musical numbers as other months, this time welcoming orchestras from abroad and even a live screening from London's National Theatre.
The year's first performance will continue the festive mood with a comedy in Greek directed by Andreas Araouzos. Titled Santa Claus is a Real Scum, the play by Reppas and Papathanasiou will have its Limassol debut on January 5, in between performances in Nicosia and Paphos in the same week. Actors Fotis Apostolides, Marina Vrondi, Thanasis Drakopoulos, Christina Constantinou, Herodotos Miltiadous, Irene Salata Georgiou and Andreas Araouzos play a random and interesting group of people spending Christmas Eve together. A deceived woman, a pregnant one, a trans person, a 'normal guy', a hillbilly in love, a foreigner and a pervert come together in hilarious ways.
A couple of days later, on January 7, a concert for all ages will take place by the Nizhny Novgorod Regional Orchestra. Visiting Cyprus once again as part of the International Programme Russian Theatre Season in Cyprus, the orchestra will perform two shows on Friday, one at 5pm and another at 7.30pm.
A musical story for children will follow on January 9 and 16 written by Stavros Michalakakos and Yiannis Politis. The Little Moth is a play about bullying, the value of friendship and family, as well as the need to listen to our inner voice and talent. Two performances will again be held on each day, at 11am and then again at 4pm.
January 11's play comes directly from London's National Theatre Live and tells the exciting and gothic tale of Frankenstein. A play by Nick Dear based on Mary Shelley's novel will be presented, that critics and spectators have praised as one of the most amazing spectacles of recent years. Monstrous, yet carrying the innocence of a child, the bewildered creature, Frankenstein, is exiled in an inhospitable universe by his creator who is driven by horror. This antisocial being is treated ruthlessly and becomes desperate and revengeful. He decides to track down his creator and strike a scary deal.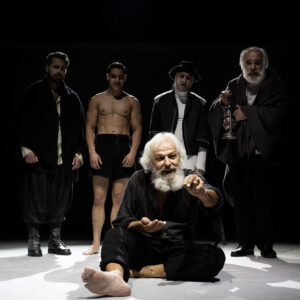 The play is directed by Oscar award-winner Danny Boyle with an amazing cast including Benedict Cumberbatch and Jonny Lee Miller. The play will be screened with Greek and English subtitles.
More well-known theatrical productions will come to Rialto Theatre in January but this next one is a take on Shakespeare's King Lear in Greek. Theatre director Cezaris Grauzinis stages a new version of Shakespeare's dark tale on January 14 and 15, highlighting the poetic discourse of the great dramatist and bringing out a modern, poignant dimension of King Lear. Though presented in Greek, the play will include surtitles in English and Turkish.
One more play will take over Rialto Theatre's stage next month – a Greek adaption of Harold Pinter's The Lover. Presented on January 19 and 20, is one of the best-known plays written by the Nobel Prize-winning playwright featuring a seemingly happily married couple, Richard and Sarah.
Employing a simple, everyday yet sharp language, Pinter places his characters in a psychological and mental game where roles alter, where the line between the real and the imaginary is blurry, where marriage and social conventions are being negated, and the protagonists lay themselves bare in front of the audience.
Returning to live music performances comes a concert by the Cyprus Symphony Orchestra on January 21. To welcome the New Year, the orchestra will be joined by three special French artists – maestro Patrick Gallois, the brilliant harpist Anais Gaudemard and flutist Virginie Bove, who is also the Orchestra's sub-principal flute. The two soloists unite their talents in Mozart's captivating Concerto for flute, harp and orchestra.
Considered one of the best harpists of the new generation, Gaudemard will also interpret Claude Debussy's Danse Sacrée et Danse Profane for harp and strings, distinguished by their refined rigour and musical 'archaism'. The programme will close with the Cyprus Premiere of one of Kurt Weill's most celebrated works, his Symphony no. 2.
Next follows a play with story and lyrics by Stavrou Stavrou, presented on January 23. Titled Still, the play questions whether a statue and a girl can become friends and travel around the world together. A performance for all ages, accessible to spectators of all nationalities since the language employed is made up, specially invented for this play.
Varka Sto Gialo is a performance based on the book of the same title, written by Maro Thodoraki, the niece of Mikis Theodorakis. It centres around the unknown childhood of the great Greek composer, presenting moments, images and milestones in the life of the world-renowned musician, as well as of modern Greek history. Catch it on January 26.
The month's final production is a solo performance by Elena Antoniou titled Landscape. Presented on January 28 and 29, the choreographer-performer unapologetically demonstrates herself to highlight the personal experience as a collective landscape. She overexposes the female body with pleasure and extends the limit of spectacle by skillfully and intentionally inviting the gaze of the spectators. In Landscape, Antoniou creates the space and the environment for the political body to exist as deeply traumatised, yet superficially sexual.
For more details and tickets head to www.rialto.com.cy