A fascinating journey through the world of toys is now on at SPEL State Gallery as a new exhibition presents SOFIA Foundation's toy collection. Titled Oniropolis, loosely translated to Dreamcity, the exhibition runs until April welcoming old and young.
Vintage toy cars and robots are part of the foundation's collection which has been certified by international auction houses as one of the most important of its kind in the world. "Toys are undoubtedly a mirror of the society in which we live," say the exhibition organisers.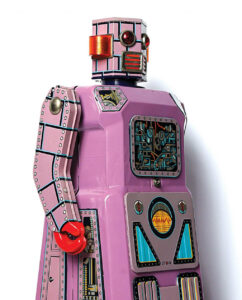 "Through them, we can learn the history of different cultures, while they are a useful educational tool for learning our first lessons in mathematics and reading or recognising shapes and colours. However, the same pedagogical quality of toys has at times been used as a tool of propaganda and manipulation by totalitarian regimes."
The exhibition promises an exciting journey into the world of toys, through rare exhibits, interactive educational programmes, colours, designs, constructions and many surprises for young and old.
In each of the four levels of the SPEL exhibition space, different categories of toys are presented, such as trains, airplanes, dolls, teddy bears, mechanical and tin toys, construction toys, shadow theatre, space and TV games and more.
One of these valuable exhibits, is the unique sculpture by Vangelis Lioudakis, the recycled Schoolboy – Student that welcomes guests to the exhibition at the reception area.
Parallel events such as guided tours and presentations will follow. Oniropolis is the largest-scale display of historical toys in Cyprus to date and is addressed to all age groups.
"This fascinating tour," add the organisers, "will cultivate the imagination and creativity of children and adolescents, stimulating their curiosity, and will invite adults on a journey into their childhood, recalling games from back in the day and at the same time exploring them from different angles."
Oniropolis
Exhibition of SOFIA Foundation's toy collection. Until April 30. SPEL State Gallery, Nicosia. Tuesday-Friday: 10am-6pm. Saturday: 11am-7pm. Tel: 22-479600