In the founder of a local charity THEO PANAYIDES meets a woman for whom charity began at home, and the lines of the two still blur, who points out in these troubled times there are many ways to fall through the cracks
Happy New Year! We could argue about what humanity needs most urgently in 2022, but kindness and empathy are surely high on the list. We are, after all, coming up to two years of people being literally afraid to get close to each other, escalating in the past few months to all-out segregation. Maybe that's why Maria Antoniou – met on a chilly Boxing Day in a café in Lakatamia – is so refreshing, not just because she helps others but because she's so natural about it. She makes charity sound simple.
The charity in question is Agkaliazo Me Agapi (I Embrace With Love), which Maria founded in September 2018 – initially intending something more modest, an online group where people could exchange secondhand stuff they no longer needed. It's now a busy organisation with 15,000 Facebook friends and 45,000 members, marshalling hundreds of volunteers and feeding over 1,000 families all over Cyprus on a daily basis, as well as lending a hand in other ways. They fixed up a house for a single mum with no money to fix it herself. They helped in the aftermath of the recent wildfires. They donate clothes and toys, and even – most importantly – their time, sitting down with lonely old people in nursing homes. Meanwhile, Maria also works as a civil servant and is busy raising two kids, all while fielding a daily stream of phone calls and text messages.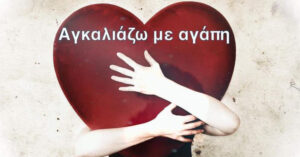 What makes her do it? It's not political, or ideological. Agkaliazo Me Agapi (call it AMA for short) has no party-political affiliations, and indeed receives no funding at all; all its members are unpaid volunteers. Maria does have an origin story, a specific reason why she founded the group, and we'll get to that in a minute – but she also comes across as a warm person in general, her concern for the less fortunate being not quite religious zeal (though she is religious) but a kind of instinctive intimacy; she gets close to people. She's brimful, emotionally and physically tactile. There's a touch of the Earth Mother about her.
Consider, for instance, that she still breast-feeds her daughter (who's four) and only recently stopped doing the same for her son (who's now six). Consider how much she loves Nature and all things authentic, "not artificial". Consider how close she was to both her parents, offering by way of illustration that "even at the age of 25 – maybe even 30! – I'd go and sit in my daddy's lap". Maria is now 38, and unfortunately lost her dad last year – but her mum is still alive, which is quite significant since it was her mother's near-fatal accident in 2014 that provided the impetus to start AMA. Maria was heavily pregnant at the time "so I felt it even more intensely", the importance of mothers and the horror of potentially losing one; "I was bringing life to a new person, and meanwhile my mother was losing her own life. It was – overwhelming," she recalls – and, to my surprise, chokes up with emotion, her voice shaking as she relates this story she's told many times before.
Her mother underwent 30 operations in three years. She's now in a wheelchair – but alive, against the odds, so "that was my thank-you to God," explains Maria, "and I said that, while she's still around, the group will be volunteers only and no-one will receive any salary". What they do at AMA is "a kind of healing balm for the soul," she says lyrically, "and I think that's what's keeping [my mum] alive: the love that she gets from people".
The family admire what she's doing; after all, they were that kind of family. Maria makes a point of describing her own journey, from a younger woman who "only cared about buying clothes, buying shoes, going out, being pretty" to the current wiser, more mature version – and admittedly she does have a glamorous side; she shows me photos of her wedding, which she designed herself (she did art and design at school, then went straight to a government job at 18), the bridesmaids in pink and the gentlemen in matching pink ties. All that is true – yet in fact she always had a social conscience, charity beginning (as so often) at home. They were five kids in the family and she was "the fourth – no, fifth," she says – a puzzling stumble but in fact the fourth child was adopted in her early teens, a girl from a difficult background who was taken in by her parents. Maria's mum was a kind of proto-AMA, generous by nature: "When we were children, she'd always put some extra food in the pot when she was cooking, to give to the neighbourhood. We'd always be inviting people" – including the migrants from Cameroon who lived in the flat upstairs – "to come and eat with us".
That's more or less the m.o. with AMA today – and in fact the most striking thing about it is how organic it seems, how natural. (Once again, she makes charity sound simple.) Maria is a front-line volunteer, indeed our Boxing Day meeting had to be delayed because she and her husband Dimos (a businessman with his own tech-based company) were out distributing food packages – but not everyone has to volunteer all the time, or even do very much. A lot of small bricks build a wall as powerfully as a handful of big ones.
"You might want to cook five portions. I might want to cook 10. We have a volunteer who cooks 200 portions," she explains. There are hundreds of volunteers all over Cyprus; they'll get in touch, usually through the Facebook page, and someone (usually Maria) will monitor and organise them. That's her role, acting as the hub in a wheel with many spokes. "You might tell me, 'I cook five portions of food every day, I'd like to cook seven. Is there a couple – or perhaps an old man and his helper, or a single mother and her child – in my neighbourhood, who I can help?'. For you, it's no big deal to put seven portions of food in the pot instead of five, and help a family down the road – but of course they're behind closed doors, you have no way of knowing what they need. But I do."
People get in touch; Maria's mobile number can be found on Google, hence the endless stream of calls and texts. (Actually, she says, friends no longer bother to call that number; it's been taken over by the charity.) Other volunteers go to bakeries and restaurants at closing time, collecting surplus food and delivering it. Others sort through packages of donated clothing, removing any torn or dirty items. She recalls a night, early on, when she stayed up till 5am sorting clothes, then had a shower and went straight to the day job; "At some point we talked about it with my husband, and he said 'This can't go on'". Maria agreed to set some limits – but instead, as time went by, Dimos and the kids got more involved, the line between charity work and family life growing increasingly blurred.
These days, the kids will often join her on the afternoon shift, when the food gets cooked (distribution comes later, then collecting from restaurants which can go on till midnight); she and Dimos take it in turns in the evenings, one of them staying home to bathe the children and tuck them in while the other works at the charity. The kids have become quite proactive in their own right, handing Maria toys every day to pass on to children in need – and her son appears to be full of compassion in general: "Whenever a child falls down at school, he'll run and say 'Teacher, so-and-so hurt himself, come and help him'," reports his mum. He's also big on planting trees, and indeed has been named the official ambassador (pretty good, for a six-year-old) for Disy's campaign to plant one million trees in Cyprus. Activism too, it seems, begins at home.
Is it bad out there? Does she see things that shock her?
"Obviously, it's gotten worse – because there are people who used to be fine, then they lost their jobs due to Covid and became poor." Her charges used to be the health-impaired and morbidly obese, but now there's a lot of folks who just can't make ends meet. As for being shocked, she hasn't really seen domestic violence or anything like that – but "it's sad when you go into houses and see people sitting on the floor to eat, or holding just one plate and passing it back and forth. Or not having any beds, sleeping on the floor. Or boiling water in a pot to take a shower, or not having water at all". The aforementioned single mum whose house they fixed up lived for five years (!) in Ayios Andreas, in the heart of Nicosia, without water or power, "going to the toilet in the back yard, using a garden hose for washing. Right now we have a similar case in the village of Arediou, a young man sleeping on the floor and washing in the garden. Now that it's winter, he hasn't had a bath for two months."
Why doesn't the government do something?
"Maybe they don't know," she replies diplomatically – and it's true, most of the people she helps have issues (many are in fragile mental health) and won't always think to apply to the welfare office. Still, says Maria, we don't need the government. "If you want to help, you can. Go to a state nursing home, and ask if they have any residents who no-one ever comes to visit… Even just to give your phone number to an old man like that, so he can call you and say 'Good morning kori mou, how are you?' and you can say 'I'm fine, how are you?' – it's so important! Or it can just be helping an old man cross the road. How often do we see an old man at the crossing and cars going by, and he doesn't know to press the button for the red light?… We mustn't wear blinkers," she implores, "we should try to put ourselves in the other person's shoes, and see how we can help. That's how I feel."
Her own life is quite taken over, of course. It's not unheard-of for some poor old lady to wake her up at 3am because she's had a fall and needs help (they can call the charity; but most prefer to talk to Maria directly). Desperation also makes people hostile, especially if they have mental-health issues and forget their meds (or run out of meds, and don't have money for petrol to go and get more); Maria and the other volunteers don't take it personally – and indeed those same people will invariably text a few days later, with profuse apologies. Sometimes, it's true, "we get upset, [wondering] what's happened to the old Cyprus of prosperity? Pretty soon, we might even start seeing people sleeping in cardboard boxes". Last week it was AMA's annual Christmas dinner for the destitute and homeless – and Maria was struck by one bespectacled man in his early 50s, reading a book (an unusual detail) while waiting for his food. The man was Cypriot, just back from overseas, a social scientist who speaks four languages – but he has no job, no money, the state bureaucracy is slow, so he's sleeping in abandoned buildings and hoping for his application to be processed. There are many ways to fall through the cracks.
Still, says Maria Antoniou, "volunteering is a spiritual need" – and indeed that's the real message here, that it's not only those in need who are helped; it's the volunteers too. Some may be previous recipients who want to give back (last week's Christmas dinner was hosted by the woman who'd lived for five years without water or power, now doing better and eager to show her gratitude), others may be "fighting depression, or bad thoughts" – and that's the point, helping people is 'a healing balm', as she put it. Doing good isn't just for do-gooders. Kindness breeds kindness, and striving for the happiness of others adds to the giver's own happiness. Charity is good for the soul.
Maria isn't all that worried about 2022. The pandemic seems to be in its final stages, she says; business will bounce back, things will get better. Maybe so – but there's more to consider. A sea change is needed, not just better circumstances but better energy; we (meaning the whole world, but Cyprus too) would do well to become a little kinder this year, more forgiving, more loving – to "put ourselves in the other person's shoes," like she does. "A chain of love gets created, spanning the whole of Cyprus," says Maria sweetly, speaking of her work, "and it's such an encouraging message. People doing their best for other people." A happy dream, as we head into the new year.