An organisation, at its core, is primarily composed of the collective capacity of its people to create value. KARMA prides itself on having one of the best teams of professionals in the real estate development industry, projecting added value on all levels of interaction with the company. Each member of the KARMA team is not only an asset to the company but also to those who chose KARMA for their real estate needs.
Leandra Papantoniou, Sales Director, has been with KARMA Developers for over a decade, leading, coordinating and organising the sales team as well as handling many of the company's most important projects.
For Leandra, KARMA is her home.
Q: How did you start in KARMA? Tell us about your path.
I started in Karma in 2004, at the beginning of my career in real estate. However, I moved on after a year but ended up returning to what I call home in 2011 where I started working as a sales advisor alongside our CEO Mr. Nicolas Karoullas and the team. I have always offered as much as I could by trying to build long-lasting relationships with our clients and associates. During 2017 I took on a new role as Sales Director and have been enjoying leading a hardworking, dedicated and loving team who share the same values as the company.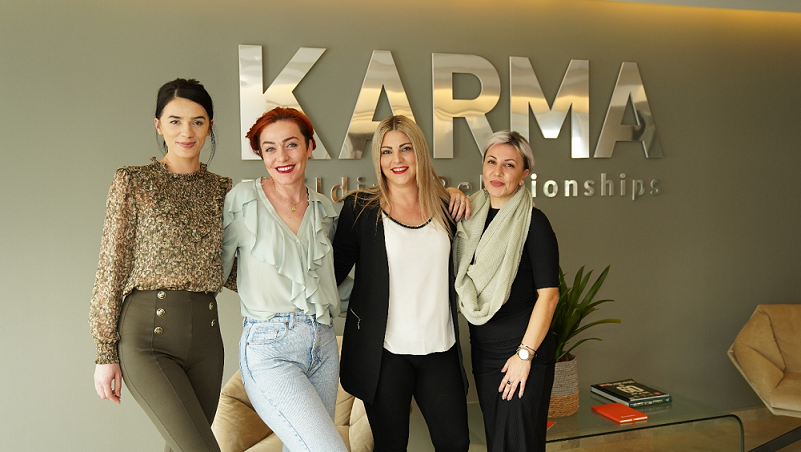 Q: In this past decade you have grown as a real estate professional alongside the growth of KARMA. How would you describe the journey under both spectrums? (Personally, and corporate-wise)
Oh my gosh, where to start! Well, personally, I believe my journey in Karma has never been separate in terms of the personal & corporate spectrums; due to the passion I have for this industry, and for the company in particular, working is automatically intertwined with my personal life. I have learned so many aspects of the corporate side as I have had the chance to work with different associates and colleagues who have taught me so much, contributing to my professional growth. My journey has been amazing, with challenges that at times were not always easy. However, I am lucky to say that I have experienced great opportunities and moments by being able to travel and meet so many different nationalities and cultures. This has definitely given me a broad outlook on life and business by being able to understand diverse people and their needs when they visit Cyprus to look at property. Essentially, KARMA and I grew together.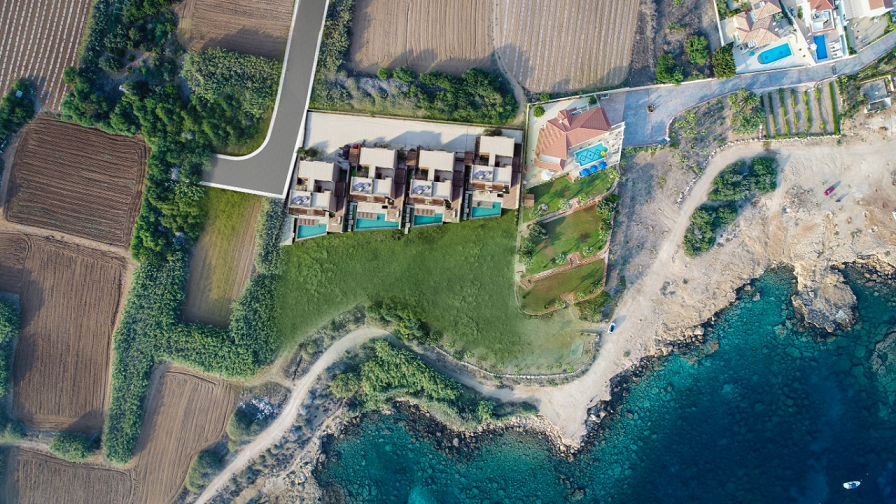 Q: Cyprus has been established as an international real estate market, and we've seen the industry booming in the last years. Where do you see things going from here?
Even though we have lost a certain market of buyers, those who were looking at Cyprus as an investment destination with the purpose of obtaining a Cypriot passport, this has not affected the rest of the international buyers. They are still looking to diversify their wealth by owning properties in a safe European country, so we believe the market will continue to stay strong. With so much new infrastructure and low taxation laws it is looking to be a promising future for the real estate market of Cyprus. KARMA is not riding the wave of the times, but more like paving the way towards this direction. In fact, our projects, such as "Eden Residences" and "Mythical Spa" developments are steps on this road.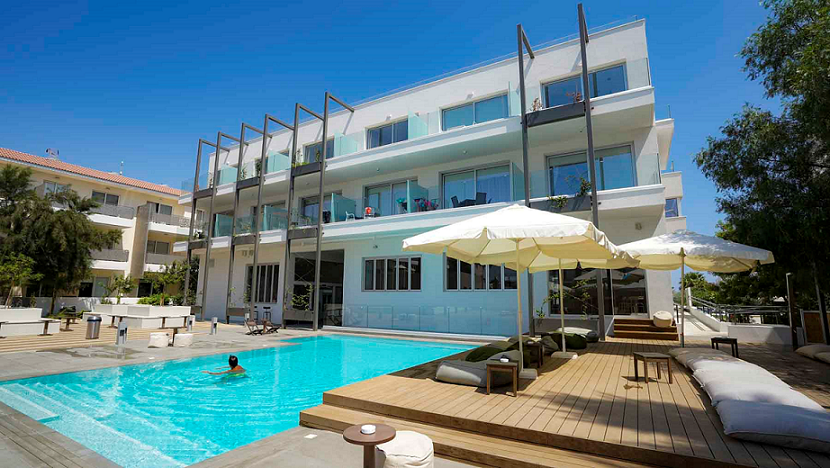 Q: You're referring to the discontinuation of the investment-for-citizenship scheme. But this was not the harshest blow on the market. Less than a decade ago, Cyprus went through an unprecedented bail-in, which remains a stigma.
Those were very challenging times – insecurity, disappointment and fear being the major characteristics. However, it has been proven that even though Cyprus is a small country, it has a plethora of advantages to offer anyone investing in or visiting the island. Acknowledging the realities, and having a clear view of the bigger picture KARMA and the market in general, overcome these obstacles as well as possible, moving forward with a positive outlook. As a company that has solid foundations and stands firmly on its own two feet, KARMA was not affected too much by the discontinuation of the investment scheme as our main clientele and focus was from a different pool. The so-called "haircut", although it came as a shock to many, did also affect the Cypriot way of thinking towards saving money in banks. As trust was lost in the banking sector, this created the need for buyers to invest their hard-earned money back into bricks and mortar.
Q: Touching upon clientele; the market essentially changes because the clientele shifts. How has it evolved over the course of your career span?
Nationality wise, when I first started in real estate, the majority of buyers were British and Cypriot with few Russians, Ukrainians and Europeans.  As the years went on more and more nationalities have been exploring Cyprus due to the Passport Investment scheme, Permanent Residency scheme and the fact that Cyprus offers low taxation for businesses. This has led to further growth and development with new buyers coming from many new countries such as China, India, Africa, Lebanon, Egypt, Jordan and Vietnam, to name some. Cypriots have always been stable buyers, however, and do in fact cover a large percentage of sales for KARMA.
Q: What does the clientele opt for?
Buyers nowadays are very demanding, and rightfully so. They look at the detail and style of the property and want to own one that is of good quality, built in a prime location. Each buyer's needs and demands are different. Many like the idea of private, gated, smaller developments, some like beachfront villas with unobstructed sea views and spacious plots such as the Pliades Seafront Villas project in Ayia Napa or the Malama Grand Seafront in Protaras, while others prefer larger resort style developments like the Mythical Resort in Protaras. Technology and the environmental aspect also play a big role, so buyers are requesting more and more smart homes, energy efficiency and natural green surroundings.
Q: Did the pandemic change preferences of the buyers?
I wouldn't say so. The buyers have always purchased properties with the purpose of using them as holiday homes, retirement homes and rental investment opportunities, and this is something that we have always focused on. The preferences never really changed, but it did further increase sales from Cypriot buyers looking for a holiday home and rental investment property.
Q: It is undeniable that the COVID pandemic brought challenging changes on all levels. How did that translate in your day-to-day?
Although these are indeed challenging times, it has been proven that people refuse to stop their lives, continuing throughout this challenge to try and live a normal life by still investing for the future. That is why KARMA stayed on its growing path. The pandemic lockdowns allowed us to have more time to focus on many things and aspects of our jobs, to further ameliorate our operations and the ability to implement clearer procedures and services. This has generated a very positive result for sales and future visions of the company. At the same time, our project completion was not hindered at all. In fact, one of our most ambitious projects was completed in the height of the pandemic. I'm referring to "Eden Residences" which is nothing short of a visionary landmark in the heart of the vibrant and ever evolving Protaras area. In a prime location, overlooking the bustling seaside town, Eden is a state-of-the-art high-rise and an evolution of luxury living. As for me personally, I would say that the biggest difference in my everyday life is that we no longer take anything for granted. I believe we all place more value on the people we care about and our surroundings.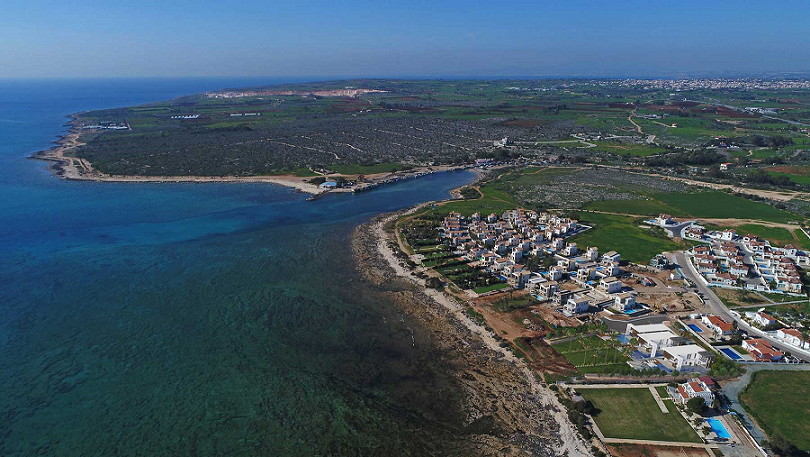 Q: Why should one explore the opportunities KARMA provides over other options?
KARMA is your "one-stop-shop" for real estate in Cyprus. It embodies all that the Cypriot people stand for: hospitality, integrity, humanity, beauty. The quality of construction, prime locations, reliability, and customer care are our corporate compass. Our knowledgeable sales team are always willing to listen and assist each client with nobility and professionalism. We believe our portfolio, which includes beachfront villas such as Semera Beachfront in Ayia Napa, luxury villas such as the Halki Residences in Protaras and Nissi Residences in Ayia Napa, apartment projects like Mythical Resort in Protaras, and even lifestyle villas like our Almaria Residences and Malama Seaview in Protaras, alongside our after sales services, including customer support, property rentals and property management, can cover the most demanding needs of any client. And, with over 36 years of experience and after delivering over 4,000 properties, we still believe in quality over quantity. So come meet our team and you will see why in the near future.
Q: What do you see as being "the next big thing" in the development industry?
This I will leave for the future. My reply is: to be continued…