By Andreas Nichola
2021 proved to be an almost crippling year for the hospitality industry. Bars and restaurants had to close with uncertainty about when they would be allowed to open or operate fully. Measures put in to place to limit customers. Business owners have had a torrid time. Keeping all this in mind, it takes a brave person to actually open a restaurant. However, despite all the obstacles presented, that is exactly what Elia Backyard restaurant decided to do.
Situated a stone's throw from Finikoudes, just behind Europe square, Elia Backyard restaurant really believe in the love for food. They make a bold claim that, after sampling what they offer, customers will be convinced that food will be second only to loved ones.
Walking up to the alley way that leads to the restaurant, we liked what they had done to begin the experience of feeling as though you are entering a garden. We took a deep breath to enjoy the aromas from the flowers and plants that decorated the walls. Research suggests it takes seven seconds to make a first impression, and those spent walking down the garden path made a good one.
A quick scan of the area as we entered showed the theme of plants and greenery continued. The tables and chairs were all more or less in line with new restaurants going for the 'modern' look so, nothing innovative or unique in that department.
We were seated and given the menu which is all on one piece of card. It had the usual categories of starters, salads, mains, pasta and desserts. Starters, salads and pastas had a variety but not one of the main dishes was vegetarian or vegan. While I would hope that the desserts were at least vegetarian friendly, none were marked so.
The prices for all the dishes looked quite reasonable. For a restaurant in such a good location, you would expect to see prices slightly on the high side but, in comparison to other restaurants, they seemed more than fair. I wanted to feel like I was having something a little more special than souvlaki or chicken fillet so I opted for the ribeye, which is actually charged per 100 grams. My partner opted for the salmon fillet in an orange and dill sauce. We also chose the smoked feta with Florentine pepper and chilli jam to start with.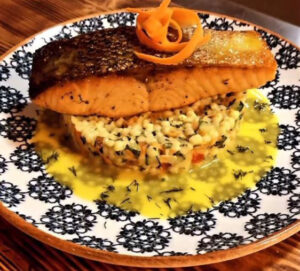 The starter came out pretty quick. No complaints there. The jam covered the large slab of feta perfectly, corner to corner and the two flavours married together perfectly. The saltiness of the feta balanced out by the sweetness of the jam topped off with a little kick from the chilli left us feeling quite pleased. We weren't made to wait long before the mains arrived. My rib-eye was served on a wooden platter with vegetables and new potatoes while the salmon was beautifully presented on a bed of orzo surrounded by the orange and dill sauce.
I sliced through my steak with ease – literally like a hot knife through butter. It was so soft and cooked exactly as I had asked for. I don't usually order steak unless at a steakhouse but this time I was very happy I did. The vegetables were also done extremely well. Not underdone but not cooked so much that they lose all structure. They still had a little crunch. I didn't want to try the salmon that my partner ordered because it would have taken away from the flavour of the steak I was so thoroughly enjoying. However, I was told that it was tasty but the dill flavour was a little overpowering for her palate.
We ended the meal by ordering profiteroles for dessert, to share. A dessert each would have been way too much! The ratio of cream to chocolate was spot on. The cream wasn't too rich and the neither was the chocolate while the choux pastry was light and airy.
While I don't think that the food at Elia Backyard restaurant comes close to my loved ones, it was indeed a very enjoyable experience. The service was prompt and friendly, the food was tasty and the overall vibe of the place was good.
VITAL STATISTICS
SPECIALTY International
WHERE Elia Backyard, Plateia Vasileos Paulou 11, Larnaca
WHEN Monday-Friday 6.30-10pm. Sunday 12.30-10.30pm
CONTACT 24 642542
HOW MUCH starters €5.50-€7, mains €11-€17, desserts €6-€7