University of Nicosia is turning into an "innovative European university with campuses across nine European countries" after it joined the European University Alliance (NEOLAiA) as a full member, the university's rector has said.
The alliance is currently preparing and will submit an application to the European Commission in March 2022 for a grant of €14.4 million over the next four years, under the European University Alliances funding scheme.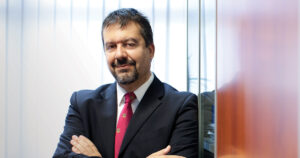 "I am excited and proud of the ever-increasing international recognition that our university enjoys, which was a major criterion for our inclusion in the NEOLAiA Alliance, which now consists of nine leading European universities," said the rector of the University of Nicosia, professor Philippos Pouyioutas.
Regarding the participation and the role of the university in the alliance, Pouyioutas said that the university would focus in particular on the difficult task of the digital transformation and the development of innovative virtual and augmented reality applications in education. This would be  line with the university's recently announced Open Metaverse initiative.
The university would also have an "active role in the development and offering of joint programmes and research, while continuing to contribute to society and culture," the rector added.
The NEOLAiA alliance consists of nine leading, young, forward thinking, and innovative universities, considered amongst the best in the world.
The table below presents the ranking positions of the members of the alliance according to the three main international university rankings, namely Times Higher Education World University Rankings (THΕ WUR), Shanghai Academic Ranking of World Universities (ARWU) and QS World University Rankings (QS WUR).
University
Rank
Bielefeld University, Germany
166*

601-700**

Örebro University, Sweeden
351- 400*

601-700**

University of Salermo, Italy
401- 500*

501-600**

University of Nicosia, Cyprus
601-800*
Jaen University, Spain
701-800**

801-1000*

University of Tours, France
901-1000**
University of Ostrava, Czech Republic
1201+*
University "Ştefan Cel Mare" of Suceava, Roumania
1201+ ***
Šiauliai State University of Applied Sciences, Lithouania
–
*THΕ WUR, **ARWU, ***QS WUR
The NEOLAiA alliance is designed to achieve ambitious goals reaching to 2030 aiming by that time to have established itself as a strong, highly integrated European university representing a mainstay of European values and high-quality education for all the member university regions.
It also aims to become an open and inclusive educational and social environment, fostering equity at university and in European society at large, ensuring that the diverse communities within academia and in the regions feel connected and committed to work together to face the challenges of Megatrends and improve well-being for all.
By 2030, NEOLAiA aims to be a model international educator motivating widening cohorts of students to engage in innovative research-informed and socially relevant study programmes crossing the borders of disciplines, research areas, countries and cultures, keeping pace with the digitalisation of teaching and learning and at the same time cherishing personal contact and a tailor-made approach.