By Ella Walker
Nisha Katona is so impressive, any second you manage to snatch with her means you're guaranteed to learn something and feel empowered. She is commanding, knows exactly what she's trying to achieve and there's a generosity to everything she does – be it the stories that accompany her recipes, the way she supports the staff in her restaurants, or her charm on telly.
The Wirral-based chef's new cookbook, 30 Minute Mowgli, was born from lockdown cooking, when shopping was limited and ingredients restricted. "I went into the cupboards and found the detritus, saving splendour hidden behind bottles of store cupboard ingredients," remembers Katona, 50.
30 Minute Mowgli is not just about using up ingredients. Things might be busy, but regardless, "We have big flavour requirements in our house," she says. "Sometimes you do want to have a bit of flair."
She feels a responsibility to share her inherited Bengali, and wider Indian, food knowledge. "It's my ancestors' – this way of cooking that I have, it's thousands of years old… These came from my ancestors through my grandmother, through my great-grandmother, through my mother to me." And now to us, via her recipes.
And Katona really wastes nothing. In her opinion, broccoli stalks are the tastiest bit, bones stay in, and her grandmother's best curry was actually a potato peel curry ("Can you imagine?!") She also has a particular fondness for cabbages, because they'll sit for two months in your fridge quite happily.
Throughout the book, Katona speaks of her ancestral home in India where instead of "normal toys" she learnt to prep fish on her Bengali grandmother's veranda. "There weren't acres of coloured plastic when I was growing up, so what you would do is you would scale fish, gut fish, wash fish; you would mince meat, make kebabs with your hands. Before you could speak, you're mixing dough."
Chicken, Coconut and Pineapple Curry
Serves 4
2 thumb-sized pieces fresh root ginger, peeled
5tbsp vegetable oil
2 onions, finely chopped
2 cloves garlic, crushed
3 skinless, boneless chicken breasts (approx. 600g), chopped into 2cm cubes
2tbsp garam masala
1 heaped tsp ground coriander
1tsp ground turmeric
1⁄4tsp chilli powder
100g/31⁄2oz creamed coconut
400ml/14fl oz canned coconut milk
2 green chillies, finely sliced
1½tsp salt
1tsp brown sugar
10 chunks canned pineapple, cut into 1–2cm pieces
100g roasted salted cashew nuts
Small handful fresh coriander/cilantro, finely chopped, to garnish
1 red chilli, finely sliced, to garnish
Cooked rice, or flatbreads, to serve
Finely mince one of the pieces of ginger and slice the other into fine matchsticks. Set aside.
Heat the oil in a large pan over a medium heat. Add the onions, garlic and minced ginger and fry, stirring continuously, for eight minutes, until golden brown. Add the chicken to the pan and stir to combine with the onions, then add the garam masala, ground coriander, ground turmeric and chilli powder. Cook, stirring occasionally, for five minutes, to seal the chicken and coat it in the spices.
Add the creamed coconut, coconut milk, ginger matchsticks, sliced chillies, salt, sugar, pineapple and cashews to the pan and stir to combine, adding a little of the juice from the canned pineapple if the mixture is too dry. Leave to cook, stirring occasionally, for five to 10 minutes, until the chicken is cooked through. Scatter with chopped coriander/cilantro and sliced red chilli, then serve hot with rice or wraps alongside.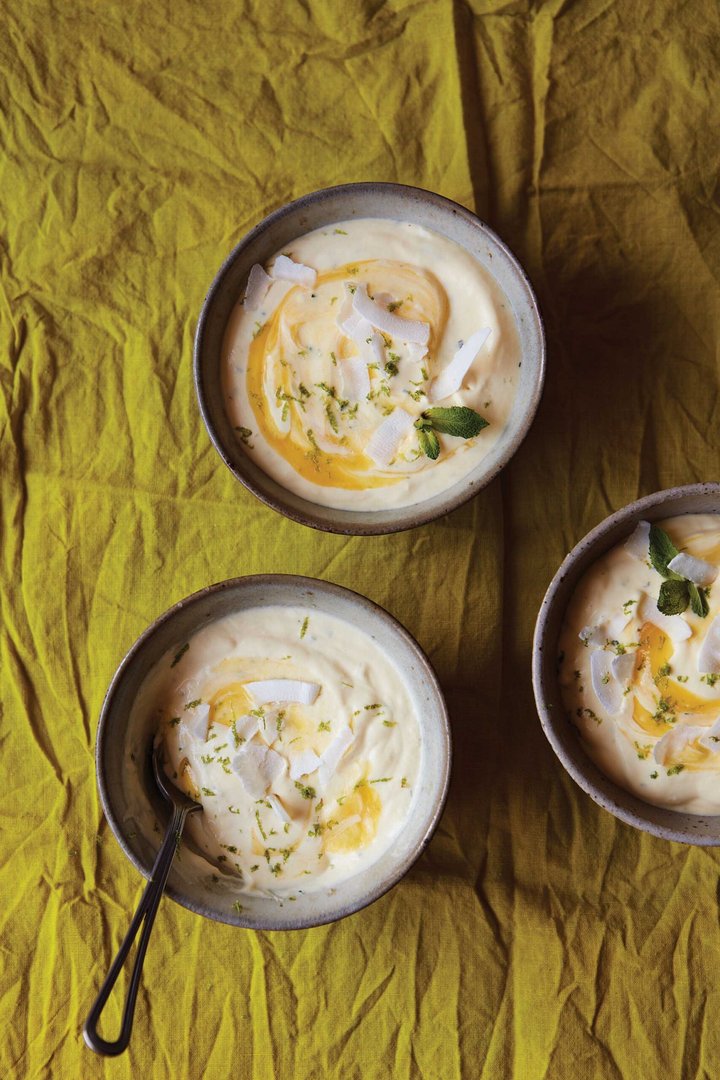 Mango and Mint Fool
Serves 4
425g canned mango pulp or tinned mango slices
Juice and zest of 1 lime
175ml double/heavy cream
2tsp caster/superfine sugar
3tbsp yoghurt
2tbsp chopped fresh mint leaves
1tbsp toasted coconut flakes
Put the mango pulp or slices and lime juice into the bowl of a food processor and process until smooth. Set aside.
Pour the double/heavy cream into a bowl and beat with an electric or handheld whisk until soft peaks form. Add the sugar, yoghurt and mint leaves to the bowl and fold through the cream, then add the mango purée and gently ripple it through the cream mixture.
Spoon the mixture into serving bowls or glasses and transfer to fridge to set for 15–20 minutes, or longer if you want to make this ahead. Garnish the fools with the lime zest and toasted coconut flakes before serving.
30 Minute Mowgli by Nisha Katona is available now