Participants required for international cookbook
Fifty women in Cyprus will see their favourite recipes published in a book, alongside a photo and a short biography to raise money for good causes.
Empowering Women through Cooking is a series of books in chosen countries celebrating stories of women. The initiative was started by Jordan based Seven Circles, and the Jordanian volume has already been published. Each recipe "captures the personality and background including the struggles and perseverance of these strong women" according to  Seven Circles, which came up with the unique idea.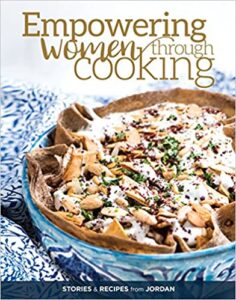 Women in Cyprus are now being invited to send in recipes as part of a cookbook project here, which will be similar to books published in other countries, the Cyprus project coordinator, Alaa Khalil said, speaking to the Sunday Mail this week.
"Seven Circles is a Jordanian company which contacted me to help them in one of their projects, which is to create and publish a cookbook where a large portion of the profit will contribute to feeding the needy in Cyprus," she said.
So far, the cookbook project has been completed in Jordan, Lebanon, Egypt, Turkey and the United Arab Emirates among other countries.
The idea of the project is to collect 50 recipes, any recipe from any cuisine, from 50 women residing in Cyprus regardless of ethnicity, language or age (18+) and the recipe, the woman's photo, and her description (about 90 words) will be presented in the book that will be sold and will contribute to feeding those in need in Cyprus.
"This is a good way to create visibility of great stories in the community, pointing out women in the culinary sector and to help with creating employment chances, especially because all recipes will be cooked by local women chefs and will be photographed to be put in this book," she said. "Plus, the majority of the profit will be donated to help feeding the needy in the community."
The content of the book will be in English and the call is open to any woman in Cyprus that wishes to participate and the recipes may be appetisers, main dishes or desserts.
Khalil is from Jordan and has been living in Cyprus for the last 13 years with her husband who is half Cypriot and their children. The pair met at university in Jordan where she studied software engineering. As the president of the Arabic Women's Culture Club in Cyprus, she believes the project aligns with their goals and so was delighted to be approached to head up the Cyprus book.
Khalil founded the club in 2018 and sees the organisation as uniting all Arab women from any of the 22 Arab countries, such as teaching the Greek language to assist their integration into Cypriot society.
Joud, another initiative of Khalil's, sees homemade Middle Eastern and Mediterranean food delivered to your door, made by Arab women living in Paphos.
'Joud', an Arabic word meaning generosity, provides a way to generate a small income for Arab women in Cyprus and their families as well, she said.
Any woman wishing to participate can send her recipe, profile picture, and profile (90 words) by the end of April. The finished book will be available to purchase on Amazon and locally at selected bookshops, she said.
For further information: www.facebook.com/SevenCirclesInc/
Email:  [email protected]