From its humble beginnings in a small corner shop in town to a new, more modern premises on the busy Makarios avenue, Larnaca's Jemms American steak bar has been a favourite for many people, for many years.
The new location compared to the old one is chalk and cheese. Jemms has gone from a small, no-frills shop to a classier, modern look venue with pictures on the walls of the New York skyline, the famous yellow cabs and, of course, the Empire state building!
There is some outside seating but as Jemms is located on a busy main road, we didn't want to have the taste of car fumes with our meal. When we sat down, although we already knew what we would order, I wanted to take a look at the menu to see what else is on offer. Jemms now has a lot more variety than back in the day. The New York cheese steak sandwich sits proudly at the top of the menu above a variety of eight different types of burger! There is now also a variety of chicken burgers. I was actually starting to get tempted by some of the other options, but in my heart I knew I what I wanted.
Both of us ordered the double New York cheese steak sandwich meal that came with chips, coleslaw and a drink.
The owner prides himself on the orders not taking more than 15 minutes and true to his word, just before the 15-minute mark, the waiter approached our table holding a basket and two drinks which he put on the table. He then politely asked if there was anything else he could help us with. In jest, I said, "just the other steak sandwich". It seems there was a misunderstanding and he had only put the one steak sandwich through, thinking that my brother simply wanted a drink. It wasn't too big of a deal as the sandwiches are split into two pieces so we decided to just share one until the other arrived. No sooner had we taken a bite from the sandwich when we heard a tirade of expletives flying out of the kitchen as a result of the order misunderstanding. It went on and on, to the point where it became awkward and took away from the enjoyment of our meal. It also got to the point whereby we started to wonder if it was aimed at us for not being clear! The waiter came out sheepishly and apologised for what we heard, but the tense and uncomfortable atmosphere had already been created.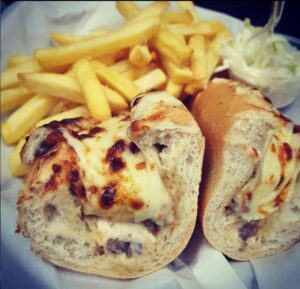 Shortly after, the second steak sandwich appeared, and we were starting to feel 'normal' again. We were now able to enjoy and appreciate what we had actually come for. Being straight out of the kitchen, it was nice and hot. The baguette that encases the filling is somehow consistently fluffy, soft and light. The ever so tender and perfectly cooked steak is combined with an ever so slightly creamy sauce mixed with mushrooms and peppers, covered with a very generous amount of melted cheese that holds the whole thing together. The combination of the soft baguette, the high quality and tasty beef with additional filling accompanied by the melted cheese is absolutely delightful. Once again, there was silence on our table, but this time because we were both mesmerised by the fantastic taste of this sandwich. I have eaten steak sandwiches at various restaurants and hotels but none, in my opinion, compare to this. In addition, the very generous portion of chips were crunchy on the outside and soft on the inside, exactly how chips should be. The whole combination, absolutely top notch!
After we had finished eating, the owner made a point of coming out to speak to us. He apologised for what we had heard and assured us that it was not aimed at us. We started to see a completely different side to the man. The conversation got round to different types of meat. He told us about his family's relationship with the meat industry. His knowledge and passion for high quality steak was something else. He told us about how meat can be classified as Black Angus (which is the high-grade quality that he uses) and about how the taste changes based on the different feed and even how the cows are looked after. Apparently, some are even played soothing music!
As we were getting up to go, we told him about how our friends from the UK have his steak sandwiches on their 'to-do' list for when they come to Cyprus, and how other people we know from Nicosia and Limassol have day trips to Larnaca to come for his sandwich. He seemed genuinely humbled, shocked and was lost for words. I may be wrong, but I could have sworn there was almost a tear in his eye.
I've been many a time before and will be going again. I suggest you add Jemms on your 'to-do' list as well.
Vital Statistics
Address: 17 Makarios Avenue, Larnaca
Opening hours:  Monday – Saturday 11am-11pm, Sunday 11am-5pm
Cuisine: American grill
Telephone number: 24 659665
Price: €10 for steak sandwich. €12 for steak sandwich meal.