Can't bear the thought of an Easter holiday abroad without your dog? Taking your pet with you is easier than you might think
During the lockdown, millions of Europeans acquired a dog. As Covid restrictions are gradually easing, taking their pet abroad is a possibility many pet owners are bound to consider especially with the Easter holidays approaching, and travelling from Cyprus invariably means flying.
What comes to mind when you think about travelling with a dog by plane? Probably, since you love your pet, the first concern is its safety and happiness. How stressful is air travel for your favourite animal?
This very much depends on the size of the dog. Small ones are likely to be the least stressed, as they can travel in the cabin with the owner. Those weighing over eight kilos almost always have to travel in cargo, which is a different story – but not as stressful as many may believe.
"The clients often suffer more than the dog," Chris Theodorou, partner of Larnaca-based Easypet Exports, a company to assist pet owners with air travel, said. "The dogs, when they arrive, often bounce around like nothing has happened."
"In all honesty, the dogs sleep most of the way. The dogs we send are always in good hands." Paws dog shelter manager Matthew Harris commented – and he should know, as the shelter in Achelia, Paphos, has been rehoming dogs to Germany and other countries for years.
While several websites recommend administrating anti-anxiety meds or calming sprays, most experts agree this is not necessary.
Sedation is not recommended as it may cause respiratory and cardiovascular problems due to the increase in altitude pressure while the blood pressure of the dog drops, not a good combination.
"It is more harmful to sedate them, because the sedation wears off and the dog wakes up and does not know what is happening," Theodorou added.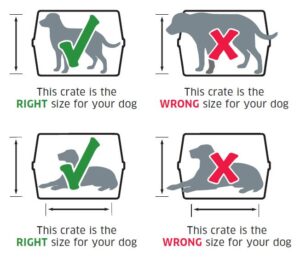 One important step you can take to make your dog feel comfortable: associate the travel crate with positive reinforcement. Lots of training in and around the travel crate with praise and treats can help dogs realise it is nothing to be afraid of.
Apart from stress, most people are probably concerned with the practicalities, and indeed there are many details to take care of. To find out more about those, start researching which airlines have the best record of pet travel. The cargo space needs to be temperature controlled.
Budget airlines, which often do not provide such options, usually don't allow any large dogs. Others, such as Emirates and Lufthansa, even provide services such as taking dogs for walks in transit, though of course flights with no transfers are preferable.
When you have found a suitable airline, they may not have space. Some restrict the number of pets on each flight, especially since Covid.
"There are fewer options now," Theodorou explained. "British Airways for example is very difficult to book. They use smaller aircraft [because of fewer passengers as a result of the impact of Covid-19] and there are other types of cargo competing with the space for dogs."
This is also a problem for Paws, Harris confirmed. "With Brexit, Covid and now the Ukrainian problem flights are really limited and often changed at the last minute. There are very few airlines to choose from."
When you have decided to go ahead with the flight, it is a good idea to buy a suitable crate for your dog early on to allow ample time for the above-mentioned training.
It is important to get the specifications right, as airlines follow International Air Transport Association (Iata) rules and are very strict about it, Theodorou stressed, adding that at times a custom-built crate can be cheaper than a giant plastic one for sale by pet shops.
"The price is based on the volume, and some of the plastic ones have a large width which is not required. Taking a few centimetres off the width can make a big difference in price but will not make the dog more uncomfortable."
Next, check out the entry regulations of the country you are travelling to. Travelling from one EU country to another is relatively straightforward. All you need to do is get an EU pet passport, for which you have to microchip your dog, arrange a vaccination against rabies and get a certificate from a registered vet. Details are available on the internet.
Flying to the UK has lately become more difficult, because of Brexit, Theodorou noted. "It is now more complicated, and customs are involved."
If you plan to travel even further, things even more complicated and it is recommended potential travellers check early on which requirements their destination has – and how much it will all cost.
All done? You are ready to relax and travel. But wait: Do you need to worry what awaits you and your four-legged companion once you arrive at Larnaca airport?
"The handling staff are fantastic," Theodorou enthused. "Most love animals, and they check if there is enough fresh water when loading them on the aircraft."
Plus, airline operator Hermes has detailed instructions of where to go and what to do.