Vladimiros Tziortzis was at the Autodromo dell'Umbria in Magione, Italy last week, where he participated in his first pre-season test with Academy Motorsport, in preparation for this year's NASCAR Whelen Euro Series.
Tziortzis will race with a V8 Chevrolet Camaro and the number five. This is the car that former Formula 1 world champion Jacques Villeneuve drove last year.
The tests took place in rainy conditions, giving the Cypriot driver the opportunity learn the car on a wet track, but also in intermediate conditions.
On the first day, Tziortzis was at the base of Petri Corse Automobili, the company that technically and mechanically supports Academy Motorsports this year,with an important experience in GT3, Lamborghini Super Trofeo, Formula 4 and Karting. Measurements were made for his new car seat and for the adjustment of the pedals in the car.
"I felt very comfortable with the car even though I was driving it for the first time. Its power and response to the driver's needs is at a very high level. The car fills me with optimism ahead of the first race weekend in Valencia in May and I'm sure it will be worth the expectations," Tziortzis said.
Patrick Lemarie, who will drive for the team with the same car but in the PRO category, also took part in the pre-season tests – Tziortzis will drive the same car but in EURO NASCAR 2 category. "I want to thank Patrick for his advice, as he drove the specific car in Belgium last year, as he replaced Villeneuve while he was testing in the NASCAR Cup Series,says Tziortzis.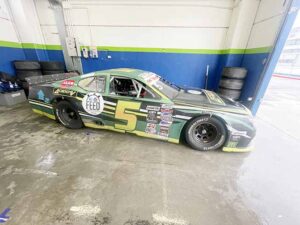 The Cypriot driver is supported by Alco Filters, Eneos Motor Oil, Psaltis Auto Parts, Televantos Used Trucks Ltd, Daytona Raceway and Sana Hiltonia.
The next test will take place in mid-April at the Autodromo Vallelunga in Italy, which in July will host the third round of the championship, which starts on May 14 at the Circuit Ricardo Tormo in Valencia.