Senior US and Cypriot officials inaugurated the Washington funded security centre in Larnaca on Wednesday and spoke of the shared values of democratic nations particularly in light of Russia's invasion of Ukraine.
US Under Secretary of State for Political Affairs Victoria Nuland, on a short visit to Cyprus as part of a tour in the region, joined Foreign Minister Ioannis Kasoulides who both reiterated their condemnation of the invasion and praised the closer ties between the US and the Republic, with the Cyclops training facility helping to promote security in the region.
Nuland said this "spectacular" centre was a symbol of the growing and strengthening bilateral security relationship between Cyprus and the United States. The Cyprus Centre for Land, Open-seas, and Port Security (Cyclops), she said, started as an idea, "a place where the United States and Cyprus could work together to promote regional safety and security by providing training and assistance in border security, in non-proliferation of weapons of mass destruction, in cybersecurity, in maritime security and so much more."
The centre, organised and funded by the US, was hailed by Kasoulides as the "crown" in the security cooperation between the two nations.
"At a time when the international system is experiencing tectonic shifts… it is incumbent upon all of us to redouble our efforts to achieve the objective of a stable and secure environment," he said.
Kasoulides spoke of the rules and norms of the international order facing a severe test.
"The violation of the sovereignty and territorial integrity of any state must always be condemned, unequivocally and unreservedly, he said.
"This is the most fundamental principle of a rules-based international order."
Nuland spoke of US investment in Cyprus, energy security, and the threat facing democracy.
"We're talking about the importance of security and territorial integrity, the respect for international law," she said.
"We are extremely grateful to the Republic of Cyprus for its solidarity."
Nuland said that there was much more to be discussed during her upcoming meeting with President Nicos Anastasiades.
The undersecretary was asked by reporters to address the revelations over the weekend that Washington had asked whether Nicosia was willing to hand over its Russian-made armaments to Ukraine – to which she put the focus on Cyprus.
"We're speaking with democracies around the world to support Ukraine in whichever way they are able to – be that either humanitarian aid or security assistance, or anything else," she said.
"But it's not the job of the US to ask of Cyprus, but it is Cyprus which must make its own decisions as to what it wants and what it can do," she concluded.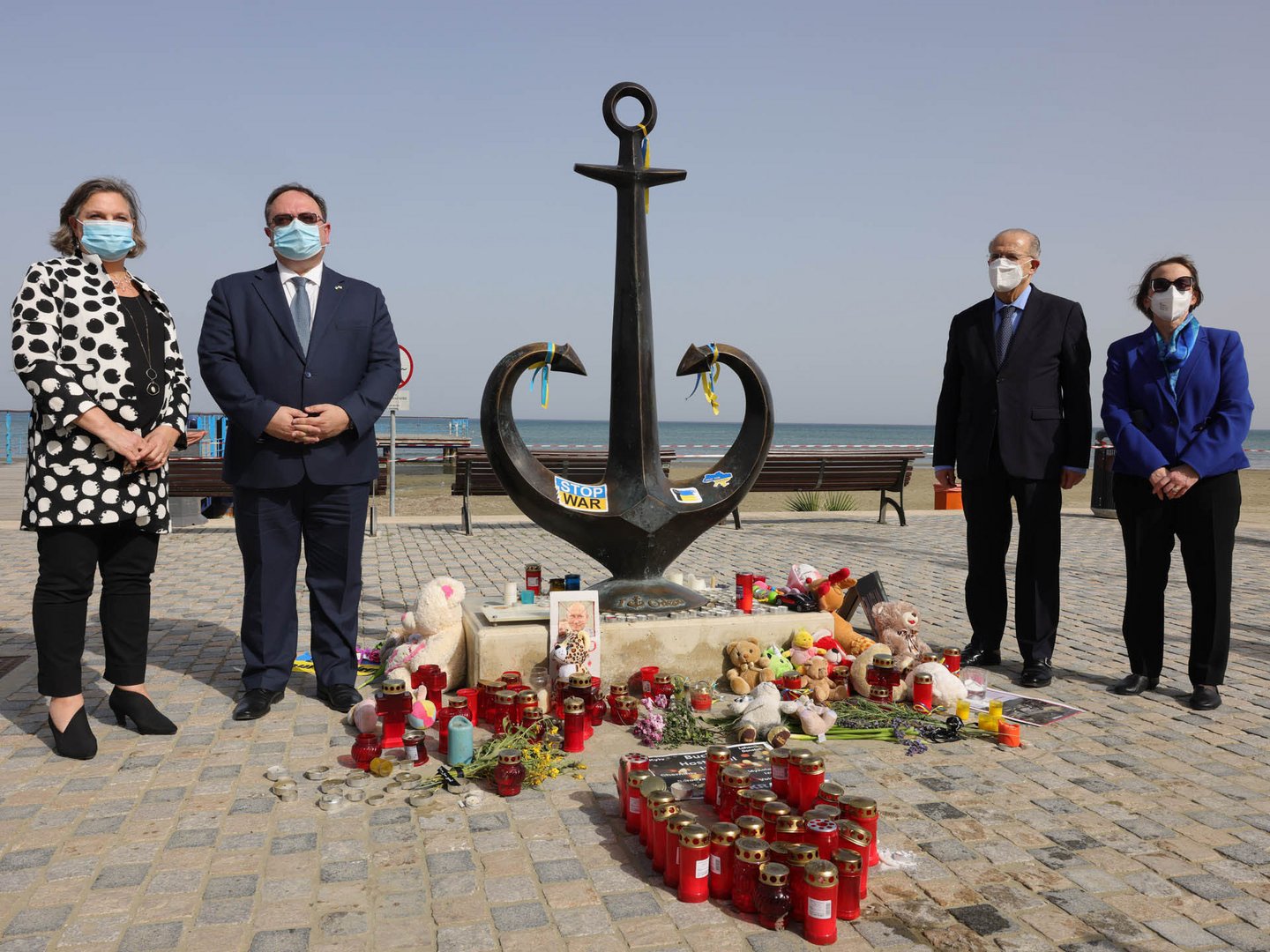 Before the Cyclops inauguration, Nuland and Kasoulides, other US and Cypriot officials – along with Ukrainian ambassador to Cyprus Ruslan Nimchynskyi – gathered at the seaside town, where the officials spoke at the "Anchor-Heart" monument which commemorates the twin cities of Larnaca and Odessa.
"We have all worked together, the US and Cyprus, and Ukraine, the three nations together, to create a space of safety, peace and freedom," Nuland said.
Kasoulides added that Cyprus has clearly condemned the invasion and stands in solidarity with Ukraine and will continue to do so in action.
Ukrainian ambassador to Cyprus Ruslan Nimchynskyi said that the sculpture was gifted to "our Cypriot friends" by the city of Odessa as a symbol of friendship – a symbol which is spread across the world by the Ukrainian people, who are today undergoing their toughest challenge in their history.
Speaking before Nuland arrived, Kasoulides said Nuland's visit was proof of US interest in resuming negotiations for a solution to the Cyprus issue.
Asked whether Nuland's visit could mobilise changes to take the Cyprus negotiations out of a dead end, Kasoulides said he was interpreting it as an expression of interest on part of the US.
In the context of the crisis in Ukraine, he said, "the Cyprus issue cannot be cast to the sidelines of these fundamental changes taking place in Europe's security architecture".
"This is suggested by the fact that bilateral relations [with the republic of Cyprus] are not the subject of Ms Nuland's visit," he explained, "as she will be meeting with both President Nicos Anastasiades and Turkish Cypriot leader Ersin Tatar".
"We are looking to further strengthen our bilateral relationships with Europe and to emphasise our unified support for Ukraine by coordinating our response to Russia's unprovoked invasion," the US State Department said ahead of Nuland's visit.
On Wednesday afternoon, Kasoulides praised the confidence building measures proposed by the Republic as a means of kickstarting the stalled Cyprus problem negotiations.
"Here in the Eastern Mediterranean, an effective security architecture cannot be established without a viable and functional solution of the Cyprus problem," Kasoulides said.
Asked how the general developments of the war in Ukraine affect Cyprus' stance towards Russia, Kasoulides stressed that Cyprus "should and must agree with the partners of the European Union, where decisions are taken unanimously. We believe that we did not have the right to take any action which would prevent our partners from making decisions".
Nuland was in Turkey on Monday, after which it was announced that procedures had been set up to improve strained ties with the US, eyeing cooperation in the areas of economy and defence.
Nuland met Turkish officials "to review topics of mutual interest", such as economic and defence cooperation, counter-terrorism, and regional and global developments, including Russia's invasion of Ukraine, the joint statement said.
In an interview with Hurriyet, one of Turkey's main newspapers, Nuland was quoted as saying that it is in the US' interests for Turkey and Israel to have close ties.
She also added that the US wishes to assist Turkey in diversifying its energy portfolio from Russian imports, saying that there are many opportunities to do so in the Eastern Mediterranean.
As for Turkey's role in facilitating negotiations between Russia and Ukraine, Nuland said that it was a positive move and that even if Ankara is not able to join in on the sanctions against Moscow, it is very important for Turkey not to offer opportunities for Russians to dodge the restrictions.