As electricity prices rise 200 per cent in the north some people quip they are almost grateful for the constant power cuts
By Esra Aygin
Turkish Cypriots from all walks of life are breaking under the high cost of electricity and suffering from the continuing daily power cuts that last for hours on end.
On Monday, after receiving electricity bills for the month of March, demonstrators gathered in front of the building of the Turkish Cypriot electricity authority KIB-TEK and threw eggs in protest. Many published photos of their electricity bills on social media and questioned in sheer desperation how, in a place where the minimum wage is 6,000 Turkish liras (€373), they could pay electricity bills of 2,000-3,000 TL (€124-187).
The bills for the month of March were the first after the Turkish Cypriot administration hiked the price of electricity more than 200 per cent on average.
"We have no electricity, but at the same time, there is no way we can pay the electricity bill," tweeted journalist Ulaş Bariş.
"Imagine what our electricity bills would have looked like if we didn't have power cuts every night in the coldest hours," Twitter user Emine Aril quipped wryly. "We have come to a point where we are thankful for the power cuts."
The costly electricity hurt the producers the most.
Businessman Tolga Ahmet Raşit, the director of ARUN flour factory posted a photo of his February and March electricity bills on social media. His bill, which was 47,000 TL (€2,922) in February, had risen to 200,000 TL (€12,437) in March. Raşit questioned how they could continue to produce under these circumstances.
"Neither the people, nor the economic sectors have the ability to cope with these prices," the Turkish Cypriot Chamber of Industry KTSO said in a written statement on Wednesday. "Especially for the manufacturing sector, whose main input is electricity, production has become impossible… Many enterprises will not be able to pay these bills. As a result, their electricity supply will be cut off and they will have to stop production and close. Some small enterprises have informed us that they will halt production for a period as of this month. Some are suggesting communal civil disobedience."
"We are losing both, our minds and our livelihood," announced the Union of Restaurant Owners.
The backlash caused the administration to announce that they would subsidise electricity prices, which would result in a slight reduction in the price hike. The new numbers still indicate a 100 per cent increase in electricity prices.
The move was widely seen as a symbolic rather than concrete step aimed at de-escalating the outburst in the community as nobody knows how it will be financed. As of Friday, the decision had still not been published in the official gazette.
Sunat Atun, who is responsible for the finance dossier in the Turkish Cypriot administration, stated that they would need to find an additional monthly resource of 180 million TL (€11 million) to be able to carry out the promised subsidy. Earlier, Atun had confessed that the Turkish Cypriot administration no longer has the ability to borrow from the market.
"The government should explain how it will finance this subsidy," said economist Devrim Barçın, warning that this step may result in price hikes elsewhere. In fact, on the same day, the Turkish Cypriot administration announced a sharp price hike in bottled gas, making it five times more expensive compared to a year ago.
"I don't think this decrease in the price hike is sustainable," economist Mertkan Hamit tells the Sunday Mail. "We are trying to buy a resource, whose value is increasing with currency whose value is decreasing. A price increase is inevitable. The electricity prices will go up no matter what."
In the northern part of Cyprus, electricity is mainly produced using imported fuel oil. Turkish Cypriots use the Turkish lira, which lost 44 per cent of its value in 2021 alone.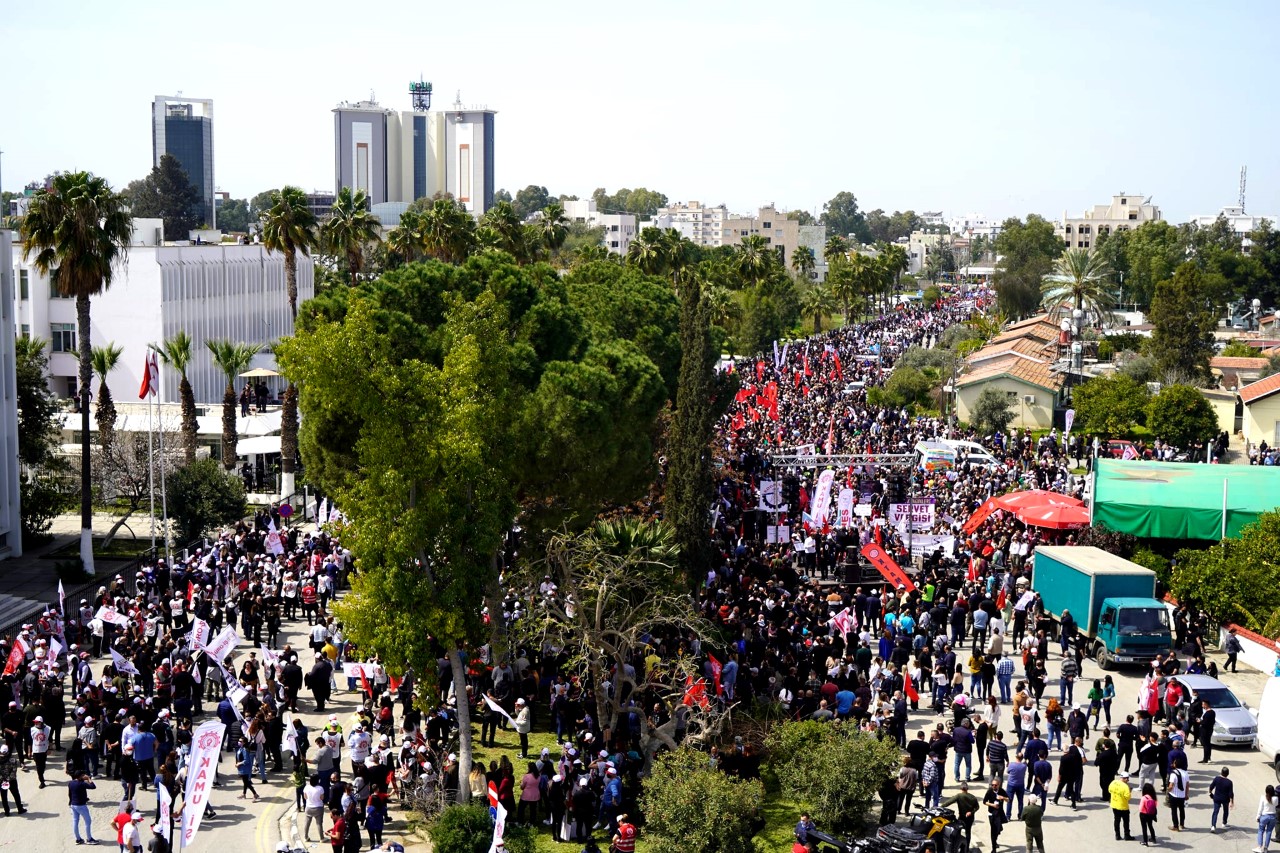 "The electricity bills before the decrease were impossible to pay," says president Hurrem Tulga of the Turkish Cypriot Chamber of Shopkeepers and Artisans KTEZO. "Can they be paid now? It is doubtful. There is huge anger. Businesses cannot decrease the use of electricity. A butcher cannot switch his refrigerators off. A café cannot turn its air conditioners off. The small businesses have no chance of surviving. They will close. Unemployment will surge."  KTEZO held a demonstration on Wednesday.
On top of the devastating electricity bills, Turkish Cypriots have been suffering from daily electricity cuts since the beginning of this year. The cuts make life difficult especially for the young and the sick, as well as impacting every sector. The cuts – sometimes lasting up to seven hours – are due to lack of investments in the electricity infrastructure, fuel shortages and the inability to buy some very expensive spare parts for failed turbines.
KIB-TEK, which has a capacity of 340 mw a day is currently producing only 290 mw. Lawyer Feyzi Hansel filed a suit for damages against KIB-TEK two weeks ago for "violating its obligation to provide uninterrupted electricity".
According to economist Hamit, when it comes to power cuts, the northern part of Cyprus is two times worse than Pakistan, which has the worst average monthly electricity supply according to World Bank data.
"We are twice worse than the worst in terms of electricity service," says Hamit. "We are in an awful situation."
The Turkish Cypriot administration has been buying electricity from the Republic of Cyprus daily.
During a press conference last week, Kubilay Özkıraç president of the Turkish Cypriot Electricity Authority Workers Union EL-SEN stated that everyone has a debt of gratitude to the southern part of Cyprus for constantly providing them with electricity. He also lambasted the Turkish Cypriot officials for criticising the Greek Cypriots.
"Our (officials) are very patriotic," mocked Özkıraç. "They are cursing the (Greek Cypriots) instead of cursing those who condemned us to darkness. Even President (Tatar) is constantly attacking South Cyprus."
Özkıraç stated that three of the five generators have been out of order and in need of spare parts for months now. He also said that a thermal plant is also out of order.
"Unless investments are made, the power cuts will continue," said Özkıraç. "Unfortunately, we have chaos right now and this will continue."
KIB-TEK, which has a debt stock of 2 billion TL (€124 million), had to borrow another 50 million TL (€3 million) this week to buy fuel. According to Özkıraç, state institutions owe around 900 million TL (€56 million) to KIB-TEK. Last week, the electricity supply of the offices of Turkish Cypriot leader Ersin Tatar was cut off because of outstanding electricity bills.
Economist Hamit questions how anyone can expect economic development or sustainable growth in a country with so many electricity cuts. "Electricity is the main input of all production," he continues. "In that, it determines the price of everything. If we want to produce, we need to provide affordable, uninterrupted electricity."
Hamit continues: "If you make electricity so expensive on the one hand, and have power cuts every day, you force many businesses to work with additional costs due to the use of generators etc. In which case, it would be impossible to control the prices even in local production."
In fact, according to the Turkish Cypriot statistics department, the inflation rate in March was 83.19 per cent compared to the same month last year. The inflation rate was 13.05 per cent compared to last month. The highest increase was in the price of electricity by over 200 per cent.
The dire living conditions and economic hardship sent Turkish Cypriots out on the streets by thousands last week. In a demonstration supported by trade unions, political parties and civil society organisations, crowds protested "social annihilation" and "impoverishment".
"In just one month, we surpassed the average annual inflation level in the EU, which is around 7 per cent," underlines Hamit. "We have hyperinflation. We are rapidly moving towards becoming one of the least developed economies in the world. The poverty spiral will grow exponentially."