In a mother and grandmother who gave it all up to become a nun, THEO PANAYIDES finds a woman who does not have enough hours in the day to worship, who says she has seen miracles and the reconciliation of her family to her new role
Convents have a reputation as rather cold places – a bit mediaeval, a bit forbidding – but the monastery of Panayia Pantanassa in the village of Kotsiatis defies the stereotypes. Built in a cheery brick-red, free of historical baggage (it only opened seven years ago), it could pass – with its low buildings, shady alcoves, and pleasant paved garden stocked with olive trees, wild rose and lavender – for a high-end retreat or wellness centre. A sign on the wall requests visitors not to take photos "without a blessing" (local jargon for obtaining permission). Two surprisingly young women – it's unclear if they're nuns, though one of the 16 sisters living in the convent is indeed in her 30s – are sweeping the church floor and chatting. I catch the word 'penance', an unusual subject of conversation – though not, of course, in a nunnery.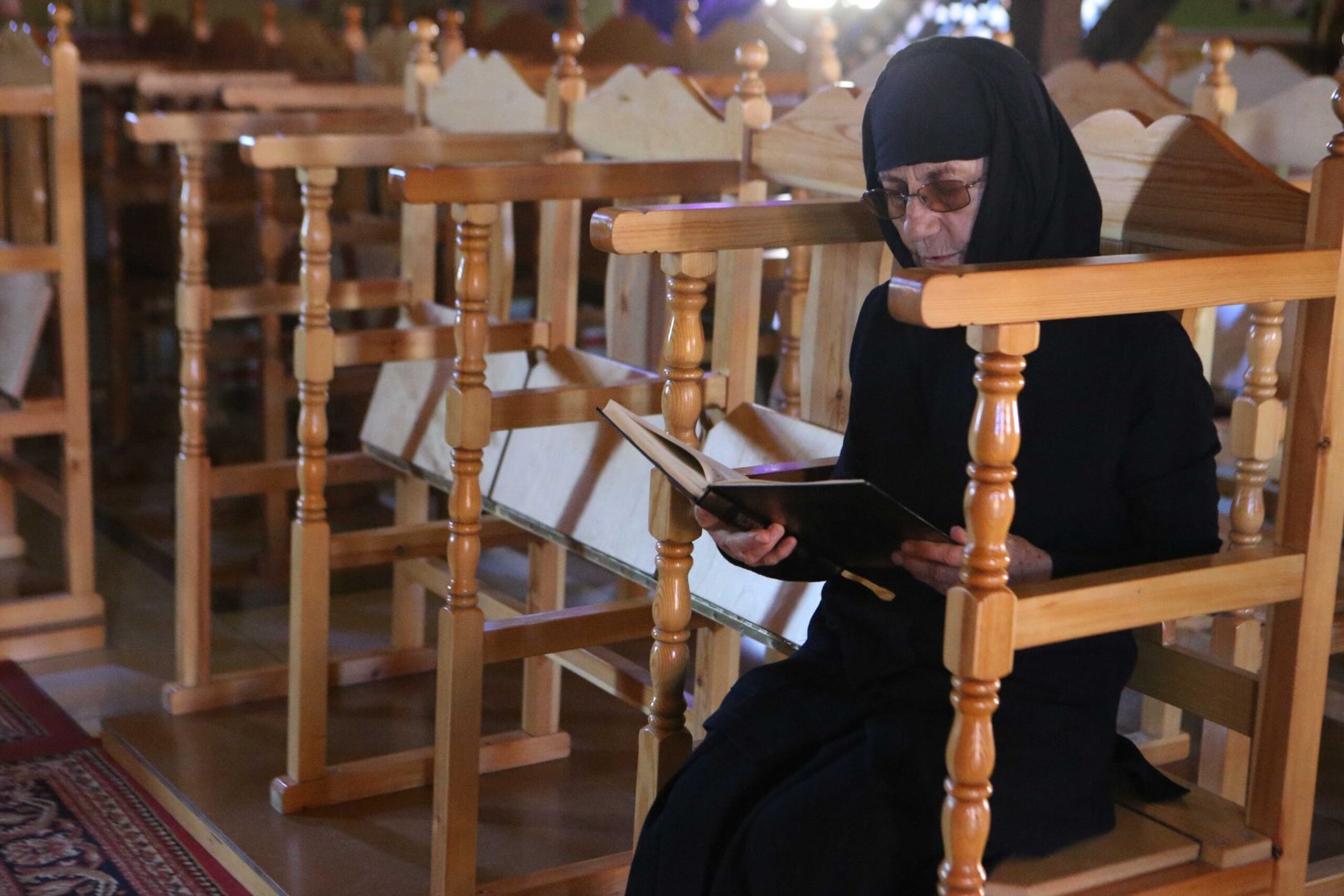 Sister Paisia first found the place a few years ago, on a day trip with other retired schoolteachers. The others went for coffee, but she went exploring: "We have some chapels here, St Alexios, St Efrosyni, so I went to worship – just on my own – at St Alexios". She stepped into the church and came face-to-face with a life-sized plaster statue of the crucified Christ, "and it was such a lovely figure, it was like He was calling me. That was a divine attraction for me. I knelt down, I had tears in my eyes. I prayed for Him to allow me to come to this convent".
She was still Eleni Zannetou at the time, a retired teacher from Athienou with a growing craving to become a nun. She'd always been devout, a regular churchgoer – but had also lived an ordinary life, married to a fellow teacher (she has two children, a son and a daughter, and six grandchildren, most of them now studying in Greece). She retired in 2010; a year later her husband died suddenly, of a heart attack. "We went to the supermarket," she recalls, "did our shopping, came home, put the shopping away, I made coffee, we drank it. He sat down on the bed, and as he sat – I was right there beside him – he lay back and died. Without having had any previous problems." Even had he lived, Sister Paisia might've had the calling – but his death only intensified her religious feeling.
"I went to church and offered to help out. I was cleaning churches, going to services morning and evening." She'd be cooking during the day – she cooked every day, for both her son's and daughter's families – and "as I was cooking I'd think 'I want to be a nun, I want to be a nun'. And I'd pray. It was a divine attraction. And I also witnessed some small miracles which filled up my soul, let's say."
Miracles?
"I can tell you one, if you'd like." She has a courteous, slightly formal way of speaking, sitting in a quiet back room with the walls full of icons. It was actually an icon that prompted the miracle, St Jonah the Hermit of Pergamos. She was unfamiliar with this saint – but her local church used the proceeds from her husband's funeral to erect an icon of St Jonah, so Paisia (or Eleni, as she then was) put up another one in her bedroom. On the saint's nameday she took leavened bread to the church to celebrate, then hosted the priests and a few other friends at her home. "After they'd gone I went into the bedroom, and there was a fragrance – something very different – I could feel that the saint was there. And I realised it was a visitation from the saint at that moment." What kind of fragrance? "Just a beautiful smell. The whole room filled up – for no reason, after all there was nothing there earlier… Since then I've seen some other small miracles, I don't think I need to talk about them," she adds with a slightly embarrassed chuckle.
She's 71, a tiny woman made even tinier by her nun's garments, her face peeking out from behind the wimple. Her smile is sweet, the vibe she exudes very placid and patient; that was always the case, it seems, even in her days as a worldly woman – and it's no surprise that she spent many years teaching first grade in primary school, the tiny tots presumably soothed by her small stature and unthreatening manner. Her story isn't too unusual; Sister Ioanna, for instance, who's responsible for the daily running of the convent (not quite a Mother Superior, her duties shared with Archimandrite Iraklidios who's the "elder" in charge), also chose the monastic life after the death of her husband – and despite opposition from her family, which Paisia also experienced. The kids and grandkids reacted with dismay to her decision, so much so that she decided to wait a while and give them time to accept it – though "in the end I couldn't hold out," she admits. The craving grew too strong, and she only managed to delay by a year or so; she took her vows a couple of years ago, in her late 60s.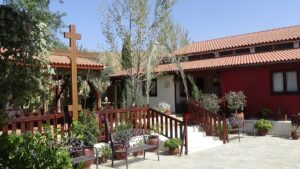 Her family are reconciled to it now – but it's easy to see why they might've been apprehensive. Convent life is simple, and a little terrifying in its simplicity. She gets up around 4.15-4.30, Sister Paisia tells me, and is in church by five o'clock. She's usually the first one reading the midnight mass, then other nuns join her; a priest usually arrives around six, and they stay in church till about 8.30 – though the nuns will stay even on the days when no priest arrives, praying on their rosaries.
Then comes breakfast, then they all do their designated tasks until lunchtime. Some sisters cook, some garden, some make the leavened bread used in liturgies; Paisia has to clean the chapel of St Alexios – where she first felt the power of Jesus' gaze, all those years ago – and "I also have the library, the office, tidying up the books, cleaning…" (Her task is also, more generally, to engage with outsiders and visitors, hence this interview.) Lunch is vegan on Mondays, Wednesdays and Fridays, and of course during Lent and other fasting periods – we meet five days before Easter – and no oil is permitted either; today's meal, for instance, cooking as we speak, is potatoes and rice in a plain tomato sauce. "You get used to it," she shrugs. "Speaking for myself, at least, I'm not too bothered about food. I eat what's there."
Lunch begins around 1.15pm; by the time the sisters eat and clear up, it's coming up to three o'clock. The afternoon is less structured, with some time to rest in their cells – but evening prayers start around five in summer (earlier in winter) for a couple of hours, and the nuns have vigils on Wednesdays and Saturdays, going to church around half past eight and staying till half past midnight – though at least that includes the next morning's service, allowing for an extra hour's sleep.
Isn't it boring that her days are all so similar?
Paisia shakes her head. "My days are full. I don't have enough hours in the day."
Does she miss anything from the outside world?
"No, not at all." There's no TV or radio in the convent – but she never used to watch TV anyway. Did she have any hobbies before, which she's had to give up in her new life? "Not really. My hobby was the church."
In the end, it may come down to a matter of temperament. Having been religious all her life clearly made it easier to adjust to the new routine – but Sister Paisia also seems the kind of person who'd make a good nun, to put it simply. Serenity and patience always came naturally to her; her tastes were always plain and ascetic. And there's something else too, a certain distance. The Greek word for nun, 'monahi', literally means 'alone' – and a nun is 'alone' at her prayers even when surrounded by other nuns, just as a teacher is 'alone' when facing a class of first-graders. Paisia has always brimmed with love – but love isn't quite the same as friendship or intimacy; she's always been a bit apart, by the sound of it. Are there friendships between the nuns? "No, there shouldn't be any special friendship between two or three. We have to be one big loving family – and so we are."
So they won't sit and talk for hours?
"No, no, no! How would we even find the time?" she replies, and chuckles again. "But we don't do that anyway." Asking about another sister's past is acceptable – but, as in most places where otherwise-unrelated people live in close proximity, asking too many questions is considered bad manners. Paisia has a general idea of what drove the other nuns to abandon the world, but only vaguely; she knows that all but one are Cypriot, and the non-Cypriot one – a Bulgarian woman – is a divorcee, but isn't sure of the circumstances. "I think they came to Cyprus before they divorced? I wasn't really interested to ask, to be honest with you." She herself offers information when queried – how many kids she has, for instance – "but not to get into a discussion about it. A few questions might be asked, but…" She shrugs noncommittally: "Personally, at least, I haven't gone into detail about my life".
It makes sense, of course. Becoming a nun is a conscious decision to withdraw from society; replacing it with a mini-society of nuns would defeat the purpose. She has only love for her sisters, she affirms – "OK, every family as you know has its little problems", but nothing that can't be overcome with love – and only respect for her superiors: their dynamic and charismatic elder Iraklidios (who's only in his 30s, despite the title), the excellent Bishop Isaias of Tamassos who's helped them so much. At the end of the day, though, a nun has only one consort, one soulmate: the same one who once gazed out at her from His plaster statue in the chapel of St Alexios.
That's a whole other aspect, the presence of Jesus and God. What would an atheist even make of our conversation, talking to a woman whose whole life is devoted to the worship of a supernatural deity? Paisia points to the miracles she's witnessed – the convent has a relic, a fragment of the Holy Girdle of the Virgin Mary, which she says can induce pregnancy even in previously infertile couples – then again she also ascribes the Turks surrounding, but never occupying, her native Athienou during the invasion to the intervention of the Virgin. (Lots of things can seem like a miracle, if you're minded to see them that way.) Some may view her – not just her, of course, but all religious persons – as deluded; yet in fact Panagia Pantanassa is a popular destination, its pleasant environs constantly packed with visitors.
"I'll tell you something, if you'd like," says Sister Paisia in her slightly formal way. "When I first arrived at the convent, I was surprised to see so many young people coming here for confession". All ages come, not just youngsters – and they come from all over, as far afield as Limassol and Paphos. "Many people come – so many people – to tell us their problems, so many problems. The outside world has many problems." They come seeking solace, or prayer, or sometimes help – though the problems, says Paisia, tend to be spiritual rather than financial. Others offer donations; we're interrupted by a phone call from a woman who's looking to give money for a new monastery to be built nearby (their elder is in charge of that project too) and wants to know where to give it.
The life of a nun seems daunting, yet also inspiring. People are drawn to her spiritual counsel, even (or especially) if they themselves could never do what she does. Why the sacrifice, anyway? Why did Eleni Zannetou – a mother and grandmother, loved and respected in the 'outside world' – decide to turn her back on it, and embark on a new life as Sister Paisia? "They all said to me 'Why did you make the decision? You had everything!'," she recalls, then shrugs in response: "Because I liked it? Because I craved it? So I just walked away from everything". Outside it's birdsong and lavender – and young women sweeping the church, talking of penance.