By Lauren Taylor
Atul Kochhar wants us to step away from shop-bought curry paste. "You honestly don't need the paste in the supermarket – please don't buy it!"
Besides – the trick to cooking a good curry from scratch, he believes, is simplicity. "Don't go for very complicated recipes," says the Indian Michelin-starred chef. "Complicated recipes are generally the creation of, sadly, chefs like me who want to look good and put in too many ingredients. Whereas if you ask any Indian mother or mother of the Indian subcontinent, she will tell you: four or five ingredients only."
It's why his new cookbook, Curry Everyday, is packed with shorter, easy-to-follow recipes, and with inspiration taken much further than just India – from Cambodia to Kenya, Afghanistan to the Maldives – and they're all vegetarian.
The 52-year-old only eats meat twice a week, and when it comes to vegetables, his late father's influence was huge. "I always say I have learned most of the cookery from my father, and a little bit from chef school. His way of spicing things and handling vegetables was quite unique. He was just a magician with flavours," the dad-of-two says.
"He was an orphan. He lost his parents at a very young age and I think he had to learn cooking very young. I adored his way of cooking and I often try to copy it – most of the time unsuccessfully, but I do try."
Kochhar was the first Indian chef to ever win a Michelin star, and is often credited with elevating Indian food to a fine dining level. He says it's "very heart-warming to see" how people in Britain have embraced Indian-inspired food and made it part of their own culture. "I think more and more people cook and eat curry at home now than ever before."
His enduring success is down to expanding our perceptions of British-Indian food. "I was brave to break the boundaries, I didn't see any culinary borders, they were quite blurred for me," he says.
"I thought if Gordon Ramsay can do it, so can I – maybe I landed a Michelin star because of that. That helped me to elevate the food to where it is today."
Persian Pumpkin and Chickpea Curry
Serves 3-4
½ large pumpkin or butternut squash, peeled, deseeded and cut into bite-sized cubes, about 400g prepared weight
Sunflower oil
Ground cinnamon
75g walnut halves
2 garlic cloves, finely chopped
1 onion, chopped
7cm piece of cinnamon bark
1tsp ground cumin
1tsp ground turmeric
2 x 400g cans chickpeas, drained and rinsed
100ml pomegranate juice
75g pomegranate molasses
½tsp salt
¼tsp ground black pepper
Freshly grated nutmeg, to taste, or a pinch of ground nutmeg
1 unwaxed orange, zested
About 500ml water, as needed
Maple syrup, optional
80g pomegranate seeds
Salt and ground black pepper
Chopped flat-leaf parsley or coriander, to garnish
Preheat the oven to 220C. Put the pumpkin cubes on a baking tray lined with baking paper. Drizzle with sunflower oil and lightly dust with ground cinnamon, then shake the tray so all the cubes are well coated. Roast in the oven for 20 minutes or until the pumpkin is tender and the tip of a knife slides through easily.
Meanwhile, heat a frying pan, ideally non-stick, over a medium-high heat. Add the walnuts and toast, stirring often, until lightly browned. Leave to cool, then transfer to a food processor and process until finely ground. Set aside.
Heat two tablespoons sunflower oil in a large saucepan over a medium-high heat. Add the garlic and onion and fry, stirring often, until the onions start to soften. Add the cinnamon bark and continue frying, stirring, until the onions are light brown. Stir in the cumin, turmeric and half a teaspoon ground cinnamon, and stir together for 30 seconds. Add the chickpeas, pomegranate juice, pomegranate molasses, salt, pepper and a good grating of nutmeg. Increase the heat and bring to the boil, stirring.
Add the pumpkin cubes and ground walnuts and return the mixture to the boil, stirring until the stew thickens. Add the orange zest and stir in just enough water to get the thickness you like. Taste and adjust the seasoning, if necessary, and if you think it's too sour add maple syrup to taste. Stir in the pomegranate seeds and garnish with parsley before serving.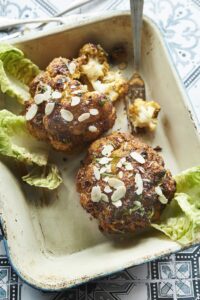 Chermoula Cauliflower
Serves 4 as a sharing dish
1 large head of cauliflower, trimmed and left whole
Sea salt
For the chermoula sauce:
3 garlic cloves, crushed
4tbsp olive oil
4tbsp runny honey
1tbsp ground toasted cumin seeds
1tbsp smoked paprika
½tsp ground black pepper
Finely grated zest of 1 large lemon
4tbsp freshly squeezed lemon juice
30–40g fresh coriander leaves, chopped
Slivered almonds, toasted, to garnish
Lettuce leaves on the side, to garnish
Preheat the oven to 200C and line a roasting pan with baking paper, making sure the baking comes up the side of the pan.
To make the chermoula sauce, combine the garlic, olive oil, honey, ground cumin seeds, paprika, black pepper, lemon zest and a pinch of salt in a large bowl. Whisk in the lemon juice, then add about three-quarters of the coriander leaves.
Place the cauliflower upside-down in the bowl and spoon over the chermoula sauce. Use your hands to rub the sauce all over the cauliflower, top and bottom, making sure it goes between the florets. Push any leftover sauce into the gap between the central core and florets on the bottom – you don't want to lose any of that flavour.
Transfer the cauliflower, right-side up, to the roasting pan. Pour over any sauce remaining in the bowl and cover with foil, pressing the foil around the cauliflower. Place in the oven and roast for 30 minutes.
Uncover the pan and continue roasting for a further 25 minutes, or until it the cauliflower is tender and slightly charred. You should be able to slide a knife into the core easily. Sprinkle with the remaining coriander leaves, add the rest of the garnishes and serve.
Curry Everyday by Atul Kochhar is available now