The Girlfriends Circle offers fun and friendship – without the oneupwomanship of other ladies groups finds Alix Norman
Many women's groups are all about the ego. They solicit ladies of a certain type; you'll often find the words 'go-getter', or 'entrepreneur', or even 'self-made' in their blurb. There's a selection process involved, which frequently asks that potential candidates are able to demonstrate they have the qualities deemed acceptable for inclusion in the group (i.e. frazzled mums and recent immigrants need not apply!). And, once in, it's about achievements and status. But the Girlfriends Circle is not like that. At all.
Here, you'll find fun, friendship and freedom – but without the one-upmanship (or one-upwomanship!) of other 'ladies groups'. "The Girlfriends Circle is honestly about just having a good time together!" says founder Stefania Bongiovanni. "We're there to help each other, to learn new things, and enjoy exciting activities. Even when we're doing very simple things, such as a quick coffee morning or a little walk, we have a great time together. It's like being with women who have been your girlfriends for years!"
Launched in August 2020, The Girlfriends Circle offers sisterhood in the truest sense of the word. And, since it began, it's been a godsend for both locals and expats who really do want to find a few friends and enjoy spending time with other women.
"I'm an expat myself," says Stefania, who hails from northern Italy. Having moved here six years ago with her partner, the 49-year-old discovered that meeting likeminded women and forming lasting friendships was a challenge. "I didn't know where to go, or how to meet new people," she recalls. "For that whole first year, I was at a bit of a loss!"
In time, of course, Stefania found her tribe. But as the owner of a business that helps Italians move to Cyprus, she was well-aware that others were in a similar position. "And so I started The Girlfriends Circle," she explains. "A group that's warm and welcoming, and devoid of judgement or envy."
The first event saw roughly 30 women from all walks of life gather for a 'getting-to-know-you' party: "A little dancing, a little drinking, a little food and a lot of chat!" says Stefania. "And I knew immediately that the venture would be a success – there was so much interest right from the start."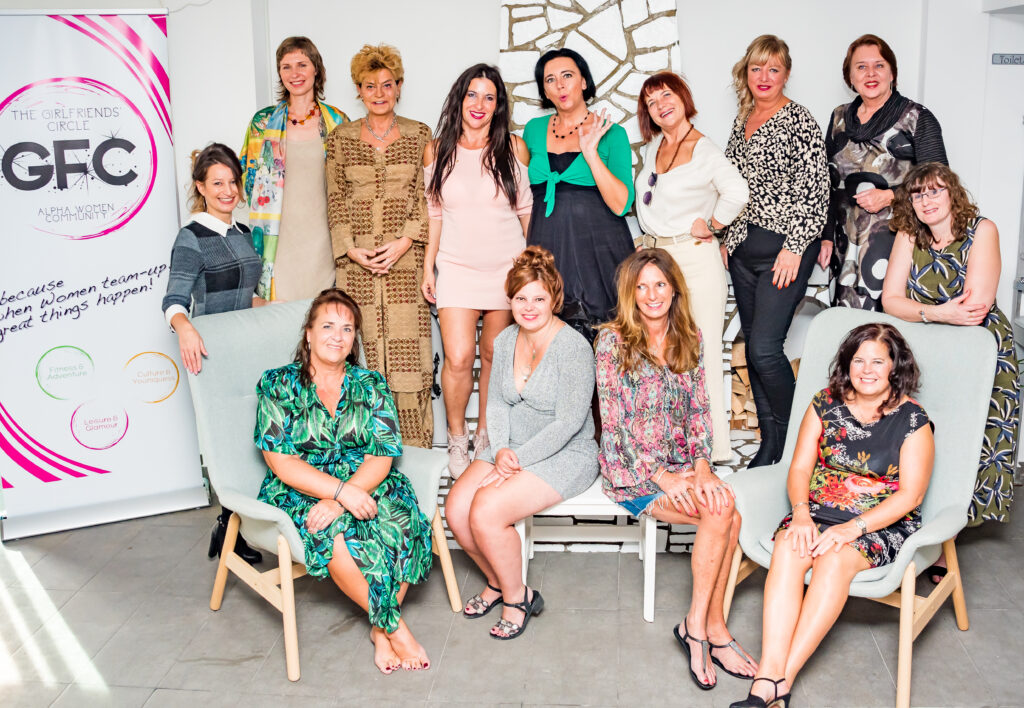 In The Girlfriends Circle, women can find what they're often missing in other groups. "Even now, two years on, women so often say 'this community is exactly what I was looking for!' says Stefania. "I get messages telling me that women have met their best friends through one of our events, or that those who had a really hard time getting to know other ladies now have a strong circle of their own."
Today, with over 50 permanent members, and countless drop-ins (members receive priority booking and discounts at events, but non-members are encouraged to come along to all the activities), the Circle has become a thriving community.
"It's real women becoming real friends and really helping each other!" smiles Stefania. "In the past, I had attended so many groups that were basically women saying 'Look at me! See how wonderful I am!'," she laughs. "That's not what I wanted at all! Instead, the Girlfriends Circle is here for women to grow together, learn from each other, and help each other through all the trials and tribulations of life. It's women supporting women," she adds. "And we do that through hosting events that are unique…"
There are always several activities each month. There might be a gentle hike or a ramble through beautiful countryside. There could be yoga by the sea, a wine tasting, or a burlesque class. "In May, we're looking forward to a couple of cooking classes at the Tree of Life Centre in Larnaca," Stefania reveals. "We're also planning a Qi Gong class on the beach at Oroklini, and a diving session for complete beginners.
"Our events are usually hosted and run by members," she continues. "It's really important that everyone feels they can get involved if they want to: share their hobbies and interests, or promote something they're doing. It's certainly not about making money. We want women to benefit from these events; to share in each other's uniqueness, celebrate each other's strengths, and form lasting friendships."
While the majority of events are, of course, for women, the odd gent does show up, says Stefania. "Occasionally, we host an activity that someone's partner or husband would really like to attend, such as sea kayaking. And that's fine with us. We're not fussy about age either. Although the Circle are mostly over the age of 18, mums sometimes bring their daughters along to an event; this isn't the sort of group for which women need to clear their calendar, book a babysitter, and put on lipstick!"
This unifying (as opposed to exclusory) experience is typical of a group that sees members from "all backgrounds, all corners of the world, and all walks of life," says Stefania. "We have lots of Cypriot members, of course, and quite a few from Britain. But there are also women from the Middle East, from Russia and America, from Italy and France and Germany and Lithuania and Latin America.
"Nationality really doesn't matter when it comes to finding friends," she adds. "And neither does location – although the majority of our events are based in the Larnaca, Nicosia, or Ayia Napa areas, we hold activities all over the island. I know only too well," she adds, "that women will happily travel for miles just to see one good friend. And with the Girlfriends Circle, you're going to end up with far more than one!"
For more information, visit 'The Girlfriends Circle Cyprus' or the Facebook page 'The Girlfriends' Circle'