The second weekend of May is looking to be another one filled with music, outdoor fiestas, celebrations and even a Eurovision screening. Kicking off the weekend fun is the last Fork Food Market of the month at the Nicosia Municipal Gardens. Once more, beloved street food vendors will gather at the Gardens on Friday, serving tasty meals while beers, cocktails and music flow.
The return of the Fork Food Market after a two-year break was warmly received by foodies and faithful market followers. Both previous events in May gathered large crowds. Go as early as the market opens at 7pm to skip the long queues at the food stalls and to grab a table under the trees.
Apart from favourite vendors, a new seller who comes from Nigeria with marinated meats in authentic spices from his country will also be part of this Friday's food market. With DJ Koulla P. Katsikoronoiou on the decks and dozens of delicious treats, this is bound to be another successful event. Just remember to take cash!
On Saturday the Home for Cooperation celebrates its 11th anniversary with an evening full of fun activities and performances. From 6pm onwards there will be delicious street food from different cultures, a fun ride along Old Nicosia's roads and a musical journey starting from Tsiattista Poetic Dueling to the Island Seed Band performance and a DJ afterparty. The events and activities are free and open to everyone.
Also happening on Saturday is the Reggae Spring Gathering between 4pm and 11pm at the Nicosia Municipal Gardens. A line-up of four DJs will blast groovy tunes in the park (Rhythm in Green Sound, Dub Thomas, DJ Monday and Constantinos) while a flea market and an arts & crafts exhibition showcase local artists. A kid's corner will also entertain young ones and families while a pop-up bar will sell drinks and snacks.
Saturday has another significant event scheduled – the 2022 Eurovision Song Contest. Accept LGBT Cyprus is once more organising a fun Eurovision party on Saturday, screening the 66th song contest. From 6.30pm onwards ACCEPT members and non-members will gather at Skalino Cafeteria of Skali Aglantzias for an entertaining evening full of song, dance and music.
For some live music, Sunday night at Rialto Theatre will be dedicated to the colourful sounds of Latin jazz and world music as local band Macumba celebrates their fifth anniversary. In a fiesta-concert starting at 8.30pm, the four-piece band will perform original pieces and welcome on stage fellow Cyprus-based musicians, flamenco dancers and even an Afro-Brazilian percussion band. Performing together and solo, the performances will bring world sounds and rhythms from far away lands to the heart of Limassol.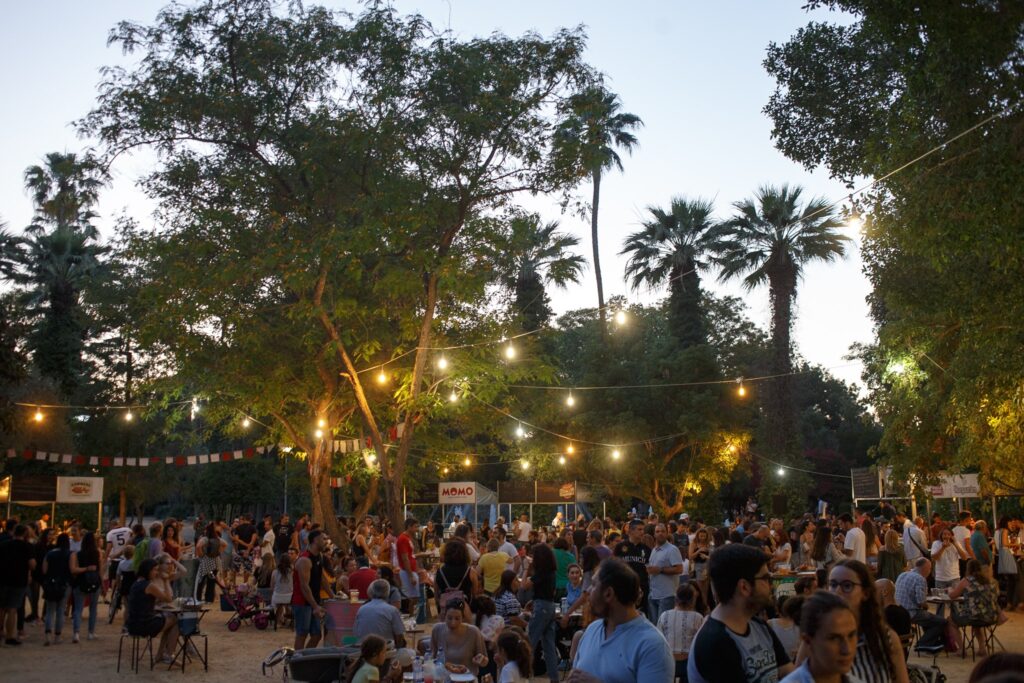 Fork Food Market
Street food, music and drinks. May 13. Municipal Gardens of Nicosia. 7pm-12am. www.forkfoodmarket.com
Ten+1 Anniversary Celebrations
Street food, live music and activities. May 14. Home for Cooperation, Nicosia. 6pm. Free. Tel: 22-445740
Reggae Spring Gathering
Reggae DJs in the park, market and drinks. May 14. Municipal Gardens of Nicosia. 4pm-11pm. Tel: 7000-7102
ACCEPT – Douze Points!
Eurovision Song Contest viewing party. May 14. Skalino Cafeteria Skali Aglantzias, Nicosia. 6.30pm. €10 for non-members, €5 for members. Tel: 99-051686
Macumba 5th anniversary celebration
Macumba celebrate their 5th anniversary with a special concert joined by several musicians, a percussion band and a dancer. May 15. Rialto Theatre, Limassol. 8.30pm. €10,15. www.rialto.com.cy. Tel: 7777-7745