By Prudence Wade
Food is so much more than just nourishment – it can be an expression of your culture, amongst other things, and a powerful diplomatic tool.
Few people know this better than Ameer Kotecha, a junior diplomat who has written a Palace-approved Platinum Jubilee Cookbook to honour 70 years of the Queen's reign.
Kotecha has a background in food – he "briefly flirted with the idea of being a professional chef" before becoming a diplomat, working in Raymond Blanc's Oxfordshire restaurant and running a pop-up restaurant.
"I've always had an interest in food, and I've been trying for a long time to find a way to bring food and diplomacy together," he explains – and that's exactly what Kotecha's done in The Platinum Jubilee Cookbook. Rather than a run-down on what the Queen likes to eat (although there are nuggets of that), it's a selection of recipes from British embassies all over the world – like a "Foreign Office recipe collection", he says.
"In some cases, it's proudly British foods – like Victoria sponge with a Union Jack sticking out of it. But in other cases, it's properly authentic local food, because it's a way of showing respect and appreciation for the local country the British diplomats find themselves in.
"And then sometimes it's a fusion of the two – some of my favourite recipes from the collection are the fusion dishes. Things like the rendang beef Wellington – which is actually something that was served to Prince Charles and Camilla. That's where Malaysia's most famous dish, a beef rendang, meets a British beef Wellington."
Kotecha is a big fan of the term 'gastrodiplomacy' and has seen it in action on postings to New York, West Africa and Hong Kong. When British embassies are trying to "bring negotiating partners around a table to thrash out a difficult issue… whether it's trying to sit down with the French to talk through a policy issue, whether it's sitting down with the Iranians, or the Russians – so often the way we bring those parties together is by inviting them for a meal," he explains.
"To get to the negotiating table, often we start with the dinner table" – and this is where gastrodiplomacy can come into play.
Chipa Guazú
Serves 6
1kg raw sweetcorn, sliced from about 8 cobs (or use tinned sweetcorn, drained)
100g butter, plus extra for greasing
2 onions, finely diced
5 eggs
250ml whole milk
300g Paraguayan cheese (or British cheddar), grated
100ml sunflower oil
Salt and ground black pepper
Preheat the oven to 200C.
Blend the sweetcorn in a food processor until it reaches the consistency of porridge (if you're using tinned sweetcorn, the mixture will be slightly wetter).
Melt half the butter in a frying pan over a medium heat. Add the onions and fry for about five to seven minutes, until they are soft and translucent, but not coloured.
Combine the eggs, milk, cheese and onions in the bowl of a stand mixer fitted with the beater, and season with salt and pepper. Beat on medium speed to a smooth and slightly foamy consistency. (Alternatively, do this by hand using a wooden spoon.) Add the blended sweetcorn, along with the oil and the remaining butter and mix well.
Grease a large oven dish – something square or rectangular (about 20cm long) – and pour in the mixture
Bake the cornbread for about 45 minutes, until the top and the sides are golden brown, and the centre is set – it shouldn't wobble when shaken and should have a texture a little like a dense soufflé (rather than cake); a skewer inserted into the middle won't come out totally clean.
Leave the cornbread to stand for five minutes or so before cutting it into rough squares and serving as a side dish, alongside barbecued meat or anything you like!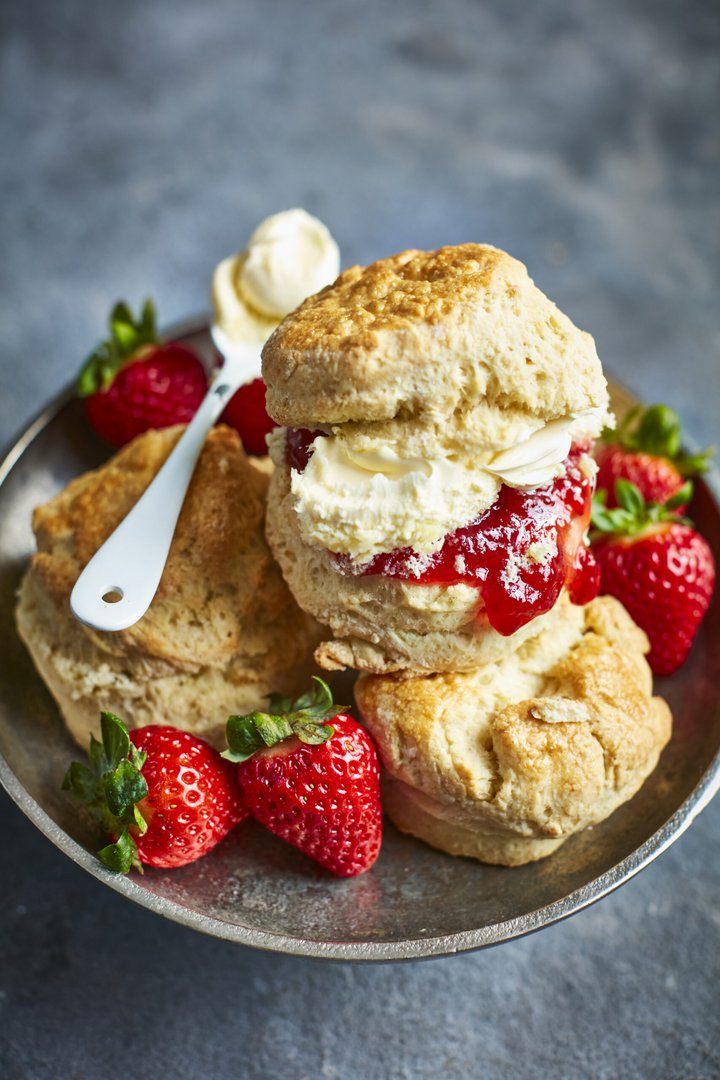 Sweet scones
Makes 10
350g self-raising flour, plus extra for rolling
A generous pinch of salt
1tsp baking powder
85g unsalted butter, plus extra for greasing
3tbsp caster sugar
175ml whole milk
85g sultanas (optional)
1 egg, beaten, to glaze
To serve:
Devonshire or Cornish clotted cream
English strawberry jam
Preheat the oven to 220C and put a lightly greased baking tray inside to heat up at the same time.
Tip the self-raising flour into a large bowl with the salt and baking powder, and mix to combine. Add the butter, and rub it in with your fingertips until the mixture resembles fine crumbs (you can do this in a food processor, but take care not to over-process the mixture). Stir in the caster sugar.
Make a well in the centre of the dry mixture, then add the milk and combine it quickly with a fork until you have a sticky dough.
Lightly flour your work surface and tip out the dough. Sprinkle some more flour over the dough and, using floured hands, knead the dough very lightly. Work in the sultanas, if you like – to make fruit scones.
Roll out the dough to a rough rectangle about 3cm thick. Dust a 5cm round pastry cutter with a little flour and cut out as many circles as you can, re-rolling the trimmings as necessary until you have used up all the dough and have 10 scones.
Brush the top of each scone with a little beaten egg, trying not to let it drip down the sides (which can stop the scones rising evenly). Then, place the scones on the hot baking tray in the oven. Bake them for 12–14 minutes, until they are risen and a pale, golden brown colour. Remove the scones from the oven and transfer them to a wire rack to cool.
Eat the scones either just warm or fully cool, but as soon as possible. There is only one way to serve them: split in half and served with lashings of clotted cream and strawberry jam.
The Platinum Jubilee Cookbook by Ameer Kotecha is available now