For young or old, beginner or seasoned veteran, there's nothing like the rush and emotion of paintballing
Enjoyed by millions of people all over the world, transformed from a hobby played by few into a highly successful extreme sport with international competitions, paintball's popularity in Cyprus has grown exponentially, mainly thanks to the people behind Cyprus Paintball, the largest and most successful paintball organisation on the island.
Established 25 years ago in 1997, Cyprus Paintball is now the point of reference for all the lovers of the sport, whether seasoned veterans or beginners.
The Cyprus Mail met with Jimmy Georgiou and Loui Orfanou, the co-owners of Cyprus Paintball to celebrate the company's 25 years anniversary and learn more about this exciting sport.
"It all started back in 1997 in an abandoned village outside of Limassol that was perfect for what we were setting out to do," Jimmy told the Cyprus Mail.
"Eric and I (Jimmy) were the ones who founded the brand and were attending to the few players we had at the time out of the back on a tiny VW Caddy van, handling all sorts of strange equipment, including overalls, huge CO2 cylinders and boxes of paint."
Jimmy recalls that business at the time was very scarce and the chances of making it seemed remote.
"Attendance was very low at the beginning. No one here had ever heard about a sport where people use markers (paintball guns) to shoot paint at someone else."
On top of that, legal issues with the police emerged shortly after paintball was introduced in Cyprus, as strict gun laws prohibited the use of air rifles for recreational purposes.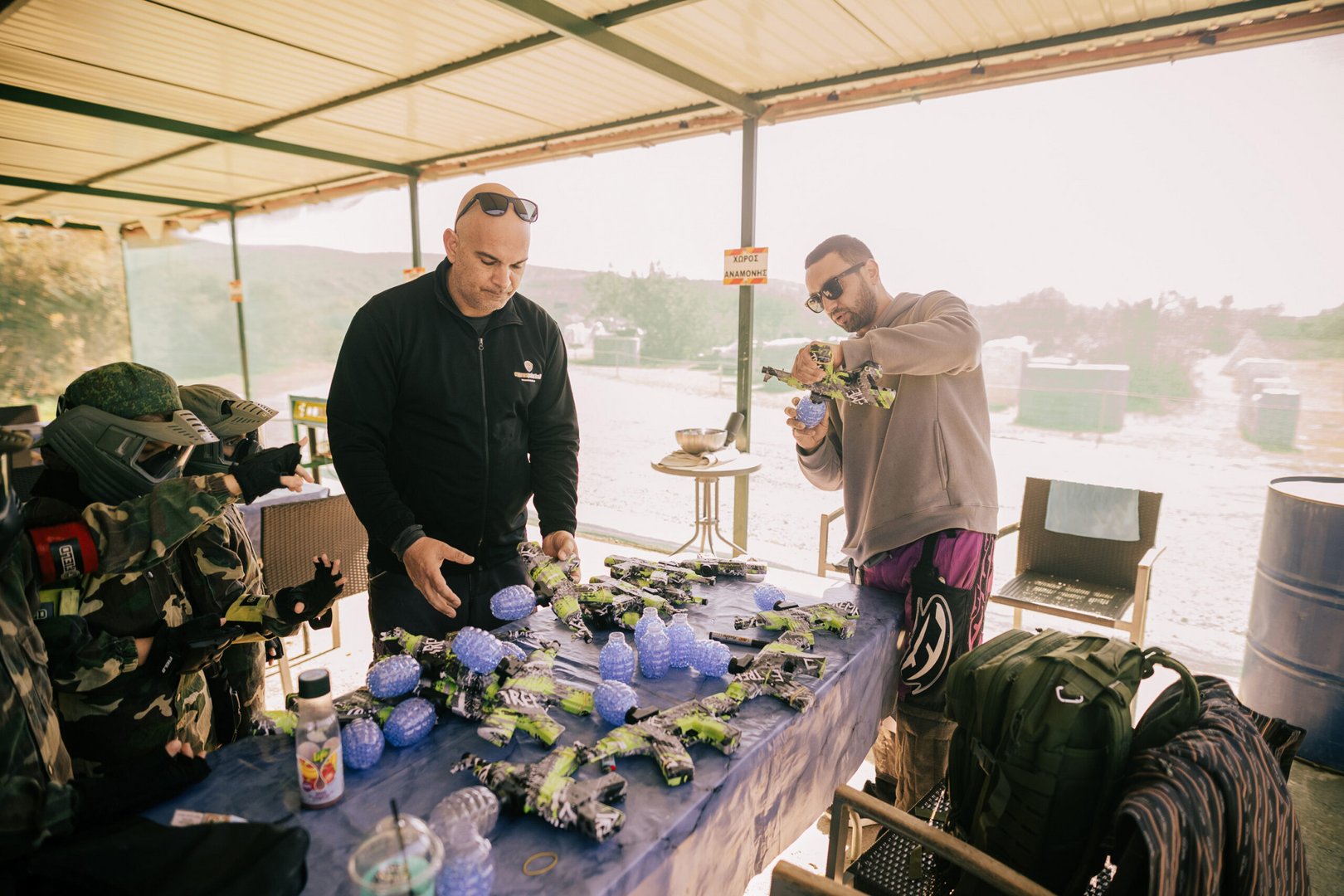 Co-founder Jimmy (left) and Loui 'arming' some young warriors
"For years we were in and out of courts trying to legalise paintball as a sport. It was a long process and the business was almost shut down," he said.
"Then in 2001, laws regulating the use of weapons for recreational purposes started being introduced and we were finally able to get back on track."
It was around that time paintball was officially recognised as a sport by the Cyprus Sports Organisation.
The real turning point, however, came in 2004 when Cyprus Paintball organised an official paintball event, under the name of speedball, the term for competitive paintball.
"That was when paintball as a sport really started to pick up," Loui said.
Before that, Cyprus Paintball's audience consisted mostly of adult players as one had to be over the age of 14 to be allowed to play recreationally. But after the speedball competition, a new era began.
Teams from all over Cyprus started emerging and news that a brand-new sport was now available in Cyprus began spreading and attracted new people.
Eighteen years after the first official speedball competition, Cyprus Paintball is now the most successful paintball organisation in Cyprus, amassing over 300 trophies under the brand's belt.
"However, there is still some general misconception about what we do," Loui said.
"When people think 'paintball' – they picture Rambo and massive weapons where the only aim is to shoot at people, the reality is so much different. Especially speedball, which is effectively competitive paintball, a real sport, with tactics and strategies and it trains the body, just as much as the mind."
Cyprus Paintball offers four various paintball arenas to customers, in Limassol, covering all the main types of paintball formats.
"As of 2011 we cater to everyone. We host birthday parties, both for children and adults, corporate events, and official competitions. We truly have something to offer to every single person coming to us."
Inevitably however, the last two years proved very difficult. The Covid-19 pandemic has heavily affected the business.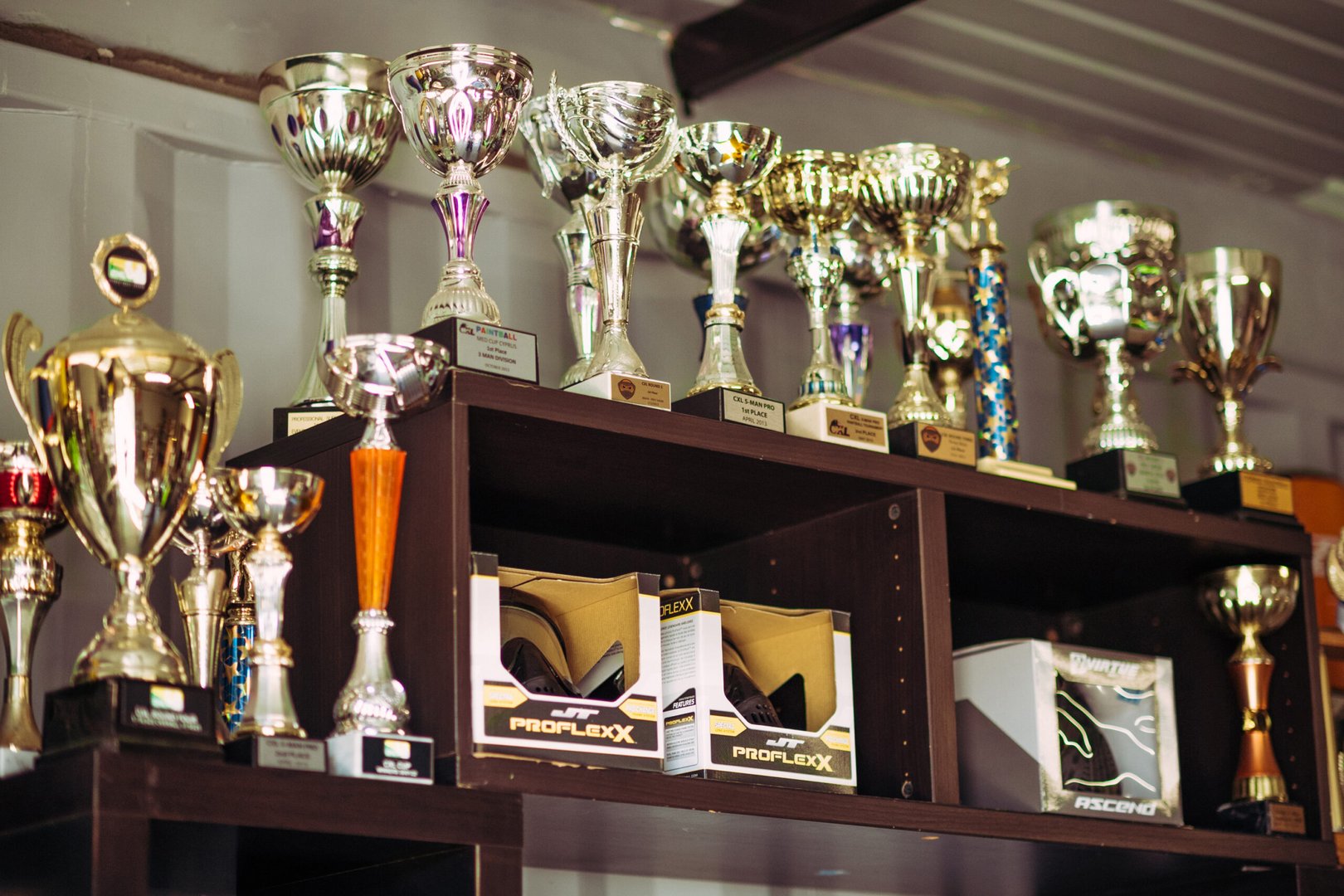 Some of the many championship trophies won by Cyprus Paintball
It is getting progressively better now and after the pandemic started loosening its grip, Cyprus Paintball bought new equipment to satisfy a wider age range of customers, focusing more on children, now from the age of six and family-bonding experiences.
Despite all the difficulties endured over the years, Jimmy and Loui said being at the helm of Cyprus Paintball has provided many happy moments.
"Our first customers from the early 2000s are now introducing their own kids to the sport. This makes us incredibly happy and proud, it's the best feeling and a great achievement for us if we look back at 25 years ago when our journey started.
"To those who never gave paintball a go, I say it is something that one should try at least once in his or her life. The rush, the adrenaline, the emotion and the team bonding it offers. No other sport in the world can offer the same experience."
To learn more about Cyprus Paintball to visit their website and follow their Facebook page:
https://www.facebook.com/cypruspaintball