Ronald McDonald House Charities wants to provide accommodation so that kids' support systems are close
Cyprus' first Ronald McDonald House will be ready to host family members of children treated in hospitals of the capital in the next few weeks.
A serious illness in a child will often put pressure on the entire family, which is aggravated if the treatment facility is located in a different district, resulting in hours of commuting and additional expenses. Ronald McDonald House Charities (RMHC) aims to alleviate some of the stress by providing free accommodation for these families.
"Recent studies have shown children manage their illness better if they have family members close to them with cure rate increasing rapidly," organisational leader at Ronald McDonald House Charities Cyprus Andrie Penta told the Sunday Mail.
Following a small delay due to the coronavirus pandemic, works on the 12-room building are expected to be completed by the end of the month.  Once the charity house, located opposite Makarios hospital, is properly staffed, Penta said it will open its doors to the first families.
To date, relatives of minors being treated at Makarios hospital, the only state hospital in Cyprus with a separate children's ward, are forced to commute from their houses to the hospital to attend to their sick child. This includes families from the British Bases and the northern part of the island.
"The house was built based on statistical data provided by the [Makarios] hospital which showed the average number of children treated and their district," Penta said explaining that it was deemed that 12 rooms would be "sufficient" to cover the needs of the families who come from a different area of the island.
It will also accommodate families of children being treated in nearby private clinics, however, according to Penta, that demand is much lower as they deal with less cases.
But if needed, more rooms may be made available.
"As a precaution, we also ensured provision for five additional rooms which could be created if needed and once the necessary funds are found."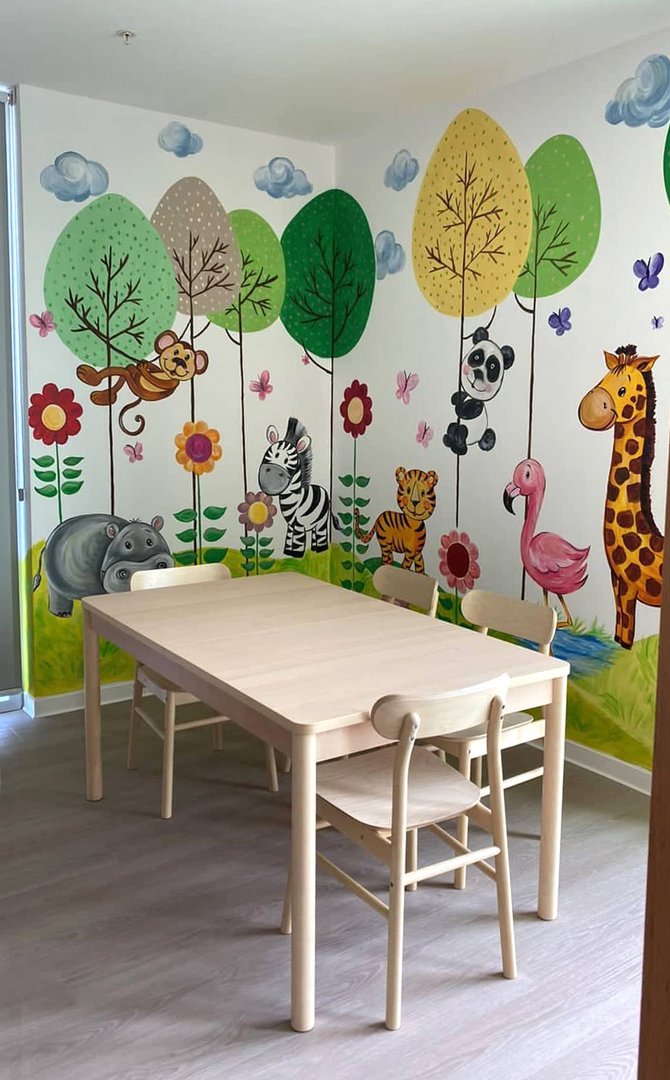 The building has 12 rooms but if needed more can be made available in future
Penta said the house surpassed the initial estimated budget of €1.2 million with works exceeding €1.7 million. The amount was collected from donations by McDonald's restaurants in Cyprus, sponsorships by corporate entities but also private donations.
The colourful house was supposed to be available by the end of 2021 after works started in October of the previous year, however lockdowns prevented various fundraising events taking place while construction sites had to suspend their operation and experienced delays in the arrival of necessary materials, Penta explained.
Inside, the house is "quite comfortable" Penta said. There are 12 family rooms which resemble hotel rooms, including two for people with disabilities as well as rooms equipped to accommodate newborn babies. There is also a large common kitchen, a sitting room and a playroom for children.
There is a cable TV set in the common sitting room and another in the conference room, Penta said, while efforts are being made to find the funds to put TV sets in every family room.
Guests will have access to some basic kitchen equipment and food ingredients and there will be staff and volunteers to help with the cleaning and other daily tasks.
Families interested in being hosted at the charity house will be required to contact hospital staff, who in turn will forward their request to the person responsible. This person will have access to the charity's system and be able to check the availability of rooms and request one from the house manager.
The seriousness of their child's condition and the distance of the hospital from the family's residence will also be taken into account when picking the eligible families, Penta said.
Apart from the newly created house, another major project of the non-profit organisation was the creation of a paediatric clinic for children with heart disease at Makarios hospital which was officially inaugurated in October 2014.
Furthermore, RMHC receives many requests from Cypriot families who are abroad.
"We also act as liaisons to ensure, when we can, accommodation for families from Cyprus who have to travel abroad for the medical needs of their child," Penta said.
Operating in more than 65 countries, RMHC is an independent organisation supported by McDonald's. The board in Cyprus is currently comprised of 12 independent members, including chairman lawyer Michalis Michael, who succeeded Renos Andreou who died of cancer last year.