Deadly ground nets should be removed immediately and a zero-tolerance approach taken towards their use in Cyprus, the Committee Against Bird Slaughter (Cabs) said on Monday.
Farmers and landowners use the nets to keep snakes away, laying out fishing nets on the ground along property boundaries or attaching them to fences and walls.
The nets are death traps not only for snakes but also indiscriminately kill other wildlife, Cabs said. Snakes have little chance to cross them without becoming entangled and subsequently die a slow and painful death.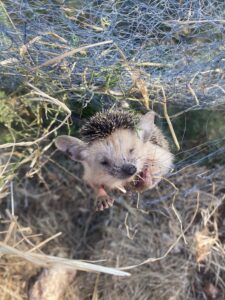 Other reptiles, such as the endemic kourkouta get trapped and die in large numbers too, as do hedgehogs and many ground-dwelling birds, it added.
Each spring, Cabs said its activists find dozens of ground nets in south eastern Cyprus. Between May and June 2021, the activists inspected nets across 25 locations and found 74 wild animals caught in them.
The most common victims were the kourkoutas and the also endemic Cyprus black whip snake. Both species are on the EU's rare and endangered animal list and are strictly protected both by European and national legislation.
"As the ground nets are laid out with a sole purpose of killing snakes and also kill other strictly protected species, they should be completely banned. Not only killing, but also harassment of animals is prohibited by law and these nets are clearly obstructing the movement of protected wildlife," Cabs Field Investigation Officer Bostjan Debersek said.
Last June, Cabs reported 12 locations to the department of environment and urged authorities to take immediate action and remove the reported nets before more animals get caught.
"When we checked the reported locations again this spring, we were shocked to find out that all nets are still laid out at all 12 reported locations. The department of environment clearly didn't take any action and as a result a total of 20 newly killed snakes and other wildlife were discovered in these nets," Debersek said.
Cabs called on authorities to stop turning a blind eye to the matter and implement EU and national legislation for taking resolute actions against this type of netting use in Cyprus.