The poisoning of at least three Griffon Vultures was devastating for those of us determined to save these majestic, oh-so-near-to-extinction birds
By Martin Hellicar
It often feels like conservation work has more bad days than good, truth be told. And some bad days are darker than others.
You may well have seen the tragic news earlier this month about poison (exact type still unknown at time of writing, but deadly whatever the 'brand') cutting very short the lives of two Griffon Vulture chicks on their remote cliff nests. Hope – in the shape of downy nestlings – smashed by nasty chemicals. Smashed by the people who thoughtlessly – at the very least – or criminally – at worst – employ such concoctions. At least one adult Griffon was also lost, with the fate of the parents of the two chicks unknown, but their chances slim at best.
Parent vultures are very choosy about what ledge they lay their single egg on; about what cliffs they try to hatch the next generation on. The remote cliffs in the Paphos wilds involved in this story are a well-chosen nest site, offering ledges safe from fox and man. But not, sadly, from man's abuse of chemicals. The parent Griffons unwittingly brought back a deadly meal for their young, meat from a carcass laced with pesticide, or from dead livestock that had been treated with anti-inflammatory drugs (NSAIDs), both deadly to vultures. The birds have no defence against this hidden threat. No way of detecting the poison. This constitutes the number one threat to our dwindling Griffon Vulture population.
So the two precious chicks ate the poisoned food and died, and their parents more-than-likely met the same fate. The vulture census carried out in the days immediately after the tragedy counted just eight birds, no more than half the population we had last year.
I don't want to delve to any depth into the details of the case, for an investigation by the police and the Game & Fauna Service is ongoing and must not be compromised in any way.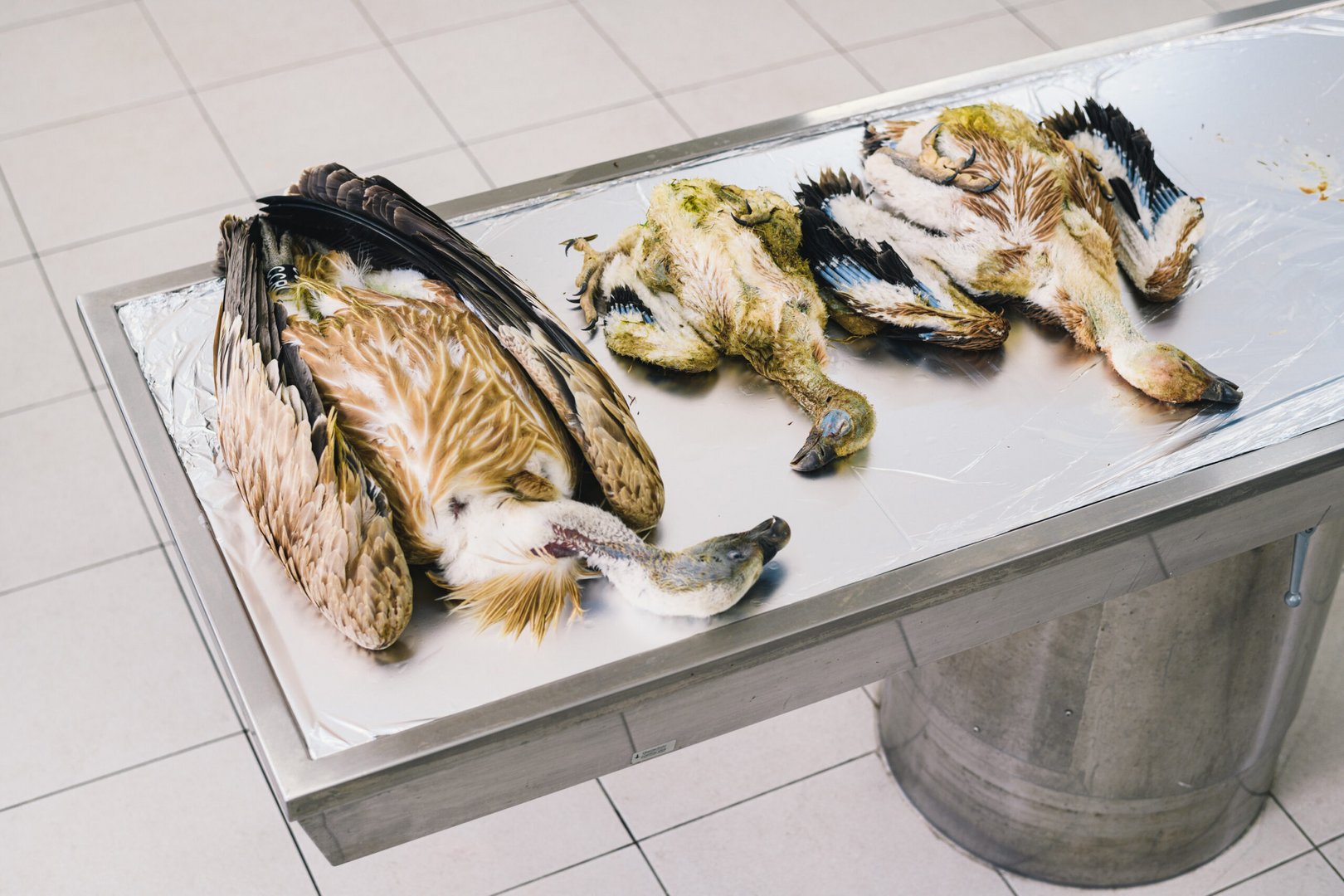 We know use of poison baits is widespread in our countryside, targeting not vultures but foxes and stray dogs. Not that this makes it any less of a crime. Such poisons, once 'released' into an ecosystem, are not choosy. They kill all before them, from hedgehogs to vultures to Bonelli's Eagles. An uglier environmental crime it is hard to imagine. The threat from misuse of veterinary drugs is more insidious, and falls into the category of 'unlicensed and thoughtless' rather than 'criminal'. Mind you, the terrible toll of NSAIDs have exacted on vultures across the globe is now so well known, that maybe we should now put such misuse into the 'criminal' column. There is no excuse for it. There are plenty alternatives for treating inflammations in livestock.
Tackling poisoning is the main action of the BirdLife Cyprus 'LIFE with Vultures' project (see https://birdlifecyprus.org/life-with-vultures/), part-funded by the EU. We – and our project partners Terra Cypria, the Game & Fauna Service (interior ministry) and the international Vulture Conservation Foundation (VCF) – are attacking this problem from every angle we could think of.
Two specially trained border collies, Dixie and Sofie, are out in the countryside with their handlers, using their super-sensitive noses to track down poison baits before vultures or other wildlife find them. Early days yet for our canine patrols, but we have high hopes for the impact they can make, both in sniffing out the evil and as conveyors of the anti-poison message. We have investigated the reasons behind poison bait use and we are executing awareness-raising campaigns in communities and schools. We are investigating alternative ways – legal and without the environmental impact – for limiting predations of lambs and baby goats by foxes and stray dogs, often the spark for criminal poison bait use. We are working with the police, the Game & Fauna Service, the Veterinary Services and State Lab to develop a solid protocol for joint and effective action when poisoning incidents do arise. We want to ensure the perpetrators are convicted, something that has never before been achieved.
We are also bolstering the Cyprus vulture population, as we must if it is to recover from the all-time low it now languishes at. Griffons from Spain are being flown in to the rescue, in a wonderful example of 'hands-across-the-Mediterranean' for the sake of conservation. However, the release of the current batch of fifteen sub-adult Spanish vultures from their specialised holding pen, to join their Cypriot kin, has had to be put on hold for the time being.
This is our work, as a nature conservation organisation. But it is also something we take very personally.
Days as dark as the one in early May cut to the bone. Especially for those in the BirdLife Cyprus team whose daily task and effort is about saving these majestic, oh-so-near-to-extinction birds. But they also, I can assure you, bring forth a renewed determination – a newly forged resolve – to win the war on poisons. To win the battles ahead to save our splendid vultures.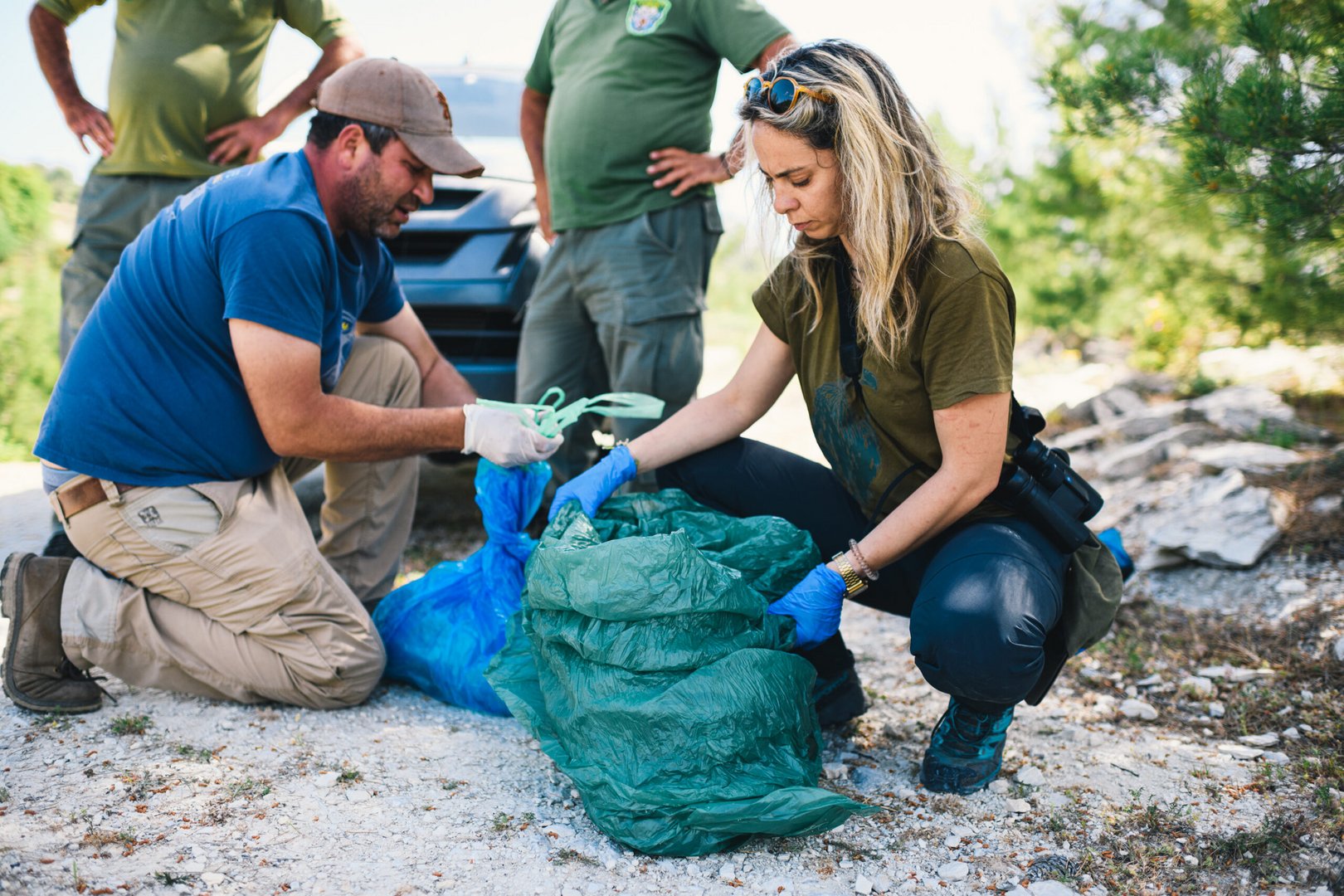 When Melpo Apostolidou, coordinator of our 'LIFE with Vultures' project, rang me that morning with the shocking news of the deaths, she was in tears. When you invest as much as Melpo does in a hugely important species-saving target, it gets to you when a battle is lost. As it should. But don't for a moment mistake our project leader's tears for a sign of weakness. Within minutes, Melpo was back at the task of pushing and action to get to the bottom of the incident, cajoling authorities to leave no stone unturned. To turn this defeat into a 'win', by ensuring the perpetrators pay the proper and full price, thus spreading the message that poisoning (or misuse of livestock drugs) will no longer be the easy-to-get-away-with environmental crime. And our 'vulture's champion' and her team haven't stopped since. Some people, I am happy to report, never even contemplate the idea of being 'beaten'.
So please mark my words here. BirdLife Cyprus and those who sail with us in this effort, will win the war against poisons. We will ensure many a downy vulture chick makes it to grow a full set of plumes, to float off from its cliff ledge nest to play its part in building a viable population for the future. Can anyone argue that our island won't be a far, far better place for it?
Martin Hellicar is director of local nature conservation NGO BirdLife Cyprus