In 1972, a Japanese soldier was discovered in the jungles of Guam. He'd been hiding out for 28 years, acting under the assumption that World War II had never ended. Which leads us to surmise that a) the war was bad in this part of the world b) Guam is jolly jungly! We'd be correct on both counts.
Today, Guam is the westernmost territory of the United States, nicknamed 'Where America's Day Begins'. Just 30 by 20km, this tiny tropical island enjoys a thriving tourist industry. The capital, Hagåtña, boasts tower blocks and fast food chains that cater to visitors, locals, and some 7,000 US military.
Almost half the island is covered in tropical rainforest, which hides any number of unique plant species (plus the odd soldier). It's estimated that 20 per cent of these are endemic, but you'll also find all sorts of trees that produce deliciously fresh fruit – a major constituent of the island diet.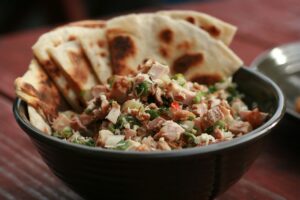 Bananas, guavas, manzanita, mangoes, avocados, jackfruit, tangerines, and green oranges are among the dozens of fruit species that thrive on Guam, and often feature in dishes such as Eneksa agaga (red rice, served with breadfruit, taro root, and bananas in coconut milk) and Chicken kelaguen (a spicy concoction of lemon-dipped chicken covered in grated coconut and stuffed into flatbread).
Coconut is a local favourite, appearing in the traditional Coconut Candy (freshly grated coconut and caramelised sugar rolled into balls) and Latiya Cake, a simple pound cake laced with lashings of coconut cream. Seafood is another staple; the marine cuisine includes both shrimp kelaguen (raw, unshelled shrimp marinated in lemon juice, salt, and chilli and fish) and fish kelaguen (in which the shrimp are substituted for the catch of the day).
Chicken also crops up on the Guam menu. Kadon pika is a spicy chicken stew laced with vinegar, garlic, onions, soy sauce, and chilli and cooked in coconut milk. And the delectable chicken kelaguen, although similar in ingredients and equally spicy, is usually served chilled and stuffed into flatbread. Tasty stuff indeed.