Ananeosis has a non-invasive solution with the use of Endospheres says ANDREA CHARALAMBOUS
Cellulite is a cosmetic concern that many women, regardless of their weight, are keen to get rid. However, historically this has not been an easy process. This is where Ananeosis Medical Rejuvenation Clinic, founded by Dr Katerina Pattichis, comes in.
The Limassol-based clinic delivers tailored, safe and effective face and body treatments in a modern and welcoming environment, using state-of-the-art equipment and technologies, many of which are the first of their kind in Cyprus.
According to Dr Pattichis, cellulite is fat pushing against the connective tissues of the skin, causing the characteristic lumpy, dimpled look. It usually affects the thighs and buttocks, and sometimes the lower legs and abdomen. It is also common – up to 90 per cent of women will develop cellulite post puberty. Hormones, genetics, tight clothing, diet and lifestyle factors are thought to play a role in the development of cellulite.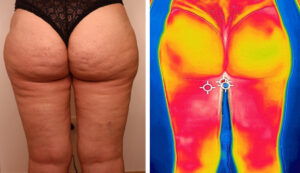 Ananeosis uses both non-invasive and minimally invasive techniques to improve the appearance of affected skin. Non-invasive techniques include Endospheres mechanical stimulation and cosmeceuticals to improve lymphatic drainage and reduce the appearance of cellulite. Minimally invasive techniques include microneedling, carboxytherapy, subcision and collagenase injections. Endospheres reduces cellulite by targeting the root cause, improving lymphatic drainage and blood circulation, breaking down fibrous septae, relieving pain and inflammation, and toning the muscles.
According to Dr Pattichis "it is the only device in the world that uses an innovative Compressive Microvibration technology to feel the body and produce a customised treatment to tone, tighten and smooth out imperfections, without down time or side effects". The treatment is ideal for people who want to reduce the appearance of cellulite and fluid retention, but also for those who want to obtain a more sculpted body. Most importantly, Dr Pattichis said the treatment is easy to tolerate and not painful. Trained Ananeosis staff start the treatment at the lowest setting before slowly proceeding through the 12 steps of increasing intensity.
During the initial consultation, Dr Pattichis uses imaging technologies such as digital photography and thermographic imaging to assess cellulite severity, rating it as nil, mild, moderate or severe. She then advises the client on the most appropriate treatment or combination of treatments and the likely number of sessions that will be needed. This depends on how the body reacts to treatment as not all bodies are the same. For example, depending on the condition being treated, a minimum of 12 twice-weekly Endospheres sessions are required to combat cellulite.
Some people see results from the very first sessions and others need more time, Dr Pattichis said. The duration of the results depends on several factors such as the clients' physical condition and their lifestyle. Maintenance treatments are recommended to improve results further and to help sustain results. Dr Pattichis recommends that clients drink plenty of water after their treatment to help the body flush and cleanse itself, and make sure they consume a healthy diet.
Ananeosis Medical Rejuvenation Clinic
Tel: +357 25347347 or +357 99806868. [email protected]. https://www.ananeosis.com.cy/